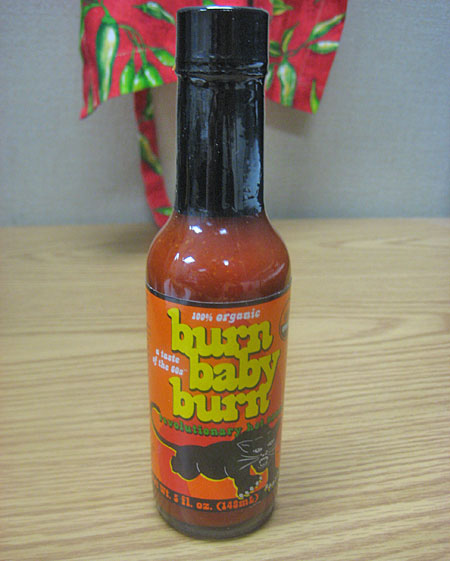 You may have seen this sauce a few years back and wondered what the hubbub was about. Yes, the Burn, Baby, Burn Revolutionary Hot Sauce is the product released by the Dr. Huey P. Newton Foundation, created by former Black Panther Party members. The Foundation's Executive Director David Hilliard has stated as the reason for the sauce's conception, "the hot sauce is another way to raise money and bring attention to the Huey Newton Foundation. We're trying to turn the tide of violence and educate young people through our work."
What I'm NOT going to in this review is cover the Black Panther Party history or discuss politics. You have the entire internet at your disposal if you wish to delve into this topic. What I want to focus on, however, is whether or not this is a good hot sauce.
Ingredients:
Ripened organic habanero peppers, red ripened organic jalapeno peppers, organic vinegar, organic salt.
Aroma:
3 out of 5. Heavy vinegar aroma, some chile pepper scent, and a little salt. All in all, not too bad.
Appearance and Texture:
4 out of 5. This is a good-looking, red chile sauce. It's thick, has a deep crimson tint with numerous specks of ground-up pepper seeds. It's viscosity is nearly too thick for the restrictor cap on the end of the bottle. I would prefer the consistency of this any day over a watery Tabasco.
Taste Straight Up:
2.5 out of 5. Powerful vinegar and salt mixture. I can take good doses of each (well, good doses of vinegar), but this was a tad bit overpowering. A respectable amount of chile pepper heat was there, but the distinct flavor of the peppers was unable to peak through the vinegar wall.
Really, there's not much wrong with the taste of Burn, Baby, Burn! but it lacks the originality and "oomph" to make it a distinctive condiment. This is about as average as you can get with a hot sauce.
Taste on Food:
2.5 out of 5. I prepared a grilled chicken and cheese panini and poured some of this sauce on the side for dipping. It provided a decent heat and a tart vinegar & pepper bluster. As mentioned above, this was very unremarkable. It neither ruined the sandwich nor pushed in into culinary heaven; it just added some minor heat and that was about it.
Suggested Uses:
Try it as an additive to your chili for some extra fire. This may also be fine on Mexican dishes.
Heat:
2.5 out of 5. A medium to medium-hot burn was courtesy of the habaneros. The heat (in unison with the vinegar's brightness) came suddenly and stay on my tongue for a minute or two then subsided. This is hot enough to be considered an additive if used in large amounts; several shakes in a regular-sized bowl of chili should warm it up. It's also mild enough for most chileheads to use liberally.
Overall:
There's not much to rave about here. Perhaps if you're a connoisseur of the vinegar n' salty stuff, this may have a spot on your fridge. If you're interested in getting a bottle for yourself, visit http://www.burnbabyburnhotsauce.com.
Review – Burn, Baby, Burn Revolutionary Hot Sauce