Buffalo Wild Wings has recently introduced two new flavors to their signature wing line. In this recent case, it is one dry rub seasoning – Desert Heat, and one liquid sauce – Pepper Infusion. This Thursday I ordered wings with both flavorings, and in the interest of minimizing the mess, I acquired the boneless "wings" which can be eaten with a fork.
Desert Heat – this is the first dry wing taste-enhancer I've ever seen from the BWW company. It's interesting in this case, as they let the the "natural", unimpeded flavor of the breading and cooking oil take precedence instead of a sauce.

Good tasting, but uneven coating leaves many bites dry of the distinctive Desert Heat flavor.
As you can see in the photo, the dry seasoning of Desert Heat is unevenly distributed. Some areas have optimal coating while most of the surface area lacks the seasoning. The aroma of these dusted beauties is a touch smoky but mainly contains elements of the oil, breading with a tiny bit of surprising sweetness. Biting into it only reaffirms the assertion that it's the basic taste of fried chicken that controls the flavoring. That's not a knock by any means. The meat was tender and juicy, so there certainly was no need for a wet sauce. It's just that bottom line it was little more plain chicken – I liked it but wasn't crazy about it. The chintzy portion of seasoning had provided a small amount of heat and a flavor similar to that of the dusting that is applied to most BBQ-flavored potato chips – a tad smoky, salty, sweet and spicy. This may quite a bit different on traditional, bone-in wings, so your mileage may vary if you buy those.
Pepper Infusion – While Desert Heat lacked an even coating, the Pepper Infusion boneless wings had every square millimeter covered by sauce. By the time I had gotten around to eating these the sauce had soaked into the breading, but it was still relatively crunchy. These had a sugary, peppery, and almost sweet and sour sauce-type aroma. Flavor-wise I was impressed by what Buffalo Wild Wings had come up with. Clearly the sauce was a cross between Asian-inspired dishes and American Southwest cuisine, and possessed large amounts of chile, sugar, with small hintings of cumin and an herb I just could not place my finger on. Was it rosemary? Thyme? I wasn't sure, but it was able to blend in nicely with the other ingredients and made this sauce a winner.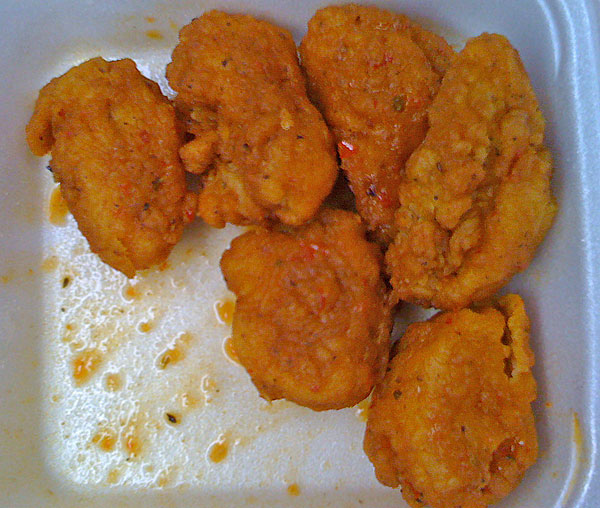 Sweet, spicy and zesty – has elements of Asian and Southwestern cuisine, but the chile peppers take the spotlight.
Pepper Infusion was the spicier of the two, clocking in at approximately 2.5 on a heat scale going from 1 to 5. This sauce is relatively tame compared to BWW's other wildly scorchers like Blazin', Wild, and Mango Habanero. On a bite with ample seasoning, Desert Heat would rate somewhere around 1.5 out of 5.
Both flavorings get a favorable appraisal from me, with my favorite of the two being Pepper Infusion. Yet the question remains, would I get these again? Probably not. The reason being is that each of these are a classic case of "good but not great". Plus B-Dubs has so many other more tasty and compelling sauces such as the aforementioned Mango Habanero, Caribbean Jerk and Spicy Garlic that are a home run each time I order them.
Both Desert Heat and Pepper Infusion, as they say, are available for a limited time only at participating locations.
Review – Buffalo Wild Wings Desert Heat and Pepper Infusion Wings