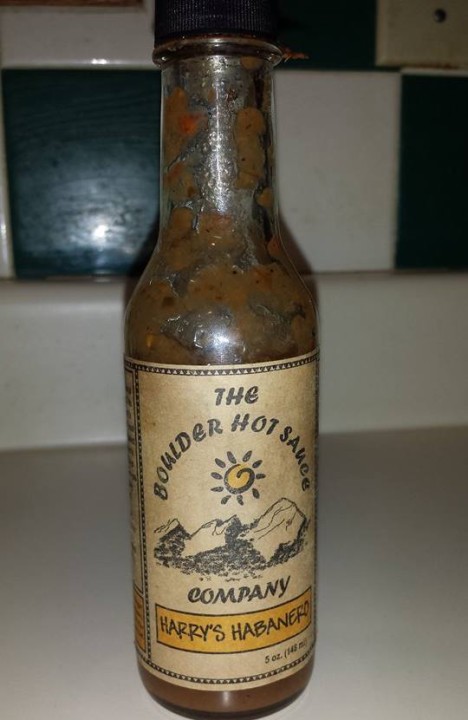 Hey everyone, Rudy Reviews is back with a hot sauce review!  Today I'll be reporting on a sauce from Boulder Hot Sauce Company called "Harry's Habanero."  Boulder Hot Sauce Company is located in Boulder, CO (who would have thought?) and is operated by a gentleman named Harry Robertson who makes all of the sauces by hand and are made with 100% fresh ingredients that contain no fillers or congealers.  On their website, he proclaims that sweet carrots act as the natural thickener for this sauce.  Harry also makes another sauce which he named "Smokey Serrano."
Ingredients:
Purified Water, Vinegar, Habanero Peppers, Fresh Poblano Peppers, Fresh Onions, Fresh Carrots, Red Ripe Serrano Peppers, Fresh Garlic, and Salt.
Aroma:
2 out of 5. This sauce was a surprise to me when I first had a go at it.  Despite the label not stating this, I do believe that Harry smokes his peppers because it's undeniable.  Taking another sniff I detected some vinegar as well as onion.  I don't smell any of the peppers, carrots or garlic.  It's mostly just a smoke bomb to me.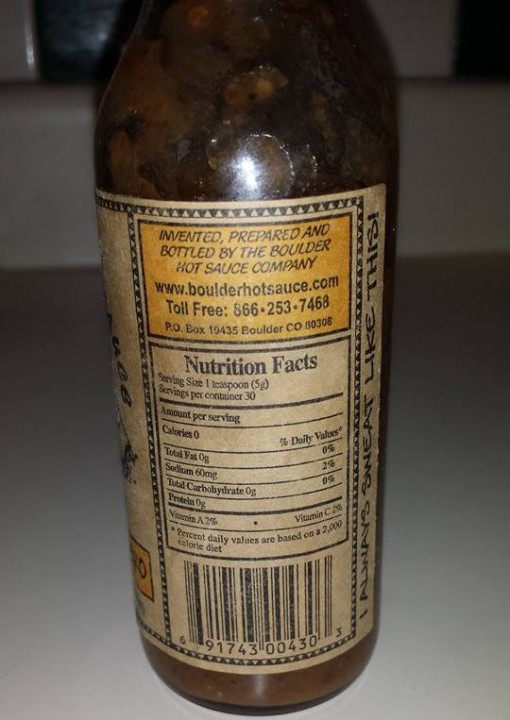 Appearance and Texture. 
4 out of 5.  This offering is very nice.  It's a medium-thick sauce with a lot of ingredients present on my spoon and adheres to food well. As you can see from the photographs provided I poured some on a plate but I also dumped some directly on and it stayed there. I was a little unsure of what the consistency was going to be, but Harry is right by saying the carrots used are a natural thickener. The appearance is appealing to me.  I don't mind sauces that contain pulp.
Taste Straight Up.
2 out of 5. Much like the aroma of this sauce, it's a smoke bomb.  The smokiness is coupled with vinegar and a very sweet note as well which I think would be from the onions and carrots.  I don't taste the peppers at all but I do catch just a little bit of garlic.  Not much, but it makes itself known.
Taste on Food.
3 out of 5. The smokey notes added a nice touch to the egg rolls that I consumed, but it didn't add much more than that for me.  I didn't detect any ingredients other than sweet and smoky.  I would have liked garlic or onion to come through and it did but I do believe this was because of the ingredients in the rolls.
Heat.
2 out of 5. I'm going to give this a two out of five directed for a non-chilehead.  For me it is more of a one perhaps even a .5, but I could definitely see how someone who's not all that concerned about hot sauce would think it would be a lot more of a scorcher.
Overall.
As I start to produce more reviews, you'll discover what flavor profiles I enjoy. Smokey and chipotle sauces are big hitters in my book so I was real eager to give this one a go once I learned that it is a smokey sauce.  I understand that this creation doesn't contain a lot of ingredients but I would have enjoyed to taste a flavor that was more boisterous besides vinegar and smoke.  I'll continue to use it but it's nothing that I'll have dreams about.  Thank you for taking the time to read my review and have a beautiful day. Cheers, eh!
For more information about The Bolder Hot Sauce Company you can visit their website by clicking the link provided below.
Review – Boulder Hot Sauce Company Harry's Habanero