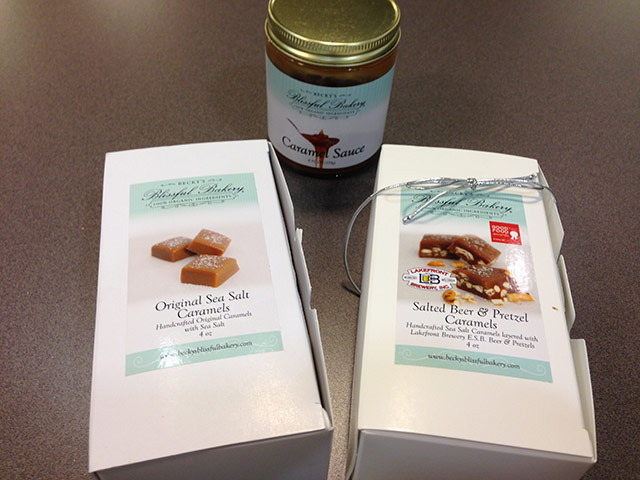 This review of caramels exploits my love of sweets, albeit ones with nary any chile pepper-induced spice. No, these are very straightforward salt caramels courtesy of Becky's Blissful Bakery, an all-female based business headquartered in Pewaukee, Wisconsin. Even to this day, some folks are still surprised that not every thing in my diet has to be fiery hot and that I go for outstanding flavor more often than I go for pure heat. Yes, I will gravitate for towards the incendiary end of the spice scale when conducting product reviews, but sometimes when an opportunity comes along to test out food of the "regular" variety, I will still wholeheartedly take advantage of it.
Becky's Blissful Bakery has submitted three different products for review: their Original Sea Salt Caramels, their Salted Beer & Pretzel Caramels, and a jar of their Caramel Sauce.
Packaging and Appearance
The squares of Original Sea Salt Caramels and Salted Beer & Pretzel Caramels both come in stark white boxes affixed with a label on the top and bottom and a silvery elastic tie around each one. The labels are simple but elegant. The bottling for the Caramel Sauce follows suit in the same way. All three would make good impressions if given as gifts.
Inside of the two boxes, each square of caramel is individually wrapped. Although I did not think to count the actual number of caramels included in each box, the label of each states that there are 4 ounces of the tannish-brown confectionery product.
Original Sea Salt Caramels
First up at bat was Becky's Blissful Bakery's Original Sea Salt Caramels. Each candy measured about one inch across in width and length, yet seemed a bit thin in terms of depth. Not that any of these were puny or scrawny, but "dainty" is a terribly appropriate word to describe these; a caramel equivalent of a Double-Stuft Oreo these are not. Maybe I'm used to heftier caramel pieces, but perhaps these were kept at a slightly smaller size for dietary purposes?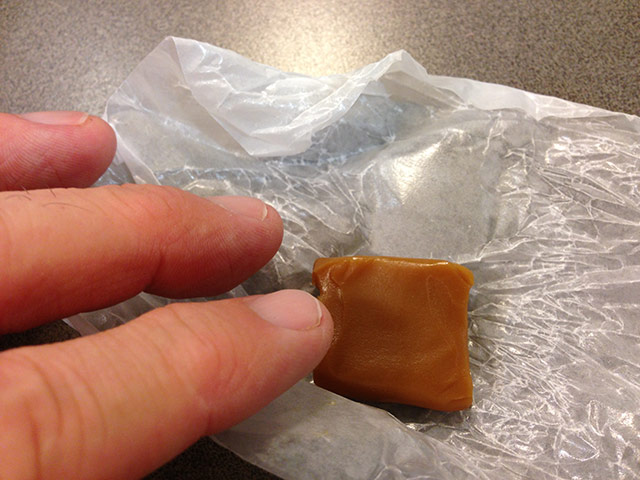 The color of each one appeared appetizing, although the amount of sea salt granules looked to be far less than what was shown on the box label's photo. No, matter, because in the taste department these delivered satisfaction. The slight salt flavor gave a wonderful edge to the milky, smooth, and light vanilla-like tones. The underlying taste was a standard buttery and brown sugary base of good, old-fashioned caramel happiness.
The chew on it was superb. Each caramel was sufficiently soft and never at any point sticky, gummy or laborious to gnaw on.
Overall Rating:
4 out of 5.
Salted Beer and Pretzel Caramels
Despite the fact that on the label's photo showing the color of the candies to be much darker of a brown than the Original Sea Salt Caramels, these Salted Beer and Pretzel Caramels were almost identical in hue. They were a bit thicker in depth, and had the odd cut-off pretzel cross-section showing.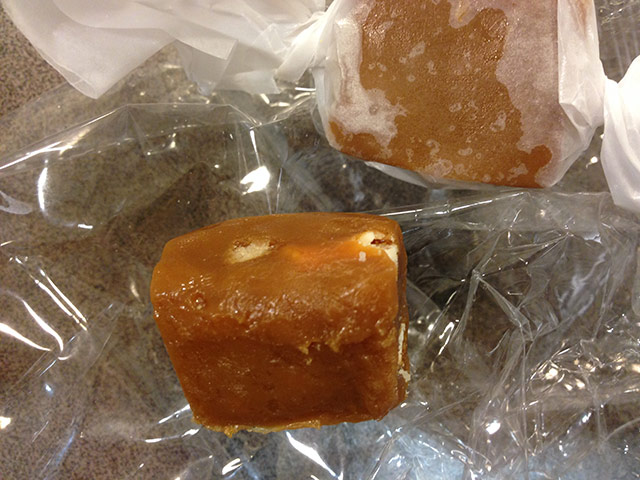 When it came to taste, these were yummy but still a bit underwhelming. Between the sea salt that is sprinkled on top and the salt presumably present on the pretzel pieces, I was expecting a little more of a salt sensation than what they delivered. Heck, these seemed to be less salty than the other caramels. The pretzel fragments themselves tasted like almost plain, non-descript crackers; yet I liked the occasional crunchy texture they provided. Quite honestly, I could not detect much beer flavor, and have almost an identical sweet, buttery mellowness that the Original Sea Salt Caramels had, as well as the overall softness of the caramels.
Overall Rating:
3 out of 5.
Caramel Sauce
Now we come to the Becky's Blissful Bakery Caramel Sauce. This little 6 fluid ounce jar houses what has historically been some of my favorite topping in the solar system. Mind you, I'm not a fanatic of the boring, mass-produced caramel sauces you find near the ice cream case of your favorite supermarket. No, no, no, I refer to the delectable kind; the type of gourmet, small-batched portions of caramel sauce, which are full of smoothness, richness and delicious wonderment.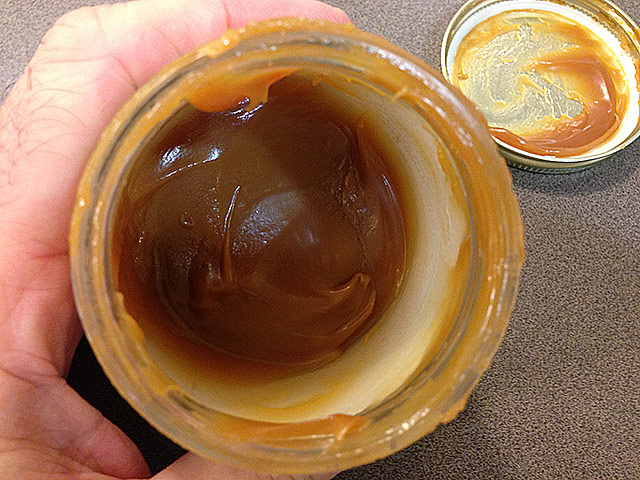 Thankfully, Becky's fits more of the later description than the former. It's not about to win any awards from me for the best caramel sauce my mouth or stomach has has the honor to indulge in. This stuff has enough buttery tones, vanilla-like notes, and sugary swagger to make most any hum-drum pie or ice cream sing with excitement.
After following the directions listed on the back of the label (in a nutshell, microwave for 20-30 seconds), this sauce reaches proper scooping consistency and pouring viscosity to dish on your favorite dessert foods. It is soft, luxurious and drizzled on with little problems.
Overall Rating:
3 out of 5.
Ingredients
Instead of typing the full list of ingredients, I will defer to photos of the labels: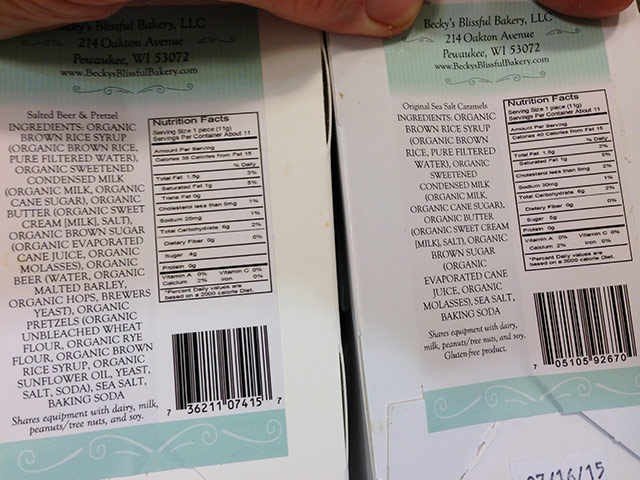 In Summary
At $10.99 a piece for the 4-oz boxes of caramel squares and $8.99 for the 6-oz. jar of caramel sauce, this stuff ain't exactly for your everyday use caramel products. They would make a great gift; and in particular, I would recommend the Original Sea Salt Caramels.
For ordering information, you can visit the official Becky's Blissful Bakery website at http://www.beckysblissfulbakery.com.
Review – Becky's Blissful Bakery Caramels