It's been noted by myself and others that the true breakout products at the 2010 Fiery Foods Show were the sweets and snack products. Yeah, there were plenty of new sauces worthy of your hard-earned dollars from manufacturers ranging from Golden Toad to the All Spice Cafe. But the sheer volume and quality of fiery munchies was too much not to ignore. One such was goodie in this sub-genre of spicy consumables was the Phoenix White Cheddar Jalapeno seasoning produced by Anthony Spices, a company hailing from Arizona that specializes in dry spice mixes and seasonings (they also churn out BBQ and wing sauces as well).
Ingredients: White Cheddar, Jalapeno, and other Herbs and Spices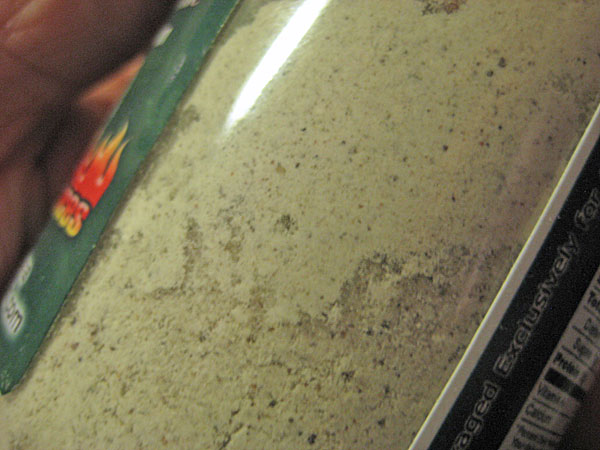 Once I got my 8-ounce plastic shaker bottle home from Albuquerque, I couldn't wait to try this out on some popcorn. I fired up the ol' nuker, popped some 'corn, and dashed on Phoenix White Cheddar Jalapeno all over the puffy, exploded kernels. It was fantastic! Unlike a lot of the prepackaged, nuclear orange-colored cheese corn you'd see in your snack aisle, Phoenix White Cheddar Jalapeno creates a rich yet smooth flavor. The jalapeno blended in isn't too overpowering and supplies just enough warmth to make this a good spicy treat. My wife, who is extremely selective about what hot and spicy foods she eats, loves Phoenix White Cheddar Jalapeno dusted popcorn and doesn't find the residual heat build-up too much. Just watch how much you sprinkle on your popcorn – too much and you'll have enough loose powder that may cause you to cough while you're consuming the stuff.
More suggested uses: immediately shooting into mind is a pasta with a white sauce such as Fettuccine Alfredo. What if you're "stuck" with a salad? A die hard carnivore such as I will on occasion graze on some rabbit food with croutons, and it would no doubt benefit from Phoenix White Cheddar Jalapeno's cheesy bite. I'm curious to see how this would even taste on meat like a chicken breast or rib-eye pulled right off the grill. Blend it in with some sour cream for a spicy cheddar dip. Sprinkle it on french fries taken straight from the fryer for a delightfully seasoned side item with your burgers.
My verdict? Great stuff, and judging from the amount we've used thus far (very little), a bottle should last us quite a while, even with frequent popcorn snacking. You can get your own container for $6.00 plus shipping at http://www.anthonyspices.com/prod_cheese.htm
Review – Anthony Spices Phoenix White Cheddar Jalapeno Powder