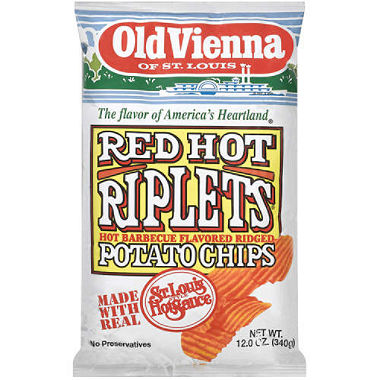 Without a doubt the best spicy potato chips I've ever eaten are Red Hot Riplets, made by the Old Vienna company of St. Louis. They're certainly the hottest chip I've tasted, far surpassing even Blair's Death Rain Habanero Chips. On the back of a bag of these babies it states that these "flavor of America's heartland," which includes "Dakota 'chipping' potatoes" and real "St. Louis Style Hot Sauce" (whatever that is…I mean, the St. Louis, MO area has it's share of chileheads and fans of fiery cuisine, but we're not exactly known as a Mecca of hot sauce). In a "ballpark" estimation of the chips' heat, I'd compare them to a sauce in the range of 5,000 – 10,000 scoville units; a nice burn for most folks but not hot enough to have you running for a fire extinguisher.
But they're more than about heat – they have a slightly sweet flavor with a hint of BBQ sauce. This combination makes them a truly addictive snack. Remember Lay's old slogan "Betcha can't eat just one"? Well, an appropriate tagline for Red Hot Riplets ought to be "betcha can't eat just one BAG". For those who like their munchies with a little kick, these are almost like heroin in chip form.

Like the name infers, these are ridged chips with a hearty thickness to them and a beautiful orange-red seasoning. Red Hot Riplets are fried in liquid vegetable oils and because of the cut of the chip are thankfully not overly greasy out of the bag.
Unfortunately for a lot of you reading this, Red Hot Riplets are only available in stores the St. Louis metro area. If you're ever passing through the Gateway City, be sure to stop at a supermarket or convenience store and pick up a bag or two. You may also wish to try contacting Old Vienna at their website and see if they can ship some of these to you by mail. I promise you, it's worth the effort to get your hands on some of these.
Update 9/19/09: For some reason, I'm personally getting weekly calls requesting orders for cases of Red Hot Riplets. I have no idea why, but people are thinking I'm the one selling the chips. I am not. Please call Old Vienna LLC, the owners of Red Hot Riplets, at (800) 684-3050 for sales inquiries.
Red Hot Riplets – The Best Hot Potato Chips in the World?