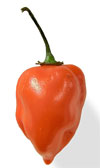 Love the distinctive, fruity flavor of habanero chiles but can't always take the scorch in your mouth? Try some of this delicious Habanero Cream Cheese Dip/Spread. The cool dairy-derived sweetness of the cream cheese is the perfect offset to the intense fire of the habanero pepper; you get the hot taste yet have it somewhat subdued.
To create this awesome snack spread, you'll need:
* 1 8 Oz. Package of Cream Cheese
* 2 Large Habaneros
* 1/8 Cup of Shredded Cheddar Cheese
* 2 Tablespoons of Milk
* Heavy-Duty Snack Crackers (Ritz will do fine)
First, soften the cream cheese in a mixing bowl with a spoon. Then, wearing gloves, dice two washed habanero peppers and blend into cream cheese. Add cheddar cheese and milk (the later of which is used as a thinning agent; add or subtract one tablespoon based on desired consistency). After well mixed, spread on shack crackers and serve.
Note: use caution when handling habaneros. Do not touch face or eyes after handling, and wash hands thoroughly after use.
Recipe – Habanero Cream Cheese Dip Spread