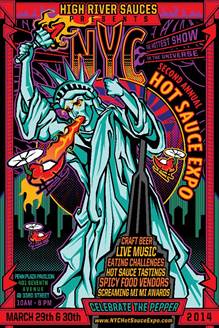 FOR IMMEDIATE RELEASE
January 28th,  2014 
Guinness Book of Records –  Smokin Ed's Carolina Reaper Challenge
New York's own High River Sauces proudly presents the 2nd Annual New York City Hot Sauce Expo on March 29th and 30th . This year's Expo will host only the best artisanal sauce companies in the United States. Last year's Expo proved to be a capsaicin rush for all who attended including ticket holders and vendors a like. This year organizers are turning up the heat with spicy drinks, craft beers from Laginitas Brewery, insane eating challenges, hot sauce tastings and the prestigious Screaming Mi Mi Award Show.
One of the highlights of the Expo is on Sunday, March 30th at 4 PM EST. The Puckerbutt Pepper Company "Presents the Smokin' Ed's Carolina Reaper Eating Challenge" which the Guinness Book of Records will be on hand to judge and declare the winner with the World Record for eating the most Smokin' Ed's Carolina Reaper Peppers in 60 seconds. This eating challenge will be one of the most anticipated events in fiery foods and professional eating industries combined. Many will enter but only one will survive the wrath.
"Of all the shows we have scheduled for the year, the NYC Hot Sauce Expo is the one we are most excited about," said Currie. "Not only do I get to bring the HEAT to my hometown, but we are going to roll out the first EVER Guinness World Record-Winning Smokin' Ed's Carolina Reaper Eating Contest.  We are expecting giants from all over the globe to try to win this title."
Guinness World Records announced its recognition of PuckerButt Pepper Company as the winner and title of the World's Hottest Pepper. Smokin Ed's Carolina Reaper beat out former record-holder Trinidad Scorpion "Butch T". The Smokin' Ed's Carolina Reaper delivers an average of 1,569,300 Scoville Heat Units (SHU). In comparison, Jalapeno peppers only have a rating of 2,500 to 8,000 SHU.
For more eating challenges and a full schedule of events at the Expo please check out this link for more information: http://www.nychotsauceexpo.com/schedule.php
The 2nd Annual New York City Hot Sauce Expo
March 29th & 30th 2014
401 7th Ave
New York, NY 10001
www.NYCHotSauceExpo.com

This year's Expo will feature 45 different award winning hot sauce companies with tastings, eating challenges, spicy food vendors, cooking demos, and plenty of odd ball entertainment fun for the whole family. Come to the heartbeat of Manhattan to celebrate the pepper.
For more information about the 2nd Annual New York City Hot Sauce Expo please contact Steve Seabury: seabury32@optonline.net
Official website: www.NYCHotSauceExpo.com
Facebook: www.facebook.com/NewYorkCityHotSauceExpo
NYC Hot Sauce Expo Aims at Guinness Book of Records with Smokin Ed's Carolina Reaper Challenge