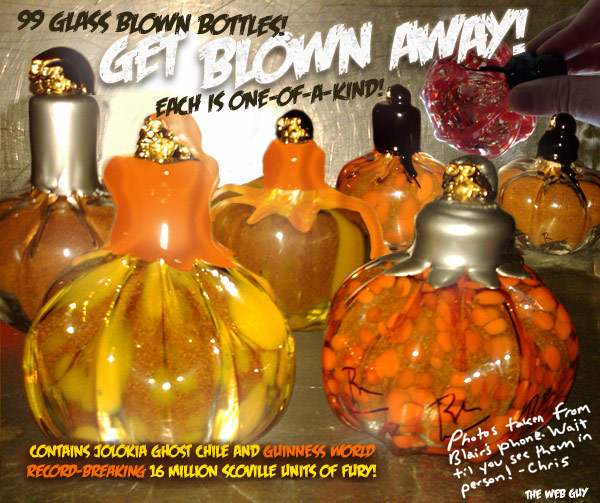 Blair has sent out the message this morning about the new Halloween 2009 Reserves. Each one is in a unique, glass-blown bottle and contains both a vial of 16 million SHU capsaicin AND bhut jolokia (AKA "ghost chili") powder:
Dear Chilipal,
Some Seriously Spicy Fury is brewing In Death Sauce Land on this festive Mischief Night. What better time than now to announce the release of my over the top 2009 Halloween Reserve !!!! So here it is…. Each bottle is definitely a one-of-a-kind creation. Check out this spectacular, artisan, hand-blown glass pumpkin bottle filled with Jolokia Ghost Chili and Guinness World Record-breaking 16 Million.
The 16 Million crystals are packed in a pharmaceutical vial that is buried under the Ghost powder in the bottom of every pumpkin (still visible from underneath the bottle). I cork-finish the pumpkin bottles, dip them in a varied pattern of Italian resins, and, lastly, top them with our 24kt Gold-dipped Skull. I have learned so much in the last month about the art of glass making. Even empty, these unique bottles would be impressive. I have had this idea for so long, but there were so many things that needed to be done perfectly. Finally, everything has come together!!!! I am so proud to be making this Ultra-limited & Ultra-Special Reserve (Only 99 bottles made available Worldwide).
The 2009 Halloween Reserve is available for VIP pre-order now on www.extremefood.com for $229. The price moves to $300 per bottle at 12PM est, Nov 1st). Again, you are receiving an artisan, hand-blown glass pumpkin, filled with a vial of 16 million scoville units of Hell, buried by pure farm-grown Ghost Chili powder. Bottles will differ in many ways — shape, size, color, Italian resin, and more. This is my last new reserve Until March of 2010, so enjoy!!!!!
Happy Halloween!!
Feel Alive!!
Your Chilipal,
BLAIR
blair@extremefood.com
PS Thank you for your patience on the anniversary 5 sauce set. We received over 3,000 orders between online and phone We are doing our very best to get every single order out as fast as possible. We expect to have any remaining orders on the anniversary set completed and shipped by Friday November 6th (Yes 2009) and also thanks to the countless emails from my chilipals around the globe who shared their story of the mind blowing power they did not expect with the anniversary set. I am so glad you are as happy with the sauces as I am. Feel Alive !!!!!
New Blair's 2009 Halloween Reserves with Pumpkin-Shaped Bottles