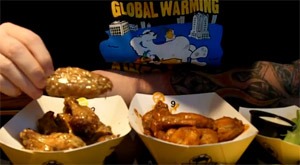 As a chicken wing enthusiast, a participant in a handful of wing challenges, and a spectator of at least a couple of dozen buffalo wing-eating contests, below is perhaps the quickest, cleanest, and most efficient way of eating the "flats" of those scrumptious little fowl appendages.
The first time I came across this technique was when I saw past wing champion Dante of Columbus, Ohio, who is the African American man who has been to probably every North Market Fiery Foods Festival show since it's inception, and is one of the regular favorites to at least place in the top two contestants in their wing-chomping brawls. Using this method, he was able to suck wings clean in a rapid succession and smoke the other challengers.
Of course, the aim of this video is not necessarily to scarf down as many wings as possible in a given amount of time, but to free up one hand from getting saucy. Super simple this is…enjoy!
How To Eat a Chicken Wing With One Hand