If you haven't seen the low-brow, park-your-brain-at-the-door comedy "Paul Blart: Mall Cop", you're not missing much. It's actually a pretty harmless little flick, but don't go out of your way to view it. I happened to catch it with the family on cable last night, and despite the predictable, formulaic plot, there were a few memorable scenes involving spicy foods.
The first one involves our hero, mall security guard Paul Blart (played by Kevin James), in a nacho-eating contest at a bar.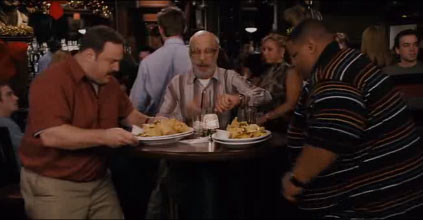 As we learn a bit later in the movie, his opponent Leon (Jamal Mixon) runs a hot sauce kiosk in the mall and has a panache for turning up the heat. The more Blart eats of the hot pepper-covered nachos, the worse the burn gets for him.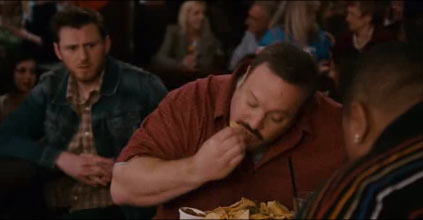 When it becomes unbearable, Blart has to imbibe large quantities of hard lemonade to soothe his flaming mouth (which chileheads know does not really work). The scene is basically a vehicle to see the normally goodie two-shoes and sober Blart become drunk and go wild.
Later in the movie, the mall cop stops by Leon's fiery foods kiosk.
Leon gives Blart a little present to help acclimate him to the burn of capsaicin.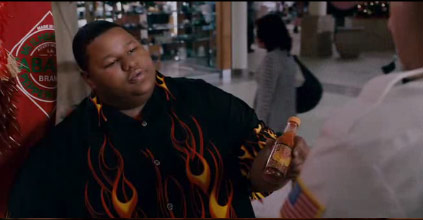 The name of the sauce in the bottle is Devil's Crotch Hot Sauce. I thought it was good for a laugh, and the moniker certainly fits in with all of the real-world novelty sauce names.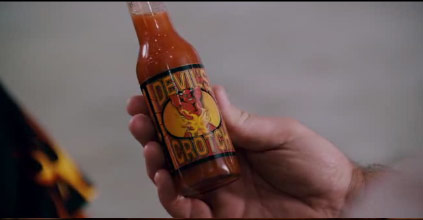 I did some digging around, and found a better picture of the actual prop bottle of Devil's Crotch used in the movie.
And we all know that when something is introduced in modern cinema it's rarely not brought up later in a movie. So, guess what? Yup, Devil's Crotch makes a return even later in the film, this time being stored in Paul Blart's holster.
Blart takes aim with the bottle of hot sauce…
After Blart shakes the bottle, we see a few drops of hot sauce fly through the air.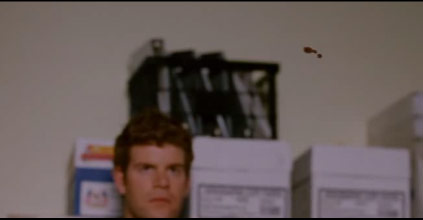 And it makes it's mark – an assailant's eye, temporarily blinding him.
Does Paul Blart save the day, get the girl, and raise $50,000 so that grandma doesn't lose her house (okay, that last plot point is NOT in the movie, but might as well be)? Well, you'll have to see "Paul Blart: Mall Cop" for yourself. Me, I'll turn the TV off and get caught up on my reading…
Hot Sauce Hijinks in Paul Blart: Mall Cop