July is National Grilling Month, and it's is the perfect time for backyard cooks to fire up 2016's hottest Bar-B-Q trends. Barbecue expert Rocky Stubblefield of Austin, Texas-based Stubb's Legendary Bar-B-Q offers tips for these top trends to try now:
Boosted burgers:

Create over-the-top burgers by coating each patty with Stubb's Bar-B-Q Rub, then sprinkle with a little smoked sea salt to really enhance that smoky barbecue taste. Let the patties sit for a while before cooking – you can actually see the flavor seeping into the meat!

Steak stand-ins:

No barbecue is complete without coleslaw, so deconstruct the classic with grilled cabbage "steaks" marinated in Stubb's Chicken Marinade for 15-30 minutes, then grilled over medium-high heat 3-4 minutes each side. Baste with 3/4 cup Stubb's Sweet Black Pepper Anytime Sauce mixed with a quarter cup of mayo in the final minutes of grilling and serve with shredded carrots and finely chopped onions on top.

Smoky heat:

Get just the right amount of heat to suit your taste by mixing in your favorite hot sauce with Stubb's Original or Sticky Sweet Bar-B-Q Sauce, then heat together in a pan, adding hot sauce to taste. Throw in a little finely chopped onion for some extra tang and texture.

Smoking is the new grilling:

For smoking meats on a charcoal grill, use hardwood chunks, or on a gas grill, use wood chips. Soak wood chunks in water for 1 hour, or chips for 30 minutes, then drain before using. Burn two wood chunks for each hour of smoking, and 1 cup of wood chips for an hour or less of smoking. Try a variety of wood – hickory, mesquite or apple wood – to experiment with flavors.
Stubb's Grilling Giveaway Contest!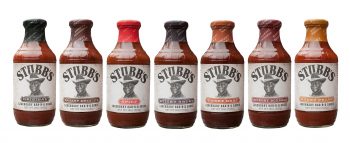 Stubb's BBQ has teamed up with ScottRobertsWeb.com to give you this hot giveaway contest. One lucky winner will receive:
$25 worth of coupons redeemable for any

Stubb

's sauces, marinades or rubs
One branded

Stubb'

s spatula
One branded

Stubb'

s apron
How to Enter
Entering to win this contest is extremely easy! Just do two things:
"Like" the official ScottRobertsWeb.com Facebook page at https://www.facebook.com/scottrobertsweb.
Comment on this photo post on the ScottRobertsWeb.com Facebook page, and tell us what your favorite grilled or BBQ smoked meat is. It could be anything that you love – chicken, ribs, steak, whole hog, brisket, seafood, burgers, bacon, bison, or anything else!
One commenter will be chosen at random On July 15th, 2016, and notified through Facebook that they are the winner.
The cut-off date for entries will be 11:59pm Central Time on July 14, 2016. Limit one (1) entry per person. If the potential winner cannot be contacted within five (5) days after the date of the first attempt to contact, ScottRobertsWeb.com may select and alternate potential winner in his/her place at random from the remaining non-winning, eligible entries. The winner must provide his/her physical mailing address before fulfillment of the prizes takes place.
General Conditions
In the event that the operation, security, or administration of the contest is impaired in any way for any reason, including, but not limited to, fraud, virus, bug, worm, unauthorized human intervention or other technical problem, or in the even the contest is unable to run as planned for any other reason, as determined by ScottRobertsWeb.com in its sole discretion, ScottRobertsWeb.com may either (a) suspend the contest to address the impairment and then resume the contest in a manner that best conforms to the spirit of the Official Rules or (b) terminate the contest and, in the event of termination, award the prize at random from among the eligible, non-suspect entries received up to the time of the impairment. ScottRobertsWeb.com reserves the right to disqualify any individual it finds to be tampering with the entry process or the operation of the contest or to be acting in violation of these Official Rules or in an unsportsmanlike or disruptive manner. Any attempt by any person to damage the website or undermine the legitimate operation of the contest may be a violation of criminal and civil law and, should such an attempt be made, ScottRobertsWeb.com reserves the right to seek damages (including attorney's fees) and any other remedies from any such person to the fullest extent possible by law.
Release and Limitations of Liability
By participating in the contest, entrants agree to release and hold harmless ScottRobertsWeb.com, Stubb's BBQ, and each of their respective parents, their subsidiaries, affiliates and advertising and promotion agencies from and against any claim or cause of action arising out of participation in the contest of receipt of use of the prize, including, but not limited to: (a) any technical errors associated with the contest, including lost, interrupted, or unavailable Internet Service Provider (ISP), network, server, wireless service provider, or other connections, availability or accessibility or miscommunications of failed computer satellite, telephone, cellular tower or cable transmissions, lines or technical failure or jumbled, scrambled, delayed, or misdirected transmissions or computer hardware or software malfunctions, failures or difficulties; (b) unauthorized human intervention in the contest; (c) mechanical, network, electronic, computer, human, printing or typographical errors; (d) any other errors or problems in connection with the contest, including, without limitation, errors that may occur in the administration of the contest, the announcement of the winner, or in any contest-related materials; or (c) injury, death, losses or damages of any kind, to persons or property which may be caused, directly or indirectly, in whole or in part, from entrants' participation in the contest or acceptance, receipt or misuse of the prize. Entrant further agrees that in any cause of action, the Released Parties liability will be limited to the cost of entering and participating in the contest, and in no event shall the entrant be entitled to receive attorney's fees. Released parties are also not responsible for any incorrect or inaccurate information, whether caused by site users, tampering, hacking, or by any equipment or programming associated with ir utilized in the contest. Entrant wives the right to claim any damages whatsoever, including, but not limited to punitive, consequential, direct or indirect damages.

Grilling Tips From Rocky Stubblefield, Plus Exclusive Stubb's BBQ Giveaway!