Attempting to cleanly categorize Twodogs Unleashed Sweet Hidden Heat Salishes may very well be a futile exercise. It has elements of products that many chileheads may currently have sitting in their refrigerator doors, such as mustards, salsas, relishes, dips, glazes and spreads. It's like a thick sweet and sour sauce with a mustardy kick and chile-derived heat. Salish (a combination of "salsa" and "relish") is strange stuff but it works on many levels. You'll have to try it to get the full gist of what I'm saying.
I wanted to know a little more about the man behind the product, Kevin Benz, so I contacted him to ask him a few questions. I found out that he, like many populating the spicy foods industry, has a day job but is passionate about his "second" career – making, selling and promoting his salish. He does this locally around his hometown in northern Illinois and nationwide on his Twodogs Unleashed website.
Scott: I love the uniqueness of your product. Where did the idea come from for you to get involved doing this?
Kevin: I'll give credit to my mother for the actual idea. Years ago, she started making something she called "Jalapeno Butter" which was a recipe given to her from her sister. She would only make one batch a year when the jalapenos turned red late in the season. The first time I tried it, I fell in love with the sweet taste at the beginning and then with the heat kicking in at the end. She made this for me for several years, and every once in a while, I would take it into work along with a bag of chips for social functions we had going on, and a lot of people would comment on the uniqueness of the taste and how much they liked it.
It took several years for this to actually take any shape or sink in, but I had some encouragement from some co-workers to maybe try and do something with it because they thought the product was good enough to market and sell. So with that encouragement, I began looking into the idea.
Scott: How close is your product to your mother's recipe? Were there many or variations you went through before deciding on a final one for the salish?
Kevin: It only took about three batch runs to get the final product to my liking. When I decided to give it a shot, I spent a day with my mother who showed me how she made it. We weighed each ingredient out step by step which I found was an industry standard with recipes. Once I realized the amount of work it took for that one batch, I knew I couldn't do it on my own, so I started searching for a professional kitchen to make the product for me.
I stumbled across a small professional kitchen in south central Illinois who also sells their own products including homemade salsa and relishes. They opened up their doors and let me spend the day with them on the first few batches to work out the kinks, and the rest was pretty much history.
Honestly, the biggest challenge we had was getting and keeping the color consistent, and then finding the right content consistency. Food coloring wasn't an option for me, so we had to work with the juice of the peppers a bit to make it all come together, but we soon got it right.
Scott: Where you inspired by any particular brands or styles of mustard, relish or salsas?
Kevin: No, not really. At the time, I really didn't know anything about salsas or relishes or even hot sauces on the market. I just knew that I had not seen anything like this product locally. I received the inspiration from the comments received from friends and co-workers.
Scott: Outside of your Etsy website, where do you sell your products?
Kevin: I sell most of my product by word of mouth from family, friends and customers. They make up the majority of my sales, and are my best advocates. TwodogsUnleashed.etsy.com has been an avenue to expand my products to a broader audience. I sell Sweet Hidden Heat at a local fudge shop, Julie's Corner Store, and I also sell Sweet Hidden Heat at our annual community Old Settlers celebration.
Scott: Would you consider yourself a huge fan of chile peppers?
Kevin: Honestly, I didn't know the first thing about chile peppers before I started down this venture. I had heard of the Scoville rating, but really didn't understand the measurement process. I've always been a big fan of all things hot, but not what I call stupid hot. I like heat that has taste, and I think that's what I enjoy about Sweet Hidden Heat. It has a great unique taste with plenty of heat. I would like to do a couple of events though to learn more about the industry and meet some chileheads.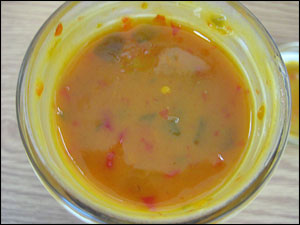 Scott: What do you like to eat salish on?
Kevin: I use Sweet Hidden Heat on a lot of different foods. Meatloaf, chicken, pork chops, deer salami, burgers, brats, pulled pork, chili, fajitas, tacos, meatballs, eggs, egg rolls and on and on and on, but my favorite is pizza. I make a delicious homemade pizza and substitute the tomato sauce base with my Sweet Hidden Heat. I say, it's the "Bite Worth Taking"!
Scott: What's the strangest thing you've ever heard of Sweet Hidden Heat being used for?
Kevin: I would say the strangest is tortilla chips. Don't get me wrong, it's great with tortilla chips, but it so much better when you expand your taste senses and use it as an everyday condiment with your meals. I've tried Sweet Hidden Heat on just about everything I eat, but the one thing I do not recommend it with is Strawberry Twizzlers. Maybe the Twizzlers was the strangest!
Scott: How did you come up with the concept for the name "Twodogs Unleashed" and the label artwork?
Kevin: Well, this is probably a long story, but simplified, my father in law gave me my nickname "Twodogs" many years ago based on the old Indian joke – "Why do you ask Twodogs F@#*ing?" I'm sure you've heard it. When I decided to jar this product, I knew I had to incorporate Twodogs into it somehow.
I had a very creative co-worker that works wonders with Adobe Photoshop, and she went to work with a partial design I had given her of Twodogs F@#*ing of all things. After a few drink tabs at the local watering hole to influence creativity, we had the label design complete.
As for the name Sweet Hidden Heat "Salish" (a cross between a Salsa and Relish), that just came natural after tasting my product. Its sweet tasting at the beginning, then the heat begins to come in at the end. Also, after further research on the word Salish, I found that Salish is actually an old Indian tribe from the west, so that just played in great based on the joke.
Scott: Have people been open and receptive to the concept of Salish, or do you think they act kind of hesitant to try it even after hearing or reading a description about it?
Kevin: My experience, people are willing to try anything that's free… I tend to give a lot of my product away to people who haven't tried it. Once they try it, I typically have them hooked and then they make a purchase. My customers are my best sales people simply based on word of mouth. They typically sell the product for me.
When I set up shop at the local Old Settlers celebration, I have to work very hard to sell almost every customer and every jar. They typically won't stop by the tent until I tell them I have free tastings, and it's the only thing they'll get free all weekend. Once I give them a free sample, I will generally get them and make a sale, but it's a lot of work to sell one jar at a time.
The funniest free tasting I gave out last year was a middle aged lady who I coerced in stopping by the tent for a free tasting. She took a bite of a bare tortilla chip and commented, "that's really fresh!" Then I had to tell her to try some Sweet Hidden Heat on the tortilla chip that was so fresh… I guess the 30 jars of Sweet Hidden Heat on the table gave her the idea I was peddling chips.
Scott: What is the most commonly asked question you get?
Kevin: What makes it so sweet, and how did you come up with the recipe? Interesting enough, I never get questioned on the label. Most people look right past it. Sometimes I point it out for a good chuckle.
Scott: What's a typical day for you like?
Kevin: Well, I have a full time day job promoting maintenance contracts for large electric power generator customers, so Twodogs Unleashed has primarily been a hobby for the past few years. The future is very promising to expand Twodogs Unleashed into the market, but for the time being, I have to focus on my career until my hobby can support all my bad habits.
Scott: What kind of hobbies or interests do you have outside of Sweet Hidden Heat?
Kevin: I enjoy player poker, fishing, old muscle cars and spending time with my wife and daughter. Nothing out of the ordinary I suppose, but I've always tried to put my family first, then the business then hobbies.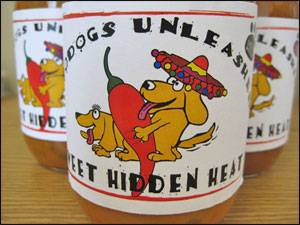 Scott: What is your biggest challenge so far?
Kevin: Deciding if Sweet Hidden Heat is worth the investment to expand the business. I've developed the business case, and ran the numbers every which way I can, and I know it's worth the investment, but with a full time career, I just don't think I could grow and support the business enough to make a hard run at it. It takes a lot of volume to make it in this business, and a hell of a lot more to support a family, and I'm just not sure it's my best investment at this time to make any difference in our future.
Scott: Do you have a favorite sauce or salsa that you don't make yourself?
Kevin: I can tell you it's not Tostitos brand Salsa. My best friend Buckhorn – my "Salesman of the Year" in 2008, will bring over a jar of Tostitos salsa when we play poker with the guys, and I cringe every time I see him pull it out of the bag. Buckhorn has sold a lot of Salish for me, and he's also a consumer, so I think he does it just to get the best of me. You know how it is. It's actually a pretty cold day in hell if you see me eating something other than my Sweet Hidden Heat.
Scott: What do you think sets you aside from the other salsa/hot sauce producers out there today?
Kevin: Hands down, it's the unique flavor produced by Sweet Hidden Heat. I've searched and searched for a similar product and taste, and I simply haven't found it. If you do, please let me know at oltwodogs @ yahoo.com.
Scott: In regards to obtaining greater and greater success, what would be the next "level" for you?
Kevin: Success means different things to different people. I've been very successful in my mind thus far in this journey, but I suppose I would consider the next level of success an actual incorporation, trade marking, developing a website and sales into local specialty shops. I don't see the large grocery stores of the world ever selling a jar of Sweet Hidden Heat simply because of the label, and I'm not willing to change that, so I do have some obstacles to overcome if I want to expand.
Scott: Where do you see yourself in 5 or 10 years?
Kevin: Well, I'm really not sure. My daughter will be graduating high school in 2012 and wants to attend Kendall College culinary school in Chicago to become a pastry chef. Although I love a good pastry, maybe she and I can work out a deal in the next few years. Who knows? I guess it all depends on if we take Twodogs Unleashed to the next level or not. I would love to be on my own in 5 years selling the heat full time, but that seems to be a far-fetched pipe dream at times. With the state of the economy the past 1 1/2 years, I've been very hesitant to make any investment decisions, especially an investment of this magnitude. It's always on my mind, but it's a very hard trigger to pull at this time.
FireTalkers – Interview with Kevin Benz of Twodogs Unleashed