John "CaJohn" Hard was one of my "musts" when I made my first mental list of who to interview for my website's FireTalkers section. He's a guy who I considered to be one of today's foremost purveyors of heat, yet someone whom I didn't see as the prime interview focus in material that originated in the chilehead world. Sure, CaJohn's Fiery Foods has enjoyed enough attention from the hot sauce blogs to fill a battleship, in the form of product reviews, trade show coverage, and being featured in other chilehead events and discussions. CaJohn relishes interaction with fiery foods fans and they've respectfully returned the favor in spades. But it's been a few years (an eternity in internet time) since CaJohn has had a proper interview or profile done on him and his company from online chilehead community.
What can I say about CaJohn's Fiery Foods that most hardcore heat freaks don't already know about? In the decade-plus time that the Columbus, Ohio company has existed, it has become the winning-est hot sauce manufacturer in America, racking up over 350 prestigious awards, which include dozens of Golden Chiles and Scovies. They have a dizzying array of products that are awesomely delicious (I haven't tasted a weak one yet) and aren't afraid to push the envelope in terms of both heat and flavor. Inside of Columbus' North Market, a foodie paradise, CaJohn's owns both a small hot sauce store and an eatery that serves chili, enchiladas, spicy smoked sausage and nachos. CaJohn and his employees are a fixture at hot sauces shows and open up their own business to chileheads every year after the Weekend of Fire event for an open house and barbecue. CaJohn and his wife Sue participate in an annual congregation of pepper fans (known as the "Fire Mountain Krewe") at his own cabins in Gatlinburg, Tennessee for a weekend of fun and spicy eating.
CaJohn (pronounced "Kay-John", NOT "Kuh-John" or "California John") is a man instantly recognizable with his trademark trimmed Santa Claus beard and pepper print shirts. What's also trademark of him is his enthusiasm about the spicy foods and his willingness to help out both fellow sauce makers and his fans. He was gracious enough to let me ask him a few questions on him and his business.
Scott: When did you first become a chilehead?
CaJohn: You know growing up in the Midwest, black pepper was about the spiciest thing that existed in my parent's cupboard. My first taste of spicy as I know it today was when my Mom sent me to the corner grocery to get beans for chili. She meant dark red kidney beans, but being the bright 10 year old I presumed I was, II selected the chili beans as that was what they were going to be used to make. I got back home and showed Mom that I had found a better ingredient, and she sent me right back to the store to get the proper ones. However, she said we would use them to make chili when my Dad was at his weekly Kiwanis dinner meeting. The next Monday night I could not believe the wonderful flavor her hamburger and tomato chili had, she hated it of course, but I was ecstatic as I had the whole pot to my self.
Chilehead? In my early twenties – that would be the mid '70s – I would say. I was into custom vans and would travel around the country to events with my fellow van club members. We would always be on the lookout for chile products (canned or fresh) and would sit around drinking beer and seeing who could eat what we had discovered without complaining. This carried over into my travels for the fire protection biz, and with a lot of our work being done in the South and Southwest. I was able to score many sauces and items unknown to my "Yankee" brethren. When I married a girl from Gulfport, Mississippi, our summer vacations were trips to see the in-laws. They were 90 miles from New Orleans, so I would travel over to what I believed was the Mecca of hot sauce and try to lay in a year's supply, but that rarely lasted me until the next trip.
Scott: How did you get into the fire protection business?
CaJohn: This one's pretty easy, I was born into it. My Father had stated the business after World War II, and he always said, "I couldn't hire good help, so I raised them". I grew up working in the fire protection business. Days off from school and summer vacations were days I helped out. I didn't get to hang with my friends much, but I did have some money in my pocket. After graduation, it seemed the logical career path to follow. My brothers were both in it with Dad, they were 14 and 20 years older than me, so I was definitely the "junior partner". However, I was the first one in the family to earn my certification as a Fire Protection Engineer. I still was the "JP" though. As time wore on and my nieces and nephews grew up into the business, things had to change. In 1989 the company was divided into three separate companies and I carried forward the flagship brand.
Scott: How did you make the transition from the fire protection to hot sauces?
CaJohn: From the late '70s I thought of hot sauces all the time. I was traveling in the Caribbean, the Southeast, Texas, Louisiana and the Southwest for fire protection projects. I was always on the lookout for new sauces or chile products of any kind. It was in 1996 that I conceived the idea of a web-based business selling the items I so dearly loved. I also saw it as an opportunity to teach my kids a little about the world of business as they were in their mid-teens. I really think it was shameful of me to feed my addiction in this way.
Scott: How did you get the nickname "CaJohn"?
CaJohn: My Mother was a dedicated cook and instilled in me a passion for food and it's preparation. This led to a love for Louisiana cooking as well a desire to evangelize the goodness of Cajun and Creole dishes. Whenever we would throw a party or attend one, I would whip up a dish from the land of the Bayou. One of my buddies started calling me "CaJohn" (an abomination of Cajun and John). When I decided to start this business, it was a family project that included my youngest two children and my wife. We decided everything as a board. They concluded that my party nickname would be a good one for the company.
Scott: So what made you decide to jump into the hot sauce making business?
CaJohn: I realized that if I was ever going to become a part of the biz I would need to have a sauce of my own. I looked to "private label" a few sauces and actually did for a short while. There was just something about taking credit for something that wasn't mine I couldn't deal with. By '98 I was working on my own recipes and felt much better about the line. I truly do not have any problems with private labeling (I have many accounts that pl my products) I picked superior products for my label, so I got many compliments that I felt I did not deserve. The rest is history.
Scott: At what point did you decide to forgo the co-packers and set up a commercial kitchen in the Harold D. Hard building?
CaJohn: In 2001 it was becoming apparent that I had to do something as the co-packers I contracted with were going crazy with my demands. My Dad had been in his own business before the Great Depression and had lost control of his fate as his valued suppliers went under. He had instilled in me the belief that to be really successful, you had to have as much control of you product as possible. I came to the resolution that I could better handle my growth and quality if I did it myself. By late June of 2002 I was producing my products in my own FDA registered facility. This was both good and bad. Now I had a place to play and develop more products. My line would explode, I had so many ideas! I have always said I was a chilehead first, and a maker second. I saw many holes that were not filled by existing products.
Scott: You have close ties to both Chuck Evans and Jim Campbell. When did you first meet them and what is your relationship like to them nowadays?
CaJohn: They have both had a big influence on my career has a fiery foods producer. I first approached Chuck in the fall of '96 (his kitchen was only ten doors down from my fire protection building) he was pleasant and forthcoming with information, but he advised me that it was not something I wanted to get involved with. Not because he was trying to limit potential competition, but because the industry was moving in a direction he did not approve of.
When I started my online store, Chuck's products were the cornerstone of the site and Chuck even penned a monthly article for my visitors on hot sauce history and trivia. Some of the first private labels I offered were his product. We have been friends and confidants since before I got started. He was instrumental in the start up of my kitchen. He closed his and moved several pieces of equipment to mine, he worked nights, I worked days. Today we still operate the same way, and the dialogue between us has had a major influence on each of our businesses. I like to take credit for putting the fire back into one of the "fireoneers" of our industry. We don't always see eye to eye on things, but this is one of the bonds that keep us working together. If you want to know anything historical on chiles or sauces, Chuck is your man.
In the early days, my mentor was a fine gentleman from Maurepas, Louisiana by the name of Rush Biosatt. If it were not for Rush, I probably would not be where I am today. It all started by a chance meeting with him at the old Jax Brewery turned mall in New Orleans. I was buying some of his sauce and he identified himself as the maker and invited me to meet him later for a beer. We met up at the Crescent City Brew House for what turned into an afternoon that shaped the future. Rush happened to be the maker of one of my favorite sauce, Cajun Rush. To have the opportunity to become friends with one of my idols, let alone his willingness to help bring me along in the biz was unbelievable! He was one of the first co-packers I used and I split a booth with him at the Albuquerque show in '98.
Jim Campbell has been the most influential person in my whole experience. I met Jim in an elevator at the Double Tree Hotel in Albuquerque at the FFS show in '97. He was wearing a Firefighters union shirt from Indianapolis and since he was from my general part of the country and in a related field, I introduced myself and said I would look for his booth at the show the next day. I stopped by and told him of my intentions, and as he always tells folks, "If you ever need help, or just to talk about anything give me a call". Well I just thought he was being "nice", but at the next show in Dallas that August, he said "I thought I was going to hear from you!" He probably regrets being so pushy!
Jim not only co-packed and helped with the development of my products, he grew the chiles we used as well. That is just the tip of the iceberg. Our relationship has evolved to the point that now we usually tell people our companies are "joined at the hip". I could write a book about what this chance meeting has meant to me both on a business and friendship basis. There are chileheads who know this man as St. James, a title he truly deserves!
Scott: How many products do you make? How do you keep track of them all?
CaJohn: I've lost track, somewhere in the neighborhood of 180 products have been "batch" manufactured. This doesn't count the many stovetop creations we have concocted. Being a chilehead before being a maker is probably the reason behind this outpouring of product. It really is a lot of fun to conceive an idea and bring it to a bottle, having the store at the North Market and here at the plant is a great chance to get immediate feedback on what we've done. It has become creed around here to write down whatever we do. In days past we would add a little of this and a little of that and make something that would knock our socks off, then we would try to duplicate it and it would be totally different. It is not too hard to keep track of them all when it's written down. One trick is to come up with a good base recipe and plug in ingredients to make it different. This is where I feel many sauce makers make a big mistake, they are always trying to re-invent the wheel.
Scott: I normally ask sauce makers what is the favorite product of theirs, but since you have so many products that may be next to impossible. Instead, I'll ask you what is your favorite of each type of product, such as your favorite sauce, your favorite salsa, favorite rub or spice, etc.?
CaJohn: No, it's really pretty simple. My favorite product is H.D.H. – Harold's Dangerously Hot Sauce. It is also known as Ace Hot Sauce. The reason for the double label is Luther Hearn at Pepper's. Several years ago at a show he came by the booth and said "this is a damn good sauce, but what's with this label, it don't do nothin' for me". So we designed the Ace label and it now outsells the original. Its recipe is the base for several of my other best sellers. For example, Sauce 10 is a trumped up version of this recipe.
My favorite salsa would be my Medium Heat, closely followed by Salsa 10. Medium Heat was the first salsa recipe I put together, and the only one we sold at first. It was everything I thought a salsa should be.
H.D.H. Grillin is my favorite BBQ, Chop House my favorite rub – it is my son Nate's recipe, and Fire Dust is my #1 spice.
Scott: What is your favorite sauce that you don't produce yourself?
CaJohn: Ring of Fire by Mike & Diane. Their stuff is fantastic! I was hooked from the moment I first tasted it. They are all great, but I particularly favor the XHot. After that I have to say there are a lot of great sauces out there, not only from the newcomers, but even from the big, "Old School" mega-makers. I think there is a time and place for Red Hot, Louisiana Brand and of course Tabasco.
Scott: How much product do you make in one week/month?
CaJohn: It varies, we have limited output due to the small batch nature of our production capabilities, but we have produced in excess of 15,000 units in one week. 5,000 is more of a normal week. Our new facility will expand our output potential, but we are staying with the small batch process.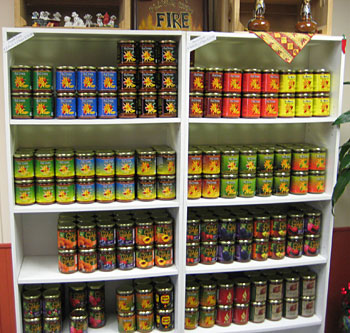 Just a few of the many fine products CaJohn's makes – their large line of salsas.
Scott: What is the process you go through when developing a new product?
CaJohn: We have a group of chileheads that work here, and we are always trying to come up with something new or different. That is one of the advantages of small batch. You can do it, sample it, change it, test market it and change it again if necessary and you haven't spent a bunch of money. New chiles are especially fun to work with. The fatalii is a great example. It's right up front heat presents a challenge to accommodate flavor along with the burn. The Bhut Jolokia is much easier to work with as its burn comes late. To date, we are the only kitchen that produces products solely or predominately using these chiles.
Scott: How many awards have you won over the years? Can you pick one award out as being the most important or most memorable to you?
CaJohn: I have won over 350 total awards for taste, quality, packaging, marketing, etc. This includes 48 Golden Chiles. There are a couple of awards that are priceless in my mind, but the very first Golden Chile in 1999 and the sweep of the hot salsa categories in the '99 Scovies were perhaps the ones that made me feel the best. My best year was '04. I won Grand Champion at the Cajun Hot Sauce Festival in New Iberia, Louisiana, Golden Chiles for BBQ sauces in Ft. Worth, Texas, a Scovie in Mew Mexico for salsa verde, and top wing sauce at the National Buffalo Wing Festival in New York. Not bad for an Ohio native, I beat the competition in their own backyard! That was a great year…priceless! I really cherish all of the awards I've received. They all are special in my mind.
Scott: If you could go back and correct one mistake or misstep you might have made, what would it be?
CaJohn: There have been many, too many to relate here. My Dad always told me that if you are not making mistakes, you're not moving forward (and you're not trying Hard enough). I just hope I've learned by them.
You've been very closely associated with the online chilehead community, in particular blogs like the old Hot Sauce Blog, Taste the Fear, and The Hot Zone Online. How much do you think this has helped your perception and business?
I think it has had quite an impact on the industry as a whole. It has made us as makers aware of the consumer's wants and needs, but it has shown us what things we screw up as well. The thing I am most awed by is the number of "lurkers" that exist, maybe 100/1 ratio to those that comment. I am always talking with people who bring up this or that from the HSB or ask what did you think of what was said on TTF or what do you think of the review on The Hot Zone Online, Scott Roberts Web or Eat More Heat. The forums are very dynamic as well, The Hot Pepper, Peppers & More and the like. If you are a manufacturer or want to be, this is a target audience that is only a few keystrokes away. I have developed some close friends that I might have never met if it were not for this community.
Scott: When did you open up CaJohn's Flavor & Fire in Columbus' North Market?
CaJohn: I operated a booth in the Farmer's Market during the summer of '06. At the end of the season, they offered me a permanent stall inside. I was happy to accept and we officially opened on October 1, 2006. It has been one of the best decisions we have made in this business. First of all, it is "Foodie Central" for Columbus. There is quite a diverse customer base and we are one block removed from the Columbus Convention Center. We gain exposure from all the visitors attending events there. Most of all it gives us a chance to test market all the concoctions we come up with to a wide range of tastes.
Scott: What advice would you give to a younger hot sauce company?
CaJohn: Trust your instincts, and be wary of your friend's advice. Just because everyone says you have to put it in a bottle and you will sell a million, it doesn't mean that if you do you will. Talk to those established in the industry and weigh it against what you feel. I have helped many start-ups with advice and mentoring, I was given an unbelievable amount of help and advice when I got started so I am always willing to pass it on. Don't think you will be the next Tabasco, there are thousands ahead of you who think theirs will be too.
Earlier this year, Johnny DiLoretto was photographed while interviewing John "CaJohn" Hard at CaJohn's CaBoom! Chili Company eatery in Columbus' North Market. Also located in the North Market is CaJohn's Flavor & Fire hot sauce stand.

Scott: What's your favorite kind of chile pepper for eating, cooking, and sauce making? What's the average level of heat that you personally eat with your food?
CaJohn: Just like my product line, I go all over the scale. I really love habanero heat on wings and most fried foods, but you can't beat cayenne for soup and rice dishes. Jalapeño/Serrano on Mexican dishes and Thai peppers with Asian dishes. The local Chinese place we frequent says that in twenty years of being in business, I eat the hottest of anyone including the Asians. I really do love chiles I'd be remiss if I left out all of the wonderful earthy flavors of the Southwestern pods. As far as sauce making, I usually tell people we are habanero specialists.
I tell a lot of people that a good extra-hot meal can do the same thing as three beers when it comes to settling the stress of a long day. Generally the hotter the better, but I am not a fan of the taste of extract. Give me Mother Nature's hottest…
Scott: So what is your hottest sauce overall that you currently produce? And how would you rank your hottest sauces, such as Z…Nothing Beyond, Black Mamba, and Mongoose, in terms of Scoville Units? I know HPLC tests aren't always the most accurate, but do you have estimates?
CaJohn: Our hottest sauce is Black Mamba, Mongoose gives it a good run, but from an engineering standpoint, it's Mamba. Then Z, Wanza's Wicked, Vicious Viper, Magma, Liquid Stoopid, then finally Frostbite. That's the extract line-up.
When most makers "engineer" their sauce, they leave the science out of it. Just like that old high school teacher told you, "Science is our friend". There are many types of capsaicinoids and their order of predominance in a specific chile give the pod its signature heat. The dyhydocapsaicin is most prominent in a fatalii, that's why it is so hot so quick. The Killer line is a wonder to many as how we do it. It's simple science. There are 6 major capsaicinoids. Google them, see how they rank and imagine how you can manipulate their heat. Bingo!
The dilution factor must also be considered. All extracts start out at 16 million. They are diluted to the level where they are sold. Extracts of different heat levels will create a dilution curve with a much longer slope. HPLC is totally ineffective on a liquid. Ask Dr. Bosland, or any organic chemist, the answer, a liquid is a solution, it contains many things. When you are testing a solution, you are testing everything that's in there. You are lucky if you get a good sampling of any capsaicin. All tests performed at the Chile Pepper Institute are on dried chiles. Hopefully this new nano tube technology will be proven to be reliable. I usually tell people it's subjective to the taster.
Scott: Any updates on the move from the Harold D. Hard building to new digs Somewhere else around the Columbus area?
CaJohn: Construction is in progress and we are looking forward to making the move in January. The North Market will be holding it's annual Fiery Foods Festival in February and we will be holding an Open House the same weekend. We will continue to have our August open house after the Weekend of Fire at Jungle Jim's of course. We will be located 6 miles North of our current location near the intersection of I-270 and Ohio Route 3. We are on Oakland Park at the intersection with Rt. 3 currently. Our address will be 816 Greencrest Drive, Westerville, Ohio 43081. We are going to an IP phone system so all numbers will be the same. Anyone can stop by at our facility whenever they are in the area, the hot sauce is always open!
Scott: How important is your wife Sue to CaJohn's Fiery Foods?
CaJohn: Wow, put me in the proverbial HOT seat! If there is a heart and soul of a company, "Wicked Wanza" (aka Sue) is the heart and I am the soul. She has been very supportive since the start and is also the one most wholesale customers want to talk to. When we first got started, she would hardly eat Sparky, our cayenne garlic sauce. No she eats hot on a regular basis and can probably tell you the ingredients quicker than I! It's not unusual for her to tell attendees at shows who are reluctant to try a sauce like Mongoose "I'll taste it if you will". Sue handles the orders and oversees the shipping. But that's just the easy part. Her input and ideas have definitely helped make CaJohn's what it is today.
By the way, the name for the Wicked Wanza Hot Sauce comes from her given name, Wanza Sue.
Scott: Where do you see the fiery foods industry going in the next several years?
CaJohn: I see new people coming into the market with classic old ideas. Not in a bad way, but with traditional ingredients and techniques. I would look to see more chile specific type sauces and salsas come to the front. We will always have the claims of the hottest shit available, and the machismo of "nuthin's too hot for me". Once people get over their "yearn for the burn", they start to appreciate the subtle flavor differences of the various varieties of pods that exist. I see the coming explosion of hot and spicy in the Euro Market being a big influence in what comes next here. Look at the number of big name food producers who started with chipotle and now have habanero flavored foods. The diversity of our melting pot country will effect what we know as the norm. Ethnic-flavored products will be more of a presence as exotic ingredients become more common. The taste buds of America were sheltered for many years. I see it changing in the good ol' meat and potatoes Midwest right now. If a hot sauce guy from Columbus, Ohio can make it work, who knows what can happen…
FireTalkers: Interview with John CaJohn Hard of CaJohn's Fiery Foods