For over 15 years, the Chile Pepper Institute at New Mexico State University in Las Cruces has done some of the most advanced work on scientific breeding and genetics of chile peppers in the world. I've recently asked Danise Coon and Dr. Paul Bosland of the CPI some questions on a plethora of topics. If you're unfamiliar with them, Danise Coon is the Program Coordinator and Assistant Director at the Institute. Dr. Paul Bosland is the co-founder and Director of the Institute, a Regents Professor in horticulture, one of the world's foremost authorities on chile peppers, a book author (his latest tome is The Complete Chile Pepper Book, which he co-penned with Dave DeWitt), and famously was the one who discovered the Bhut Jolokia, which was named the world's hottest chile pepper by Guinness World Records.
Danise and Paul gave answers on a variety of matters such as the Chile Pepper Institute itself, the world of chile peppers, their Holy Jolokia Hot Sauce co-created by CaJohn's Fiery Foods, Dr. Bosland's new book and if the Trinidad Scorpion pepper has any chance of surpassing the Bhut Jolokia in terms of heat.
Dr. Paul Bosland and Danise Coon of the Chile Pepper Institute

Scott: What are the origins of the Chile Pepper Institute? What was the intention for its formation in 1992 and do you feel like it's been fulfilling its mission?
Danise Coon: The Chile Pepper Institute originated in 1992 to help answer the public's overwhelming amount of chile pepper related questions that Dr. Bosland was receiving on a daily basis. Since then it has grown from simply a source of answers to the world's only research based non-profit dedicated to providing chile pepper information.
Scott: What current projects and research programs is the CPI currently working on?
Danise Coon: We currently have several educational programs, including our annual New Mexico Chile Conference, which attracts over 300 growers, producers and processors from around the world to learn the latest research based chile pepper information and news. We have an annual teaching and demonstration garden that has over 150 different varieties of chile peppers that is open to the public for guided or self-guided tours. We have a summer REU program for undergrad students from farm labor backgrounds that is funded by NSF and takes 10 students through a research project. We work hand-in-hand with the NMSU Chile Breeding program to help disseminate the research information on cultivar development, disease and pest control, and industry needs. We also have a fund raising program that will endow a Chile Research Chair, which will make chile pepper research permanent at NMSU. CaJohn's Fiery Foods and Biad Chili are two companies that have created products from our research that proceeds from the sales of the products go to our Research Endowment. Holy Jolokia and Biad's Reserve are the two products so far.
Scott: Describe a typical day for you at the Institute.
Danise Coon: I answer anywhere between 10 to 30 e-mail questions, meet and greet between 10 to 20 visitors a day, and answer phone calls on chile pepper related questions.
I personally work on writing and editing the CPI newsletter, web site development and updating, fundraising development, provide tours, and research and extension.
Students here at the CPI work on projects like sending the quarterly CPI Newsletter, helping gather research information for books and NMSU guides and circulars on chile peppers, fill seed packets, help visitors, and provide tours.
The Chile Pepper Institute Demonstration Garden

Scott: The CPI was recently recognized by Rand McNally in it's 2010 Road Atlas as a "Best of the Road" tourist spot. What could visitors look forward when visiting there?
Danise Coon: We have a 600 square foot Visitor Center on the main NMSU campus that has archives of chile pepper related information, a gift shop with chile pepper related merchandise including seeds, books, posters, t-shirts, Holy Jolokia hot sauce, frozen packages of green and red chiles, and much, much more. Access to all of the free guides and circulars published by NMSU on chile peppers, live plants, educational and news displays, and much more.
Scott: In a nutshell, what is the story of how you learned of Jolokia chiles?
Paul Bosland: We heard a rumor that something hotter than the Red Savina had been discovered and went through about five years of misidentifying and receiving seeds that were not the Bhut Jolokia, finally a CPI member was doing some work in India and came across the fabled "ghost chile" and sent back some seeds, we then did four years of research growing and testing the pods and sent our data to Guinness, who declared it the new world's hottest chile pepper.
Scott: What are the most popular chile peppers grown in New Mexico? The United States? The World?
Danise Coon: New Mexico grows five main types of chile peppers on an industry level, New Mexican green and New Mexican red, jalapenos, cayenne and paprika. In the United States, it's the bell peppers – yes they are in the same family as hot chile peppers – that are the number one grown, while jalapenos and cayennes are also popular. The World it's the bell and sweet peppers that reign supreme while paprika comes in close.
Scott: Do you have any data on how much overall chile pepper consumption has grown in the past 10 years? 20 years?
Danise Coon: We do not have exact numbers on this, this is a good question for the USDA, we do know that consumption has steadily increased over the last 10 years.
Scott: Paul, how did Dave DeWitt and you decide to come up with a new book, The Complete Chile Pepper Book? Who is the book aimed at? Do you feel that most of what you originally wanted to include in the book is in there?
Paul Bosland: Our two previous books, The Pepper Garden and Peppers of the World were no longer in print and the demand for new, updated, and combined information was huge. The book is aimed at anyone with an interest in chile peppers. The book is a complete guide with the latest information available from horticulture aspects to the culinary side of chile peppers.
Scott: What conditions have you found to be best for optimal chile plant growing?
Danise Coon: Well drained, high in organic matter with balanced levels of fertilizer and lots of good quality sunshine.
Scott: What is the most common thing that you see novice gardeners do wrong when first growing chile pepper plants?
Danise Coon: Over-watering and over-fertilization.
Scott: In The Complete Chile Pepper Book Dr. Bosland and DeWitt list the top 100 peppers for growing in your garden. Are there a top 2 or 3 chile peppers that are fairly resilient and perform well in a variety of temperate climates? Personally, I've found that cayennes have grown best for me, and have been very fruitful in the yo-yo temperatures and weather conditions during the late spring, summer, and early fall here in Missouri.
Danise Coon: People all over the world seem to be able to grow jalapenos, cayennes, Asian types, and sweet bell types.
Scott: How did the concept of the Holy Jolokia Sauce come into fruition? Who at the Institute worked with CaJohn's on the product and who ultimately decided what would go in the bottle?
Danise Coon: John and Sue Hard from CaJohn's wanted to do something new and special for the Institute. It was a combined effort of John and Sue Hard, Paul Bosland, myself, Wendy Hamilton (a development officer for CPI) and Mark Gladden (Major Gifts officer for NMSU ACES). It was unanimously decided that we would go for a more flavorful hot sauce instead of a melt-your-face off heat.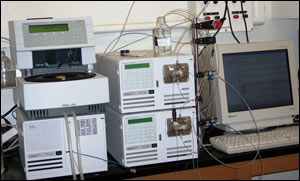 HPLC testing is done on equipment such as this. The particular machines pictured above are located at Missouri State University.

Scott: What goes into the process of high performance liquid chromatography (HPLC) testing? How long does each test usually take and how many tests are necessary to get an accurate Scoville rating on a chile pepper?
Danise Coon: The HPLC test is done using a computer program, as long as the sample was taken properly results are quite accurate. The program reads the individual amounts of specific capsaicinoids making up the total capsaicin in parts per million (ppm), then a mathematical formula is used to convert to SHU.
Scott: What, if any, are the differences in both the physical characteristics and the heat between the Naga Morich from the UK, and the Bih Jolokia from India, and the Bhut Jolokia?
Danise Coon: We have not done heat testing on any of these mentioned varieties other than the Bhut Jolokia, as far as physical appearances they are all three very similar.
Scott: Has any HPLC testing, either conclusive or inconclusive, been done on chile peppers that are allegedly hotter than the Jolokia, such as the Trinidad Scorpion or the 7 Pod/7 Pot? Do you think anything will usurp the bhut jolokia as the world's hottest chile?
Danise Coon: None of these varieties are likely to surpass that Bhut Jolokia in heat testing. A lot of individuals "cheat" when testing by removing just the placenta of the pod and testing that, this way of testing does not give an accurate heat rating of the pod as a whole. We are currently testing the Trinidad and we will publish the results accordingly.
Scott: Do you think we in the U.S. will ever get over the "macho" mystique that surrounds chile peppers and hot sauces, and have mainstream acceptance of a little bit of heat in a lot of everyday foods?
Paul Bosland: We both believe that there will always be the "macho" aspect of eating severely hot chile peppers, but there is also a trend to incorporate hot and spicy into everyday meals because of the flavor aspects.
Scott: Personally, what are your favorite peppers to eat? Do you have a big tolerance for heat?
Danise Coon: My favorites are New Mexican Green and Red and Jalapenos, my favorite hot sauce is Louisiana style which usually incorporates the cayenne. I can eat hot but prefer flavor over crazy high heat levels, those hot sauces that incorporate capsaicin extracts are not for me!
Paul Bosland: My favorite is New Mexican green chile, and I have a good tolerance to heat but also prefer flavor.
—————————————————————————————————
Photo credits: first photo – Harald Zoschke; second photo – Dave DeWitt
FireTalkers: Interview with Danise Coon and Dr. Paul Bosland of the Chile Pepper Institute