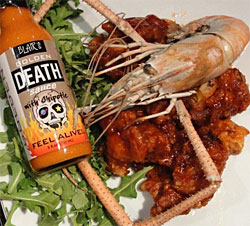 Many of you reading this had received the inaugural issue of Blair's Extreme News yesterday. Blair, of course, has blasted out e-mails to subscriber fans for years. But they've never been sent out on a regular, recurring basis until now (these promise to be weekly).
Now in my personal profession as a web developer, I've been heavily involved with broadcasting e-mail newsletters for whatever employer I happened to be working for at the time. This type of marketing when executed correctly had proven itself to be highly effective – at that time, that is. With the emergence and wide-spread influence of social media, namely Facebook and Twitter, is e-mail marketing as powerful as it once was? I happen to think that it still has a bit of life left in it. Where the medium will be in two or three years, who knows, but I believe it's still a great way of touching base with your customers (both actual and potential).
Hot sauce manufacturers in general haven't pursued this brand of marketing. With limited budgets and limited staff – monthly e-mail newsletters can require at least a part-time person who is well-versed in basic web and graphic design – it's easy to understand why. Many of our favorite sauce makers have a full-time job to contend with in addition to concocting and producing spicy food products, and a lot of them have to reply on co-packers to bottle their sauces. To deal with creating an e-mail newsletter on top of that? it's probably not very high on their priority lists.
Would a bulk of manufacturers have that much content to fill periodic e-mails any way? Sure, they could offer special sales of sauces, but for some manufacturers that method of promotion may be repetitious. Focusing on new product, perhaps? Well, most industry folks only introduce a small handful of new sauces, salsas or seasonings per year. How about live appearances they are to be scheduled at? Many do their marketing through local and national shows and festivals, so this is something sauce makers could consider advertising in e-mails.
But what about Facebook and Twitter? Do any of you readers think that they are far more efficient, focused or effective then e-mailing? Now I've witnessed quite a few manufacturers jump on board these social networking sites, especially the corporate-run giants like Louisiana brand and Tabasco. Blair's does a 180 compared with these guys and has done virtually no social networking, and instead focuses on e-mails, their website and good ol' fashioned word of mouth (the later of which will ALWAYS be a key marketing tool).
I've seen very few manufacturers use e-mail the way Blair's does. In fact, Intensity Academy is the only other company coming to mind (as an aside, Intensity Academy is very adept at putting their marketing irons in nearly every kind of fire, both online and offline). It will be interesting to watch if anyone else follows Blair's in this practice, even if e-mail is something that numerous internet marketers believe is dwindling away. We shall see.
Changing gears a bit while still teetering on the same topic, Blair teased us with the a photo and name of one of his new sauces – Golden Death. He had hinted to me a few months ago that Golden Death was going to be a "beautiful tropical rum sauce" that used Scotch Bonnet chile peppers. Sounds like an interesting little Caribbean-inspired hot sauce…
Blair's Golden Death Coming Soon/Sauce Manufacturer E-Mail Newsletters