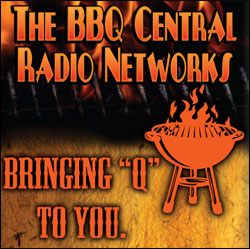 Jonesin' for some excellent talk about grilling, smoking, cooking meat or even hot sauce? Just about anywhere where you have internet access, you can tune into the BBQ Central Radio Network, which provides non-stop streaming of some of the best foodie shows and podcasts around the clock. Greg Rempe hosts the flagship show BBQ Central Radio show where he talks to the biggest names in the world of barbecuing and grilling. In the Hut and The Celebrity Grill podcasts are other worthy shows focusing on great discussion, conversation and tips and tricks from people who really love the art and sport of grilling. And if you've been reading my blog lately, you're probably familiar with Hot Sauce Weekly, which also makes the rotation of shows streaming on the network.
What's great about the whole concept of online radio, podcasts or streaming audio in general is that you can turn in on in another browser tab or window, and go about your business while you surf the interwebs. I love this type of passive entertainment; you get to hear cool topics and information that most foodies, BBQ-ers and pepperheads would be truly interested in. It's like talk radio that doesn't suck.
One thing I personally love is that you can listen to the QuickTime stream of BBQ Central Radio on the iPhone! That means I can listen to the network wherever I go and not having to have all the podcast mp3 files downloaded on the phone.
Click here to select the listening options.
BBQ Central Radio Networks Provide Barbecue, Grilling and Saucing Talk 24 Hours a Day