During my first report for the Chevy STL Keys promotion (more about that soon!), I decided to do a formal review on one of the most unique chicken wing eateries I've yet to come across, and I'm fortunate enough to have learned that it was located in the St. Louis, Missouri metro area where I call home.
I'm referring to St. Louis Wing Company, the brainchild of Chef Bobby Tessler. Instead of featuring multiple level heat sauces (you'll find monikers such as no mild, medium, hot, and nuclear) like some wing joints or differently-flavored bottled sauces such as Buffalo Wild Wings, Chef Bobby takes a different approach. He whips up created-fresh-from-scratch sauces, glazes and marinades and will also apply herbs, spices and chopped and minced solid ingredients atop the already "tossed" wing pieces.
The results are some of the most unique and creative gourmet styles of wings you may have ever come across, especially if all you're used to are mostly buffalo wings from your local pizza parlor that only differ by various heat levels.
Chef Bobby is a trained culinary craftsman who worked as an Executive Chef at a handful of restaurants before deciding to made the jump into entrepreneurship by opening his one-of-a-kind wing eating house. As he told me, he loves comfort food in general and chicken wings specifically, so why not use that avenue to invent some really crazy concoctions?
I first met Chef Bobby at last year's St. Louis Wing Ding; and in addition to the flavored wings he and his team entered for the contest, I had only tasted a few other of his left-field creations. Just recently I was finally able to sit down and try every version of chicken wing they offer: 13 permanent menu items, 5 seasonal or temporary specialties and a ghost chilli wing that uses for their wing eating challenge.
I want to thank Chef Bobby, Suzie Tessler, and the entire crew at St. Louis Wing Company for their kindness and hospitality, and for sitting down and talking with me for an hour after tasting all their wing flavors!
I review all the St. Louis Wing Company chicken wing flavors below…

The dining room and order counter

The menu, with 13 "permanent" wing flavors listed

Seasonal and temporary flavors

The Wall of Flame from afar

The Wall of Flame – eat 6 Ghost Chili wings in 5 minutes or less.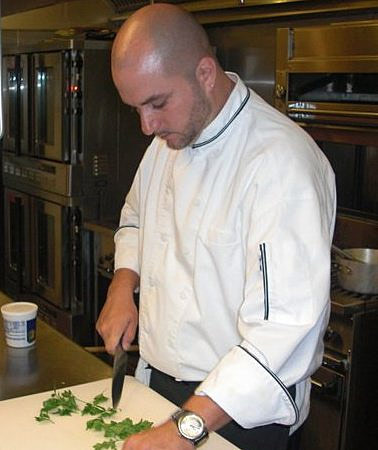 Chef Bobby Tessler
And How Do the Wings Taste? A Review of 19 Different Flavors
I tried one a piece of all of the variations of wings they provide. I rate them on Overall Flavor, Heat (spiciness as it would apply to chileheads), and Addictability (whether or not I would be able to plow through an order of 6 or 12 of that particular flavor, or if only eating one is enough to satisfy me).
A last note, all chicken wings were fried, perhaps in a way that was some of the best I've ever consumed with that cooking method. They were plump, had delectable crispy skin – except for the couple of exceptions mentioned below.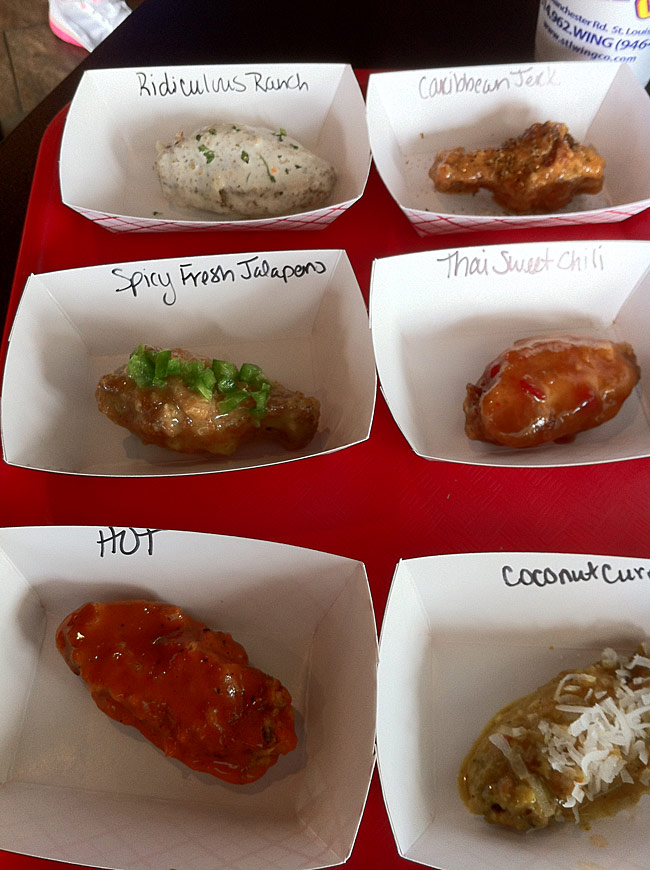 Chicken Wings, Round One
Ridiculous Ranch
Not what I was expecting. It's less of a generic, bottled ranch salad dressing sensation that you are used to dipping your buffalo wings into, and more of a smooth ranch seasoning mix that pops with some light herbs and spices, and some fresh ones are sprinkled on top. Although it's billed to contain a bit of habanero & ghost chili, I could detect virtually no heat.
Overall Flavor –

Heat –
Addictability –
Caribbean Jerk
I'm used to a Jamaican jerk seasoning that is strong with allspice and Scotch bonnet chile peppers, but this is smoother, lighter, sweeter and is puncuated by a blend of herbs and spices. Creamy and altogether very scrumptious.
Overall Flavor –

Heat –
Addictability –

Spicy Fresh Jalapeno
Although the minced fresh jalapeno chunks covering these bad boys provided a lovely and texturous jolt, I thought the sauce itself was a bit disappointing, hum-drum and made the crispy fried skin of the wing a bit spongy. It could have used some additional blast of garlic and cilantro in it. Chef Bobby mentioned to me that he might play with the formula a bit to turn it into more of a tomatillo-dominated verde sauce.
Overall Flavor –
Heat –
Addictability –

Thai Sweet Chili
While it was non-offensive to the palette and not strikingly bold (perhaps bordering on overly simple fo the masses), I dug the sweetness and fruity base of the spicy sauce. The more I ate of this single wing, the more I liked it. I could scarf down an order of 6 of these in no time flat.
Overall Flavor –

Heat –
Addictability –
Traditional Hot
This is St. Louis Wing Company's basic buffalo wing and best seller, with the hollowed cayenne and melted butter combo. Chef Bobby also threw a few spices in, and the herby taste certainly comes through. I would have preferred more kick and vinegary twang, but this was nothing to complain about.
As I wrote previously, this restaurant does not have multiple levels of heat for their traditional flavor, but you can custom order hotter versions using this sauce as a base; they will simply mix in an extra teaspoon or two more of habanero powder for some burn that chileheads would appreciate.
Overall Flavor –

Heat –
Addictability –

Coconut Curry
We were getting into oddball territory with this little guy. I enjoy a little curry flavor, but nothing overpowering. And I admit I despise coconut for the most part. But do you know what? Coconut Curry was one of my favorite offerings! There's just enough curry tones to blend with the other middle-eastern spices, and the coconut milk within provides a three-dimensional amenable richness and sweetness. Very tasty, with the coconut shavings giving some eye-opening texture to this. I give this one a huge thumbs up.
Overall Flavor –
Heat –
Addictability –


Chicken Wings, Round Two
Lemon Pepper
Another one I wasn't too particularly fond of. There were light lemon and black pepper notes, yet the sauce was a tad too watery and oily and dominated what might have been a nice option. Even the natural taste of the base wing wasn't enough to burst through.
Overall Flavor –
Heat –
Addictability –

Sesame Ginger Teriyaki
Easily one of my favorites! A terrific harmonization of teriyaki and Asian inspirations. It wasn't full-force dark, salty and soy sauce flavors that come from classic tariyaki sauces, as this was a an amalgamation of sweet and nutty tones as well. The roasted sesame seeds gave the wing a great bit of texture and taste to the overall package. Well-balanced and just plain ol' delicious!
Overall Flavor –
Heat –
Addictability –
Toasted Garlic Parmesan
Reminded me of a good, gingerly-oiled piece of garlic bread with parmesan instead of mozzarella. The pieces of toasted garlic, grated parmigiano-reggiano and chopped parsley give this a wonderful Italian feel and texture like it almost was a chicken wing-based toasted ravioli; that may sound strange, but it still worked. Despite all of this, I don't know if I would be able to sit down and thoroughly enjoy 12 of these.
Overall Flavor –
Heat – 0
Addictability –
Basil Pesto
Interesting herb/basil offering in a creamy blend. It seemed like some really fascinating tastes wanted to break out yet never rose above "decent" level. And unfortunately there was no addictiveness to this flavor.
Overall Flavor –
Heat – 0
Addictability –

Greek Olive & Feta
This one had a vaguely flavorful kalamata olive tapenade accented with Greek spices, and topped with olive pieces and crumbled feta cheese. Worked nice enough, but not a high point.
Overall Flavor –
Heat – 0
Addictability –
French Honey Mustard
For those in the St. Louis area who believe that the Syberg's restaurant chain offers mustard-based wing sauce that's too pungent, and well…just "too much", this would be a sigh of relief for them. There's just enough mustard to give this some tanginess, and the sweetness and mild spiciness are dead-on good. Wildly addictive!
Overall Flavor –
Heat –

Addictability –
Marinara and Parmesan
My immediate reaction is that this is just like Chicken Parmesan, only in wing form. It's a beautiful thing… it's balanced with a rich tomato sauce and great cheese taste with near-virtuoso herbs and spices. Loved it!
Overall Flavor –
Heat – 0
Addictability –

Rally Squirrel
Named after the squirrel who dashed across the field during a St. Louis Cardinals playoff game last year. If you would name one food that defines baseball, what would it be? Well, Cracker Jack certainly comes to mind as a definitive ballpark munchie, with its peanuts and caramel-coated popcorn. Chef Bobby took these components (sans popcorn), and oddly enough made it turn out more like a Pay Day candy bar! This was very appealing, sticky, nutty, and sweet, and was actually one of my favorites out of the bunch. Although there was supposed to be some habanero powder thrown in the syrupy caramel sauce, this was remarkably mild.
Overall Flavor –
Heat –
Addictability –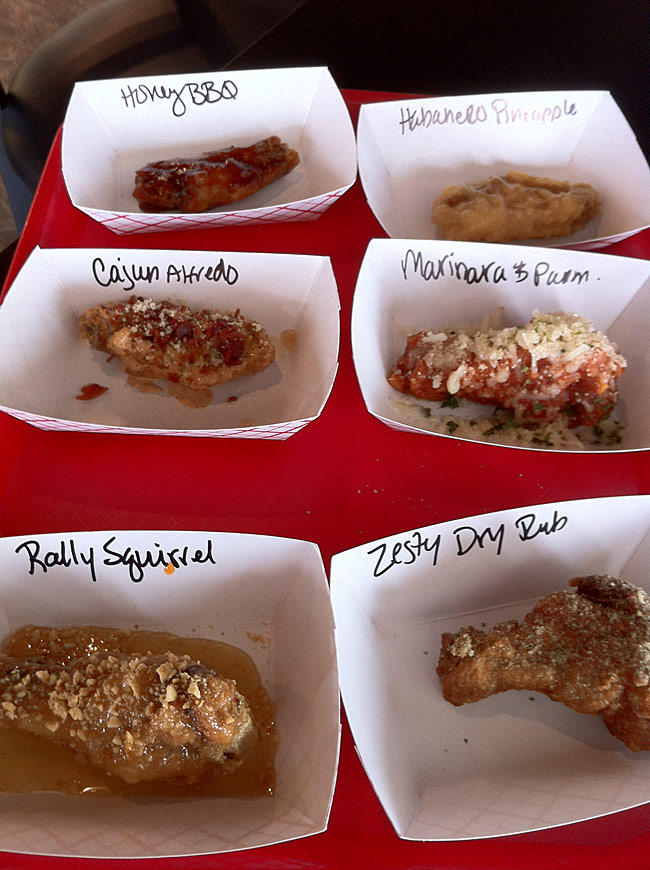 Chicken Wings, Round Three
Honey BBQ
Sweet, tangy, slightly rich and tomato-like. This sauce certainly would find a home in a chain restaurant as being their all-purpose, no-surprises BBQ coater. Even though all of St. Louis Wing Company's wing sauces are custom made, if anything gave me the impression that it came out of a bottle or jar, it would be their Honey BBQ sauce. Overall, I enjoyed it.
Overall Flavor –

Heat – 0
Addictability –

Habanero Pineapple
The sauce was smooth, mellow, and almost like a creamy, opaque applesauce-like consistency. I was expecting more of a bit of tart pineapple sharpness or a candy-like fruity kick, yet this was really dialed-down in that regard. Not too bad; but then again, this was not a grand slam winner, either. The Habanero Pineapple has a very slow, sneaky heat.
Overall Flavor –

Heat –

Addictability –
Cajun Alfredo with Crumbled Bacon
Perhaps the surprise of the lot. The texture and feel in the mouth was incredible – the turkey bacon was a nice foil for the creaminess of the sauce. And the sauce itself was delicious. It was well-seasoned, zesty moderately spicy and packed with flavor at every turn. This one was a solid winner.
Overall Flavor –
Heat –
Addictability –
Zesty Dry Rub
Coming out of nowhere was the wing joint's only "dry" offering. This wing was pre-marinaded and then lightly coated with corn starch and seasoned wonderfully before frying. This minor layer gave this a massive Southern fried chicken vibe without it actually being a thickly-breaded piece of chicken. This was a positive point as I usually prefer wings not to be be breaded (and most of us know that non-breaded, or naked wings, are the real buffalo style, and not the "more breading than meat" crap that Hooters serves). Wild spices dance all over it, making this a mean and tasty wing.
Overall Flavor –

Heat –

Addictability –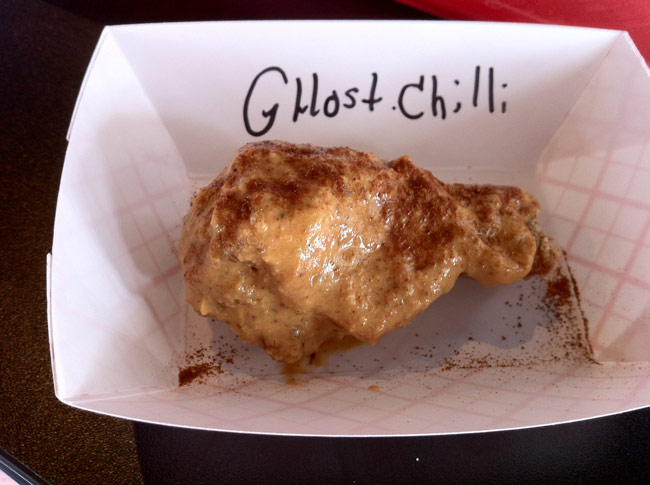 Ghost Chili Wing
Ghost Chili
This variation is not part of their regular lineup of sauces and are instead made for their Ghost Chili Wing Contest. The challenge consists of wolfing down six wings covered in a bhut jolokia AKA ghost chile pepper sauce in 5 minutes or less with no napkins, drinks, or other food, and the contestant must lick their fingers when done. Afterwards there is a 5 minute waiting period with no napkins, drinks, or other food. Winners receive a $10 gift certificate, a Survivor t-shirt, and a photo on the "Wall Of Flame".
Well, after eating 18 different wings, I wasn't ready to tackle this kind of challenge, but you know me being me I just HAD to find out what this tasted like.
For a super-hot "challenge" wing, it was actually quite flavorful. No nasty pepper extracts were there to ruin the taste, and the base sauce consisted of no other peppers other than a ghost chile puree. This thick glop covering every square millimeter of the wing was creamy and scrumptious. Then some heavily smoked bhut jolokia was liberally sprinkled on top. I'm not a huge fan of smoked jolokias (I prefer the fruitier fresh ones), so that presence brought down my opinion of the wing down a notch or two. This really did pack a punch heat-wise! While most hardcore chileheads wouldn't feel much significant resistance while eating one of these, you are more than likely going to encounter eye watering and numb lips.
Overall Flavor –

Heat –
Addictability –
St. Louis Wing Company Details
Address:
9816 Manchester Rd
Rock Hill, MO 63119
Phone:
314-962-9464 (314-962-WING)
Website:
Hours:
Sunday – Thursday 10:30am – 9:00pm
Friday & Saturday 10:30am – 10:00pm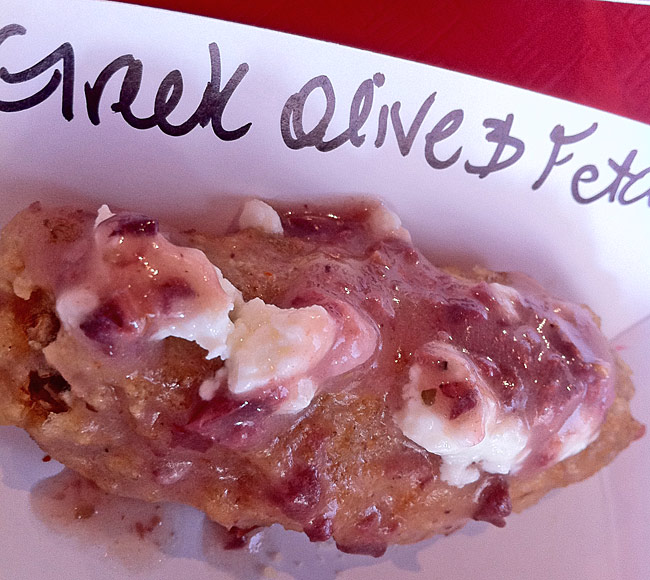 Greek Olive & Feta Wing

Zesty Dry Rub Wing
Review of 19 Different Unique Wing Flavors – St. Louis Wing Company