I present to you a couple of the most delectable sugary treats ever to have had any form of chile applied or added to it: Sunny Gully Farms Fire Corn and Sunny Gully Farms Chocolate Fire Corn. If you don't live around the Scottville, Michigan area and the name Sunny Gully isn't ringing a bell, you might know the owners, Bob and Sue Shuman as Mr. & Mrs. Hobbyfarmer from the last dozen or so Open Fields chile pepper festivals in Indiana. As you might have guessed, Bob has close ties to the Midwest spicy foods industry – he includes both Jim Campbell and CaJohn Hard as longtime friends – and sells a number of sauces, glazes and other food offerings under the Sunny Gully name to local farmers markets and stores. If you've attended Open Fields, you have probably sampled some freebies generously he generously handed out.
I don't think I've really been nuts (no pun intended) about caramel corn of any kind since I was a young lad, when I'd crunch and munch (pun intended that time) on Cracker Jacks; and even then I'd be more interested in the cheapo "prize" at the bottom of the box than the food contents. Fire Corn blows away all the mass-produced brands of caramel corn and is without a doubt the best snack food of its kind I've ever eaten.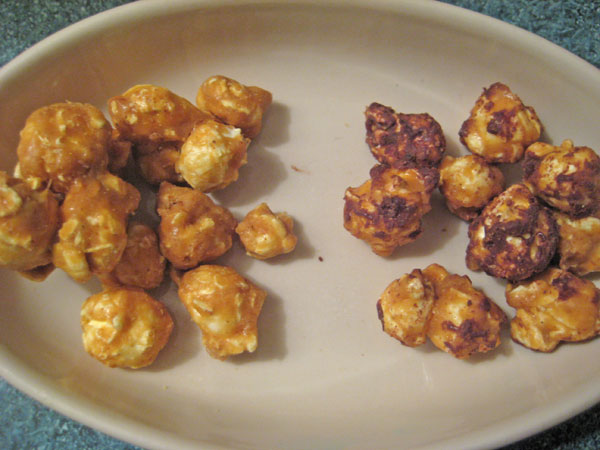 Fire Corn Ingredients:

Brown sugar, popcorn, corn syrup, sugar, butter, soybean oil, lecithin and ground chile peppers. Does include an allergen alert of containing soy and dairy.
Chocolate Fire Corn Ingredients:

Brown sugar, popcorn, corn syrup, sugar, chocolate, butter, soybean oil, lecithin and ground chile peppers. Does include an allergen alert of containing soy and dairy.
Let's start with the Fire Corn. It appears to be be just like any other variation of caramel corn you've seen. If you're wondering, this does NOT contain peanuts – no big deal with me, as I'm not a fan of nuts, so the differences with most other caramel corns begin there. Despite the presence of ground chile this does have the aroma associated with peppers. It smells like any other type of caramel-covered sweets.
Texture-wise it contains a thicker, more grittier coating than what you may be accustomed to. That's certainly not a liability – I prefer this heavy brown sugar-dominated covering than the thin, brittle-hard caramel of the nationally-known companies. Pop some in your mouth, and you'll find it richer, tastier and nuanced than any other flavored popcorn. It's incredibly difficult to stop eating Fire Corn one you've popped a few pieces ion your mouth. It's phenomenal!
The heat slowly builds and shows itself after you've chewed up two or three bites. It never peaks above a medium level burn, but since the overall flavor is spot-on, I really didn't care that it wasn't hotter.
If it weren't for the heavenly Cow Girl Chocolates, I would have given Sunny Gully Farms Fire Corn my nod as the sweet and spicy product of the year. Nevertheless, this is still a great product. It gets an easy 5 out of 5.
The Chocolate Fire Corn is essentially the same product, only with a good dose of chocolate splashed over the caramel coating mix. It too proved to be an addicting snack, although I liked this a little less than the plain caramel Fire Corn.
The Chocolate version has an even more heavy coating, and it got a bit sticky and messy at times; a napkin or wet-wipe is required equipment when consuming this. The flavor is excellent, and the heat was about the same. What more can I add? It was a highly worthwhile product. The Chocolate Fire Corn rates a 4.5 out of 5.
Should I recommend either of these? If I would, then I'm afraid I would would be the blame of addiction from whomever would try it, and I don't want to bare that responsibility. Seriously, you've got to buy this stuff if you can.
Where can you purchase either flavor? Well, if you happen to live in Mason County, Michigan, you can try the Ludington and Scottville Farmers Markets, PM Expeditions, Nichols Drugs, Northside Market, and The Mercantile Grocery. In the spring, you can visit Indiana Hotluck & Fiery Foods Expo in the town of Madison and ask for some from Bob or Sue. Of course, Open Fields in September is also an option to acquire those awesome samples.
For the vast majority of us, e-mailing Bob directly to order Fire Corn is by far the easiest option. Bob assures me that a website is being planned in the future, but until Sunny Gully Farms opens an online store you can ask for some of of this delicious corn at hobbyfarmer @ t-one.net (just take the spaces out of the e-mail addresses).
Review – Sunny Gully Farms Fire Corn