Here's a foursome of uncommon sauces from our friends up North. Peppermaster is a Quebec, Canada outfit run by Greg and Tina Brooks and the couple has been steadily making their company's presence known to American over the past few years with their massive lineup of unique sauces and products. The ones I'm reviewing today – Peppermaster Junior Chili Chocolate, Red Savina Mango, Nirvana Naga and Sweet Goatpepper Chili Sauce – are very representative of Peppermaster's highly diverse offerings. I'm pleased to say that every single one is the polar opposite of run of the mill. If you've grown weary of copycat or "me too" sauces, give Peppermaster a try.

Clockwise from top left: Naga Nirvana, Sweet Goatpepper Sauce, Chili Chocolate and Red Savina Mango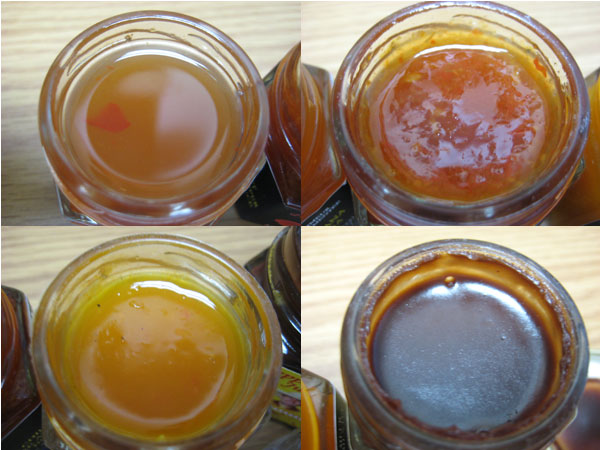 Clockwise from top left: Naga Nirvana, Sweet Goatpepper Sauce, Chili Chocolate and Red Savina Mango
Peppermaster Junior Chili Chocolate
Ingredients: fair trade certified sugar*, glucose, cream (35%mf), fair trade certified Callebault chocolate*, fresh pepper liquor, butter (salt-free), espresso (spring water, fair trade certified coffee*), pure Tahitian vanilla extract.
This was a big surprise. I was expecting a runny, spiced-up chocolate syrup and instead found an ultra-dense, rich substance. If you want this cold, you must extract it out of the mini-jar with a spoon or knife. If you have the larger bottle of Chocolate Chili, then a good microwaving is in order to soften the syrup up in order to be pourable.
The taste of this is excellent. It's wonderfully fudgy and rich with a semi-sweet/dark chocolate edge, yet it's still light and sugary enough for most chocolate fans' palettes. You can definitely taste the liquor in this but it's not overpowering. I couldn't really detect coffee in the flavor, but the small amount of vanilla gives this dimension. Chocolate Chili does not have much heat at all, but there is a tiny, delayed warmth that comes on the backside of a bite. Peppermaster does sell a regular version of Chocolate Chili that is much spicier (be sure to note the "Junior" on the label of this one I'm reviewing, as the hotter one lacks that description).
Ice Cream is an obvious choice for this product to be applied to. I could also see this as a dip for fresh strawberries or as an additive to perk up some hot drinks such as espresso or hot cocoa.
Overall Taste: 4 out of 5.
Red Savina Mango Sauce
One taste of this medium-thick liquid and I got hit with a well-balanced, brightly-flavored punch. It's got great taste and heat derived from the red savina habaneros, and the included fruits and veggies all bring their own distinctive attributes to the overall mix.
I consider this to be the winner of the quartet. Because of it's unique flavor profile – it's fruity, spicy, sweet, and has a touch of vanilla – this may appear to be strange "on paper" and be hard to peg. After tasting this, though, I can picture this pairing with a large number of foods and dishes. This could be a marinade or glaze for pork, chicken breasts or fish. Red Savina Mango would make some dazzling sweet and spicy chicken wings. This sauce would be terrific with sauteed veggies, stir-fry or with steamed white or brown rice. It could be a nice drizzled over some pineapple upside-down cake. And ice cream? Of yes!
In a nutshell, it's sweet enough to be a dessert sauce, but savory enough for vegetables and meats. Very versatile. A highly-recommended product with a masterful flavor.
Overall Taste: 4.5 out of 5.
Nirvana Naga
Ingredients: spring water, fair trade certified organic cane sugar, Organic apricot puree, Organic certified Naga pepper liquor, fresh lime, cornstarch, citric acid, guar gum
With a peppery aroma and runny viscosity, this gave me a quick first impression of being a typical, fruit-infused hot sauce. Upon further inspection, it's consistency despite being drippy is very smooth. There's an occasional shred of chile pepper, but it's very unlike most other pepper sauces in that it's not pulpy, pureed or have much body at all. It's definitely a smooth character, and I would have preferred this to have a little bit more "meat" to it.
I consider this to be the odd sauce of the bunch. The ingredients would suggest that this would be a highly fruity concoction with a dash of peppery heat. Nope. In my opinion it was dominated by the naga flavor with a slight kick from the liquor. It wasn't sweet enough to be considered a really good sweet pepper sauce yet lacked a lot of personality to be thought of otherwise. Sure, Nirvana Naga is hot – it's got heat by the bucketloads, and is probably the scorching-est of the four reviewed here – and it's got a lot of flavor. It lacked something, though (perhaps vinegar) to truly make it a stand out sauce. I still applaud Peppermaster for the effort.
Overall Taste: 2.5 out of 5.
Sweet Goatpepper Chili Sauce
Ingredients: Fair Trade Certified Organic Cane Sugar, fresh Goatpeppers, fresh garlic, spring water, Kosher sea salt, modified corn starch, citric acid.
This orange/red tinted sauce possesses a thicker body with the beautiful look of finely ground up bits of fresh goatpeppers and garlic. A quick sniff and finger-dab of a taste will reveal this to be a condiment in the Thai sauce vein. If you're into Thai chile sauces, this is less like Sriracha and more like a Sambal; and by that I mean it has less of a pungent garlic/salt flavor and more of a laid-back, slightly milder, and better balanced taste.
I like this stuff. It's easily of of the best Asian/Thai chile sauces I've had the pleasure of trying. Egg rolls, shrimp, chicken, rice, and the rest of your Asian-inspired favorites would benefit from Peppermaster's Sweet Goatpepper Chili Sauce.
This stuff contains a perfect medium-hot spiciness, clocking in at 2 or 2.5 on a scale of 1 to 5.
Overall Taste: 4 out of 5.
To purchase these and many other fine items, mosey on over to Peppermaster.com. The sauces above are part of their "mini" lineup; larger bottles of these same sauces are also available.
Review – Peppermaster Sauces