Suzi and Scotty Owens of Scotty O' Hotty Hot Sauces
It was a thrill to be back in Fairfield, Ohio for the 10th Weekend of Fire (shown as Weekend of Fire X on their marketing materials), held at the expansive Oscar Event Center inside of the Jungle Jim's International Market mall. Held on Saturday, October 1st and Sunday, October 2nd, this event is the biggest and longest-lasting fiery foods celebration in the Midwest. I was there both days to take in the sights, the sounds, and (most importantly) the flavors.
Show attendance seemed down over previous years. The crowds on both the show floor and around the "Arena of Fire" eating contests looked sparse on Saturday, while on Sunday, they picked up a little bit.
When it came to the eating challenges, I paid little attention to them outside of the one event I helped judge (the Hot Diggity Dog contest sponsored by CaJohns).
Instead, I wanted to focus on the food products at the show – the hot sauces, salsas, BBQ sauces, condiments and snacks available as samples by the nearly 50 vendors set up this weekend. Based on the vendor list, there were a lot of new players at this show, and I wanted to see what they had to offer.
My Favorite New Products at the Show
I'm always eager to try out almost everything I can at any hot sauce shows and fiery foods festivals. I'm actually attempting to compile a list on my Spicy Food Reviews page and show ratings for 80 to 90% of the over 4,000 sauces and seasonings I've tried over the years (it's a monumental work in progress that I'm starting here in late 2016, so bear with me).
At an event like the Weekend of Fire, there are always going to be scores of products I've already tasted. Of the newer stuff vendors featured, lot of things are going to suck. Some products will be mediocre or decent, and a select few will inch over into "good" territory.
Yet it is the products that are truly delicious that I'm interested in finding. I'm always on the lookout for "the next big thing."
Overall, the performance of new salsas and BBQ sauces at Weekend of Fire X seemed like of "meh". Depending on the particular show and the vendors, sometimes there will be a strong turn out for vendors with great new seasonings and rubs (one of the things I look for as a big BBQ guy), but their presence was lacking here as well. There were quite a few mustard sellers in the booths, although there wasn't one in particular that jumped out at me as being superb or innovative.
Below are the sauces, seasonings, syrups, jams and jellies and whatever that wowed me, and that you all should look into trying for yourselves:
Snake Oil Distillery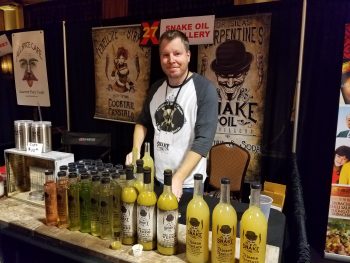 I was shocked to see owner Chad Lowcock at the Weekend of Fire, as he was not on the list of scheduled vendors. Snake Oil Distillery is the arm of Chad's company that sells alcoholic drink mixers, and he was there mainly representing that (which was mildly disappointing) instead of his hot sauce arm of Race City Sauce Works. He did have about three hot sauces there, including his stellar new Von Strike's Strawberry Steakpunk sauce. This is a dessert sauce through and through (although I'd love to try it as a wing sauce) and has a top-notch flavor.
Angry Goat Pepper Co.
I first experienced the Angry Goat Pepper Co. up at the 2015 Great Chicago Fiery Foods Fest and was wholly impressed by their sauces and pepper jams. If you're looking for off-kilter, but still killer, flavors – many which incorporate sweet and fruit tones, along with crazy animal names – this is the company you've been looking for.
What whatever reason, I forgot to purchase anything from Jason and Roberts Parker of Angry Goat at that particular show. I wanted to remedy that oversight this time, and I bought their Red Armadillo, Purple Hippo, and Yellow Flamingo sauces. You have to taste them for yourself to see how unique they are.
Mixology Marmalades
Brash and unique, virtually all of Mixology Marmalades' products were stunning. Their items are alcohol-infused marmalades and jams with wildly different ingredients and flavor profiles. If I had unlimited cash, I could have easily walked away with ten different jars of their sweet fruit marmalades.
In a coincidental instance (or maybe it was planned?) of "location, location, location," Mixology Marmalades' booth was situated right next to Graeters Ice Cream, who was giving out free samples of vanilla bean ice cream. It made it easy to grab a cup of ice cream and testing out a few different marmalades in a "real world" application. Wonderful stuff!
Little Bird Chocolates
Coming in from Long Island, NY was Little Bird Chocolates. I was looking for something sweet at the show, and unfortunately their chile-infused chocolate bark (which came in white, milk and dark chocolate styles) fell short of a recommendation from me.
However, they had a Fire Syrup, which is a sweet simple syrup flavored with jalapeños that knocked my socks off! They were on the opposite side of the Graeters Ice Cream booth, and I was able to pour a little of this tasty product on an ice cream sample.
Black Swamp Gourmet
There was nothing officially new from this great BBQ company, but Bob and Karen Basel had samples of an upcoming hot sauce that they were letting a select few chileheads and vendors test out. I'm sure a little tweaking here and there will be done, but they are definitely on the right track!
Cin Chili & Company
Cindy Reed Wilkins and Bruce Wilkins are stalwarts in the fiery foods industry with their award-winning chili mixes and sauces. One really oddball thing that they had new was their Passion Pickles Juice. Yes, you heard that right – they sell a jar of just the juice and no pickles. It may sound totally bizarre, but after taking a swig of a juice sample, I was pleasantly surprised at the sweetness and smooth flavor. It certainly wasn't just a bunch of vinegar!
Cindy and Bruce suggested to try this out as an alcoholic beverage additive, but since I'm not much of a drinker, I'll have to find another application. Perhaps as a brine for chicken? I'll report back soon and let you know how this endeavor goes.
Elijah's Extreme Gourmet Sauces
This father and son team had given me a bottle of their Ghost Pepper Sauce to try last year (which I reviewed on The Firecast Podcast). It was good, but nothing mind-blowing.
At this Weekend of Fire Show, they featured their brand new second product, Carolina Reaper Pepper Sauce, which contains perfects amounts of black cherry, cranberry, and bourbon. Oh, yessssss…this stuff was GOOD! I can't wait to find things to try this on!
CaJohns Fiery Foods
These industry legends had a trio of new taco-style sauces they were unleashing upon the Ohio masses.
All Spice Cafe Gourmet Foods
This company, founded by J.D. Cowles, continues to chug along successfully. They had a delicious new green Pina Serrano Sauce that comfortably fits in with the rest of the classic All Spice Cafe lineup.
The Chesterville Pepper Company
This Indiana hot sauce manufacturer, lead by Tina Tillman, is truly one of the most underrated in the Midwest. I loved their taco-style Wrath Of Cerberus Hot Sauce and the sweet Honeycrisp Apple and Carolina Reaper-infused Burn Out Hot Sauce.
High River Sauces
Steve Seabury's newest sauce is the excellent Cheeba Gold Barbados Style Scotch Bonnet Pepper Sauce. Although I first tried this out a few months ago, I wanted to mention this anyway. Cheeba Gold went on to be voted Best Hot Sauce here at the Weekend of Fire!
Mikey V's Foods
It was great to meet the Texas-based Mikey Vee and his crew. They had some awesome Carolina Reaper Pickles, and I picked up some of their Red Raspberry Reaper BBQ Sauce and Ghost Pepper Sweet Chili Sauce.
Scotty O'Hotty Hot Sauces
Scotty and Suzi Owens had a Scorpion version of their crazy good Beer Bacon Chipotle Sauce. I think with a little tweaking, this hotter version could be de facto star of their sauce lineup.
Zach's Wing Sauce
It was great to finally meet fellow St. Louisan Zach Thomas in person. While the jury is still out on their unique spray bottles (I found it doesn't work quite well for thicker sauces), I think they're on to something with their Sweet Heat and Mesquite Heat flavors.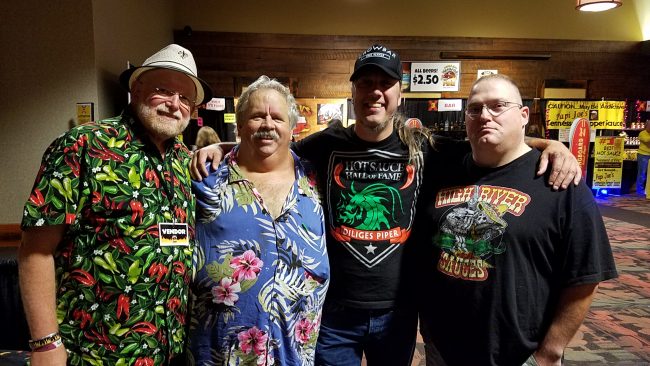 CaJohn Hard, Chip Hearn, Steve Seabury, and Steve "The Machine" Smallwood

The artwork on Clamlube's bottles

Mikey Vee (right) and crew

Susan Greene of Ole Ray's Sauces

Jungle Jim Bonnaminio (left) presenting CaJohn Hard a 10-Year Award for being the only vendor appearing at the Weekend of Fire for all ten years of it being held. Photo courtesy of Sue Hard

Goldrush Jerkies

Kendall Stadler of TastingtheHeat.com (left) and me. Photo courtesy of Kendall Stadler.

Katie Levesque of Katie's Premium Jerky & Snacks

Johnny McLaughlin of Heartbreaking Dawns

Jason Parker and daughter of Angry Goat Pepper Co.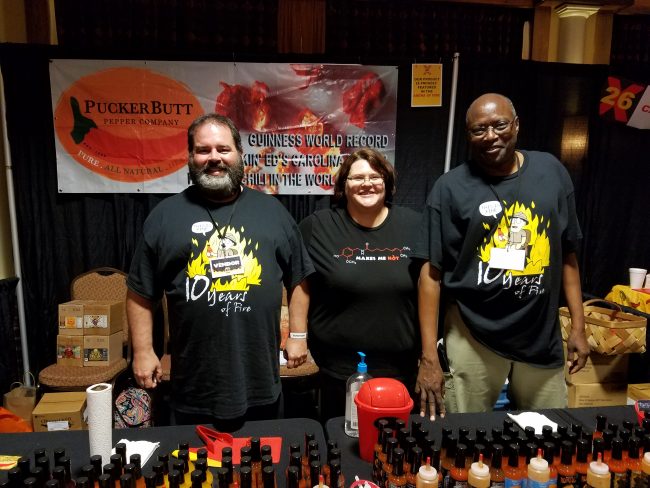 The Pucker Butt Pepper Company booth

Karen and Bob Basel of Black Swamp Gourmet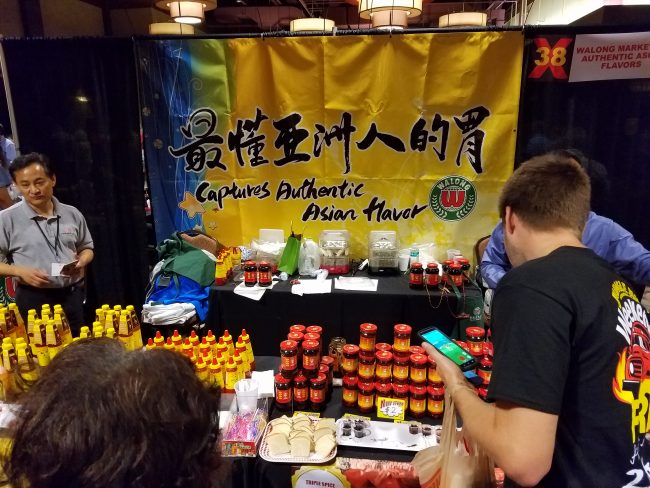 Walong Marketing Authenic Asian Flavors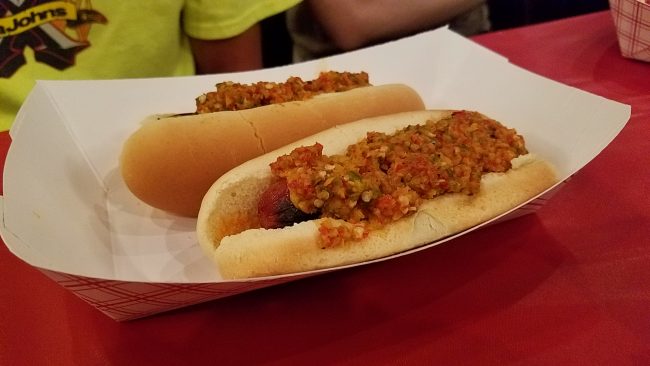 The fiery weiners and buns featured in the Hot Diggity Dog contest, sponsored by CaJohns Fiery Foods. Yes, those are some of the world's hottest peppers in a finely-chopped relish on top.

Hot Diggity Dog contest. The pain is real!

High River Sauces' award for Best Hot Sauce, as voted by show attendees, for their Cheeba Gold Barbados Style Scotch Bonnet Pepper Sauce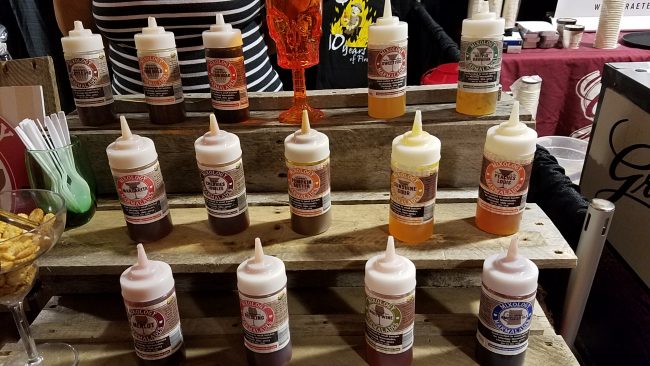 Mixology Marmalades' many flavors were one of the highlights of the event

Spicy snacks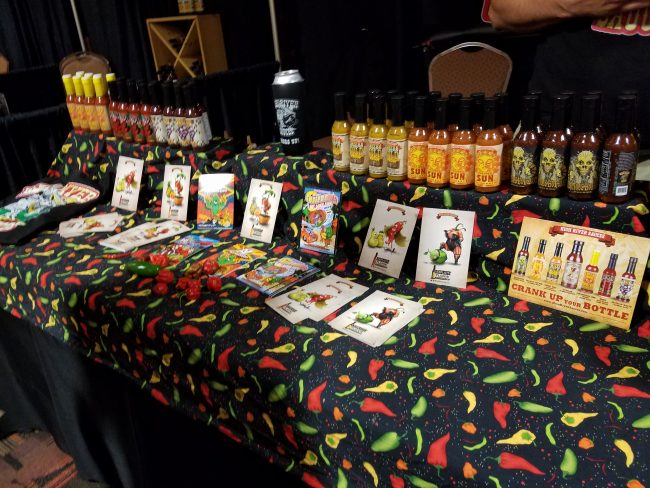 The High River Sauces' booth

The spray bottles full of Zach's Wing Sauces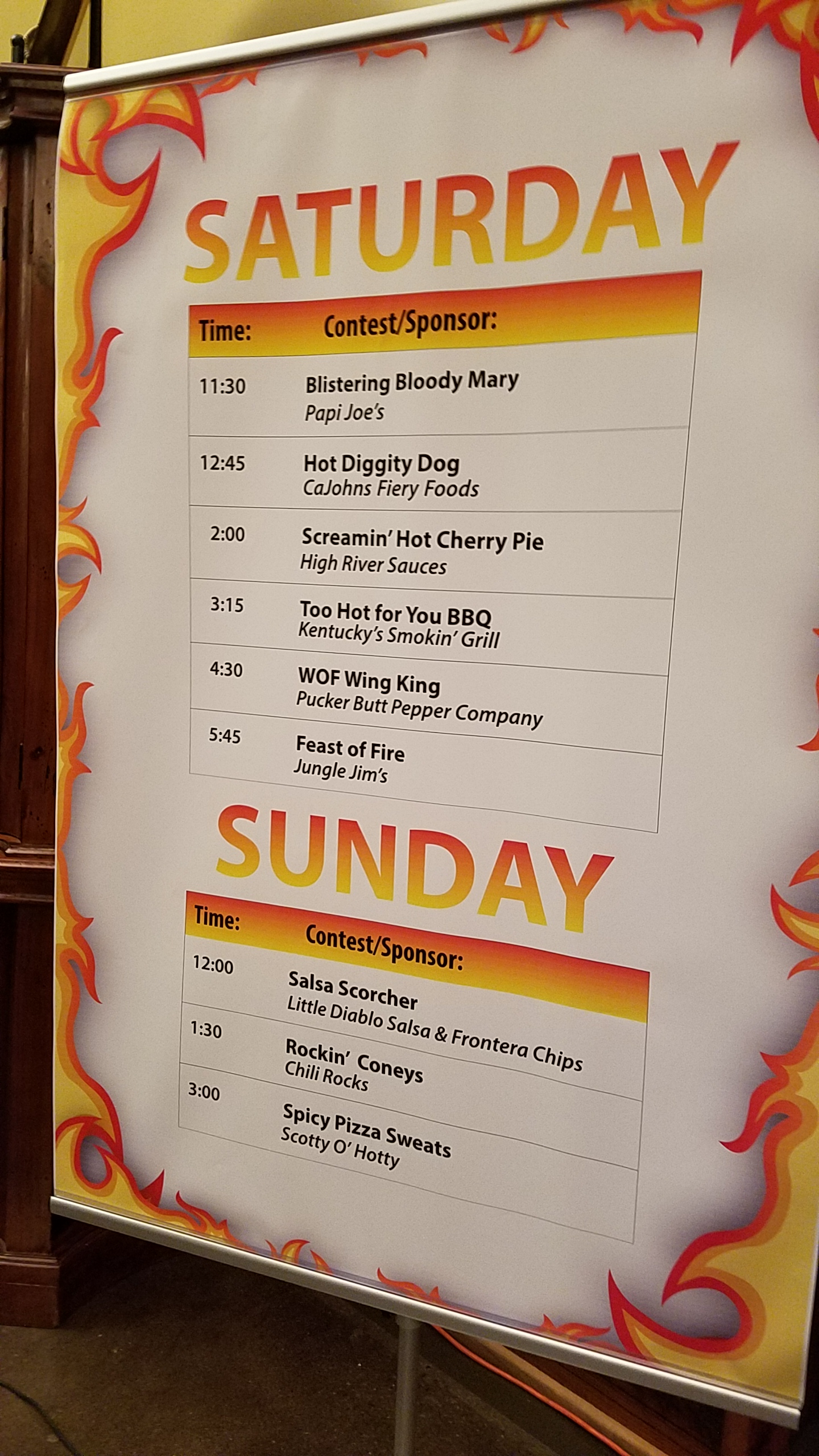 The schedule of events

My hot sauce haul from Day #1

My hot sauce haul from Day #2

The hot sauce and BBQ sections downstairs in the main Jungle Jim's store apart from the Weekend of Fire show.
2016 Weekend of Fire New Product Report and Photos