Here's a complete surprise I stumbled upon during the last family outing at our Fenton, Missouri Buffalo Wild Wings location… spicy ice cream! With my youngest son, Kevin in tow, we knew this was just something we had to try as soon as I spotted it in a special menu insert: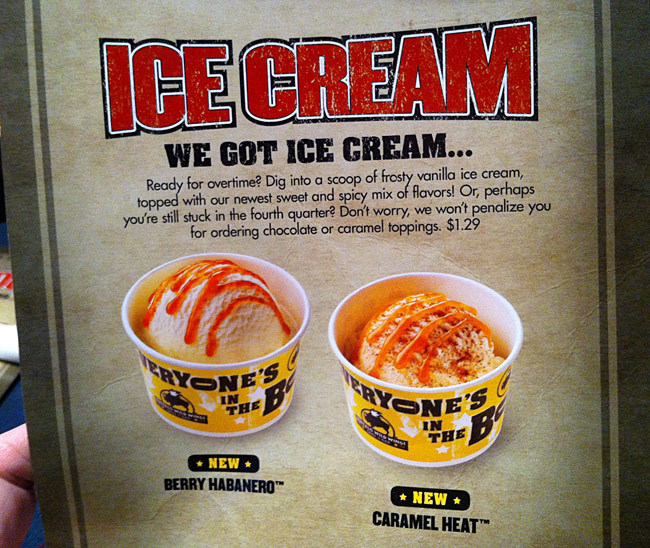 If you can't find this frozen wonderment at your local B-Dubs, it's in all likelihood that this is a test program that's only available in select geographic areas.
As you can see in the photo above that Buffalo Wild Wings' spicy ice cream comes in two different topping options: Berry Habanero and Caramel Heat. Both of these consist of a single scoop of vanilla ice cream with the flavoring covering the top. The Berry Habanero one is pretty much self-explanatory; a spicy dessert sauce with light fruity flavor and habanero heat. The Caramel Heat consists of Buffalo Wild Wings' Desert Heat seasoning rub shaken atop the ice with regular caramel syrup poured on that.
Berry Habanero
First was the fruit-based cold confectionery Berry Habanero. The sweet & spicy sauce did indeed have a meager berry-like flavor, but to break it down further would be an exercise in futility as any significant punch or burst of distinctive flavor simply wasn't there. Nor did it have any fruit-like flavor from habanero chile peppers (but would one expect it too from a mainstream establishment?). There was a smidgen of heat to classify this as "spicy". Unfortunately, the overall flavor was too buried-down and generic to be considered any good.
Caramel Heat
After the letdown of the Berry Habanero, I was hoping that the Caramel Heat ice cream would be able to rush in and save the day. After a bite of this one, I had mixed feelings. The Desert Heat seasoning – wonderful by itself – sparked an interesting melange of savory elements not normally associated with frozen desserts. There was the edginess of saltiness, the sharpness of garlic and a tad bit of warmth from chile pepper. I liked this aspect of it, especially when it blended in with the caramel syrup (which in and of itself, wasn't anything to write home about).
The problem is, there wasn't enough of the seasoning.
Our waitress (whose name was Katie and provided us exemplary service) stopped by shortly afterwards to inquire how our dessert was. I expressed my disappointment of the skimpy amount of Desert Heat dust and she kindly offered to return the cup of ice cream to the kitchen to get more sprinkled on it. As much as I would have liked more of the seasoning for my own personal satisfaction, I refused because I wanted to base this review on the merits of how Buffalo Wild Wings would normally prepare the dish.
What both of these are lacking is the flavoring being embedded in the ice cream itself. What happens is that after the first 3, 4 or 5 initial bites of the top part of the ice cream (think the "muffin top"), the special flavoring is gone and all you're left with is some fairly bland and unimpressive vanilla ice cream, even if you re-apply some of the syrup that's dripped down to the bottom of the cups.
I think that it's great that a mainstream chain is debuting items from one of my very favorite sub-genres of food – sweet and heat. But both of these variations are incredibly vapid and overpriced for the most generic vanilla ice cream with hardly more than a drizzling of syrup or a quick shake of rub.
Overall Rating
Berry Habanero:

Caramel Heat:
Kevin's Thoughts
I thought the ice cream from Buffalo Wild Wings was so-so. I liked the Berry Habanero
better because it tasted like sweet fruit. There was not enough syrup on it. The Caramel Heat had a funny taste. It was kind of good but my dad told me about the seasoning and I think that is what made the ice cream taste funny. I don't think I would get these again. I like their apple pie better.
Review – Buffalo Wild Wings Spicy Ice Cream – Berry Habanero and Caramel Heat