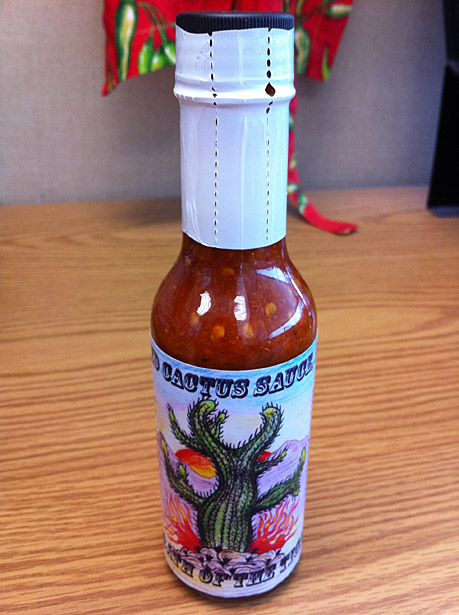 Chris Benz of Wicked Cactus Sauce shows that he's not a one-hit wonder with his Wrath of the Tiger hot sauce. This one is an Asian influenced elixir with a lot of promise. While it fails to be an absolute champion against a plethora of other newer (and admirable) products deluging the market, it still stands up enough with a lot to offer and is worth a look if you're in the mood for fresh, crisp notes in your sauces.
Ingredients:
Dried Thai Chili, Water, White Rice Vinegar, Garlic, Sugar, Salt, Coriander, Fresh Horseradish and Ginger
Aroma:
The aroma is light and hard to pin down. I detected traces of vinegar, chile peppers, coriander and mellow garlic.
Appearance and Texture:
4 out of 5. Wrath of the Tiger has a terrific consistency. Red in color, the texture is moderately thick characterized with a seedy pulpiness. It pours on food easily enough yet is still miles away from being a watery mess.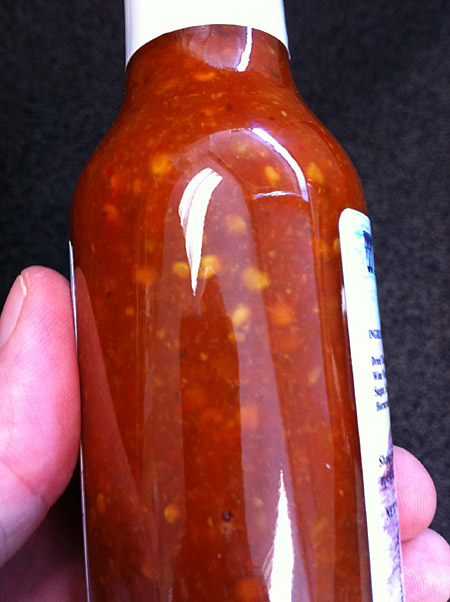 Taste Straight Up:
3 out of 5. At first lick I got kissed with the odd but wonderful tang of white rice vinegar, the heat of chile peppers and a wonderful Asian zing that's dominated by aromatic flavors while still possessing depth. The pepper flavor itself was more on the bitter, dried side and provided heavy, earthy tones. There's not much in the way of horseradish. Despite it lacking some expected sweetness, this didn't deter me from enjoying the unique pleasures that it offered.
Taste on Food:
3.5 out of 5. I dumped some on one of my favorite all-purpose, Asian-style dishes: pan-fried chicken, snap peas, scallions and carrots with rice. Good stuff abounded here and added enough complimentary flavor without taking the dish in a wrong direction. It was simple yet different enough to make me discover new flavors with each bite of new ingredients.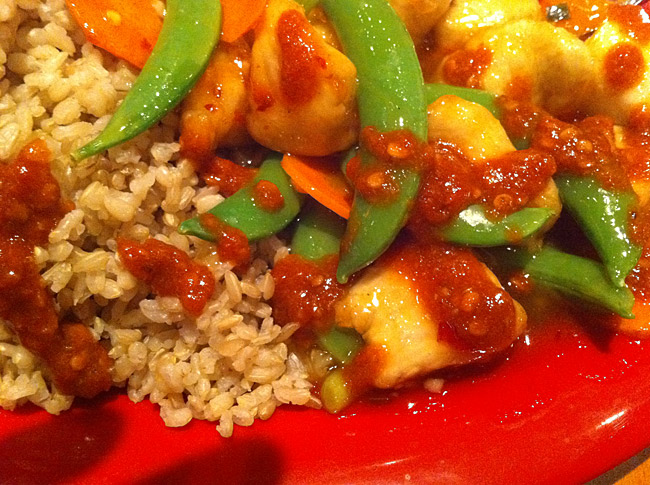 In future applications, I'd love to see this as a marinade or finishing sauce for grilled shrimp or sushi.
Heat:
2 out of 5. There was the instant tickling of fire and a secondary burn arriving several seconds into the taste. The heat isn't terrible and doesn't last long, giving the underlying flavors more breathing room.
Label:
3 out of 5. Wrath of the Tiger has the same hand-drawn cactus artwork as the other Wicked Cactus Sauces. It could be endearing or slightly amateurish, depending on how you look at it.
Overall:

While not reaching the lofty heights achieved by the previously-reviewed Wicked Cactus Sauce Head Hunter's Paradise, this is another sauce that should be placed on your list of things to try if you're ever perusing the official Wicked Cactus Sauce website. You can pick up a 5 oz. bottle for $6.00 plus shipping.
Review – Wicked Cactus Sauce Wrath of the Tiger Hot Sauce