Kevin's Side of the Dish
Kevin's Side of the Dish is 100% written and photographed by my 12-year-old son (and budding chilehead) Kevin Roberts. The only assistance I provide is any necessary fixes in capitalization and punctuation, help with HTML and resizing pictures in Photoshop. Although his perspective is that of a spicy food novice, he will approach things with a blunt, honest and completely undiluted viewpoint.
Previous 1 Next
Today I am reviewing Heartbreaking Dawns 1841 Hot Sauce. Last October I attended the Weekend of Fire in Ohio and tried out some hot sauces including this one. So I asked Johnny McLaughlin of Heartbreaking Dawns if I could take some home to try it out and review. And so I did.

Ingredients:
Pears, Applesauce, Cider Vinegar, Ghost Peppers (Bhut Jolokia), Water, Onion, Carrot, Lime Juice, Sugar, Sea Salt, Garlic, White Pepper

The sauce is orange, and it has a medium consistency. 1841 smells fruity and really spicy. In...

Permalink 6 Comments
Today I am reviewing GrownUp KidStuff Hot Chocolate Sauce.

Ingredients:
Cream, Cane Sugar, Butter,(pasteurized cream, natural flavors), Cocoa,( processed with alkali), Molasses, Big Fat's 8o8 Sauce, (water, onion, tomatoes, habenaro peppers, garlic, naga jolokia pepper powder, spices, lime juice, ancho chili powder,sea salt), sea salt, pepper.

It smells chocolaty, a bit rather spicy, and a bit strong.

It looks delicous, brown; it moves a bit slow, and is...


Permalink 8 Comments
I like desserts and snacks a lot. My dad loves to eat sweet things that are also spicy. He gave me some of his Heartbreaking Dawns Fountain and Fairfax Ghost Pepper Chocolate Chip Cookie and it is hot!



Permalink 4 Comments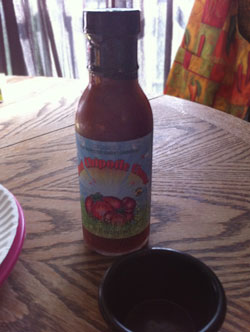 Today I have reviewed Intensity Academy Chai Chipotle Chup. When I first dipped my french fry into the Chai Chipotle Chup, I thought it would be as hot as a habanero since it says habanero peppers in the ingredients.

It tasted spicy, a bit crunchy from the onions, and tart. It was more like a liquid than a solid. It was mostly thin; it was not thick. I also...




Permalink 5 Comments
I went to Arby's for my dinner and I am reviewing Defcon Defense Condition 2. The food I got from Arby's was their 5 pc. Chicken Strips. The chicken is crunchy, juicy and great. The sauce looks like a glob of orange goo. The sauce is thick at first and a bit later it's drippy. When you first try the sauce, you sometimes cough. You get a kind of taste of spice, like your mouth lit on fire and then stopped. The Defcon sauce tastes spicy, a bit creamy and peppery. The burn lasts from 3-4 seconds and no milk or anything is needed for the sauce to drink...




Permalink 16 Comments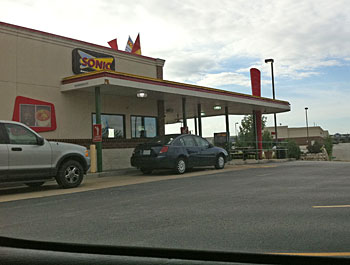 Ladies and gentlemen, boys and girls, I present to you my son Kevin. He is a budding chilehead, and after watching his dad get to try out spicy foods and write about them, he expressed to me that he wanted to follow suit. So we've decided to have a recurring series that he himself has dubbed "Kevin's Side of the Dish". With today's installment, Kevin is cutting is review teeth (yes, pun intended) on a recent Sonic Drive-In visit.

All of these blog posts in the "Kevin's Side of the Dish" series, including the following one, will be 100% written by him. The only help I'll provide will be any necessary fixes in capitalization and punctuation. Of course, his old man here will help resize the photos (which Kevin will take himself) in Photoshop and code any necessary HTML code for the blog. Enjoy!
Sonic Drive-In Review
Today, I went to Sonic and had a Popcorn Chicken with Apple Slices and Caramel Dip. The Caramel Dip...


Permalink 14 Comments
Previous 1 Next
Spicy Food Reviews - Hot Sauces, Spicy Snacks, and more.