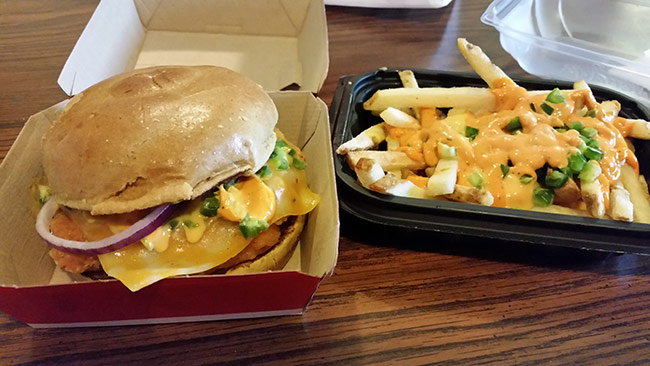 As I have probably written many times, it's probably useless to mention something along the lines of "spicy stuff" is invading every facet of the food industry. Duh. You already knew that.
What may be notable and relevant right now are the boundaries to which companies are crossing to bring in the heat freaks with their products. To give a fast food item a label of "ghost pepper" would have seemed incomprehensible as little as five years ago. Now in 2015, the number of major chains offering ghost pepper-titled options now require multiple hands to count them.
Wendy's has had fiery sandwiches since the George W. Bush administration, but they have recently debuted their Jalapeño Fresco Spicy Chicken Sandwich and Ghost Pepper Fries.
Is there anything to be excited about here for chileheads? Well, read on…
Jalapeño Fresco Spicy Chicken Sandwich
I grabbed the Jalapeño Fresco Spicy Chicken Sandwich and Ghost Pepper Fries for $4.99 and $1.99 at my local Wendy's outlet in Lake St. Louis, Missouri, which ended up being $7.28 with tax. That seemed just a touch pricey for a fast food meal with no drink, but I hoped that the two items delivered on flavor and satisfaction.
Wendy's Jalapeño Fresco Spicy Chicken Sandwich supposedly has four "layers" of heat:
From the spice blend in the breading of the fried 100% all white meat chicken breast
The Pepper Jack Cheese slice
The diced, fresh jalapeno pieces – a nice touch in taste and crunchy texture, as opposed to having more common softer, jarred picked jalapenos
The Ghost Pepper Sauce
On that last point: yes, this is the exact same ghost pepper-flavored condiment that is placed atop Wendy's Ghost Pepper Fries; yet for some reason (probably at the insistence of marketing and focus groups), this sandwich was not called Wendy's Ghost Pepper Spicy Chicken Sandwich. That's okay, as I am primarily interested in seeing if is a worthwhile product.
First, I lifted up "the hood" (AKA the bun). Well, let me mention the bun for a second. In Wendy's initial announcement about the Jalapeño Fresco Spicy Chicken Sandwich and Ghost Pepper Fries on this blog, a "freshly toasted red jalapeño bun" is also mentioned as being part of the spicy chicken sandwich experience, an aspect I forgot about at this point. The bun itself showed no signs either visually or taste-wise of being either spicy or containing jalapenos.
Alright, and now for the ingredients. As you can see in the photo above, there's a mixture of Ghost Pepper Sauce and cheese sauce (the Ghost Pepper concoction is a shade darker orange than the queso), two onion slices, a generous amount of diced jalapeno pieces, and a slice of melted Colby Pepper Jack on top of a large breaded chicken breast patty.
Placed back together, the Jalapeño Fresco Spicy Chicken Sandwich was hefty sized and had very little of the ingredients squirting out the sides. The mouth-feel of the ingredients were balanced, and I was mildly surprised at how good this sandwich was.
How was the heat, you might be asking? Maybe adding a bit more explanation above as to the naming of this product, the extreme heat typical of the actual Ghost Pepper (AKA the Bhut Jolokia, which was from 2007 to 2011 the World's Hottest Chile Pepper) did not even register on my tongue.  There was a tinge of warmth from the jalapenos, but not much else. If you're looking for something that would soothe the fire-breathing, hardcore chilehead beast in you, this will be a major disappointment.
However, if you're on the go, and are looking for a great tasting chicken sandwich with a small amount of spiciness, this is one of the better choices you can make at a QSR establishment.
Heat:
Overall Rating:

Ghost Pepper Fries
Wendy's Ghost Pepper Fries are standard french fries topped with three of the same components that were on the Jalapeño Fresco Spicy Chicken Sandwich: cheese sauce, Ghost Pepper Sauce, and diced jalapenos. As you can see in the picture below, the Ghost Pepper Sauce is slightly darker and contains specks of spices, and it blends in with the liquid queso:
Picking up a few fries by hand is a losing proposition, as neither the twin sauce-combination nor the jalapeno pieces adhere to very well to the individual skinny fries. A plastic fork (provided by Wendy's) is required to successfully consume the Ghost Pepper Fries.
I think the toppings are pretty good. I was able to get a bit more of the heat than I did with the chicken sandwich. However, the downfall here are the french fried potato strips themselves. Wendy's skinny French Fries have got to be some of the blandest, least appetizing, and coldest in the industry (almost as bad as McDonald's fries are). To push a new product with a foundation of mediocrity is why I would not recommend trying these out.
Heat:

Overall Rating:
In Summary
Simply put, "yay" for the Jalapeño Fresco Spicy Chicken Sandwich and "nay" for Ghost Pepper Fries.
These products come with the standard "for a limited time only" and "prices and participation may vary" verbiage, so by the time you read this, they may or may not be available in your local area. If you're curious, call up for your hometown Wendy's and see if they have either of these spicy themed offerings.
Review – Wendy's Jalapeño Fresco Spicy Chicken Sandwich and Ghost Pepper Fries