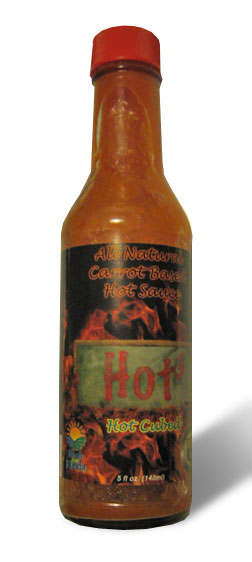 One of the perks of reviewing hot sauces is the pleasant surprises that just seem to pop out of no where. I get my fair share of packages in the mail that arrive with great fanfare – they're accompanied by promotional letters and info sheets, plus there's a bombardment of e-mails from the manufacturers which repeatedly query me like an impatient child: "Did you get my sauce yet? Didja? Didja?" This particular one was quiet and unassuming, so to speak. The Intensity Academy aren't exactly shy, but this small box containing a bottle of Hot Cubed (aka Hot3) Hot Sauce, their carrot-based, habanero-heated condiment came "out of the blue" and shocked me with its pure, rich flavor and fresh heat.
Ingredients:
Carrots, onions, habanero peppers, vinegar, garlic and lime juice.
Aroma:
4.5 out of 5. A knock-out combo of habanero chiles and carrots. Just a hint of vinegar was noticeable, too.
Appearance and Texture:
4.5 out of 5. This is about on par with other sauces of its type in terms of consistency. Its flow and viscosity are thick and gloppy and is free of large-sized chunks or spices. Hot Cubed is a touch darker than other carrot-based sauces I've seen, giving this an ambrosial deep-orange hue.
Taste Straight Up:
5 out of 5. Mere months ago, I hailed the excellent Benito's Naranja Organic Hot Sauce as probably the based carrot-based hot sauce I've ever eaten. Well, Naranja now has some stiff competition for my top spot in that category. Hot Cubed is just flat-out delicious. It's strong on the carrot taste, with good amounts of onions, habaneros and lime. There's far less tartness from vinegar than what is found in other hot sauces and has more of a yummy sweetness.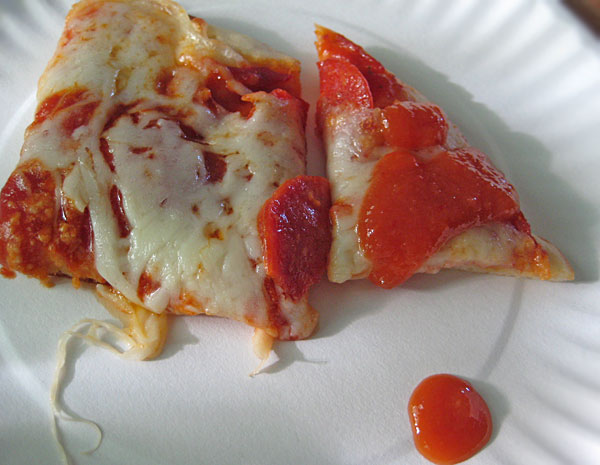 Taste on Food:
5 out of 5. I dunked some heavy drops of Hot Cubed on a few slices of homemade pizza. Boy, this hit the spot. The tomato sauce and cheese was complimented in fantastic new ways by the fresh vegetable taste of the hot sauce. It was totally addictive. It was so good, in fact, that even after I was full from eating pizza, I had to get seconds (another two squares of pizza)…and the thirds – just so I could have more Hot Cubed.
Suggested Uses:
Tacos, fajitas, burritos, eggs, and or course, pizza. This may also be okay on ice cream.
Heat:
Good, butt-kickin' heat. Plus I could feel a small endorphin rush from this. It doesn't linger long in your mouth, so repeat doses won't lead to the dreaded "build-up". 3.5 on a hotness scale of 1 to 5.
Label:
1 out of 5. It's extremely dark and has very little contrast, so the label is hard to read. When photographing the bottle, I tried a variety of settings and lighting conditions around Casa del Roberts and still had trouble getting a decent shot. Even with a lot of time-consuming tweaking in Photoshop the pics didn't turn out very well.
The label has a black background with flames, and in front is a green chalkboard written with "Hot3"…or is it a mirror? Or a piece of rectangular, carved-out granite in a bamboo frame? The text is difficult to make out because it's black on black with only a smidgen of a red glow, and to top it all off Intensity Academy uses a "Script" font with low readability and scanability. If this sucker were sitting on a supermarket shelf, it would be extremely easy to overlook.
Overall:
Get this – you'll love it. Order it through the Intensity Academy website, for $5.49 (plus shipping) for a 5 ounce bottle.
Review – Intensity Academy Hot Cubed Hot Sauce