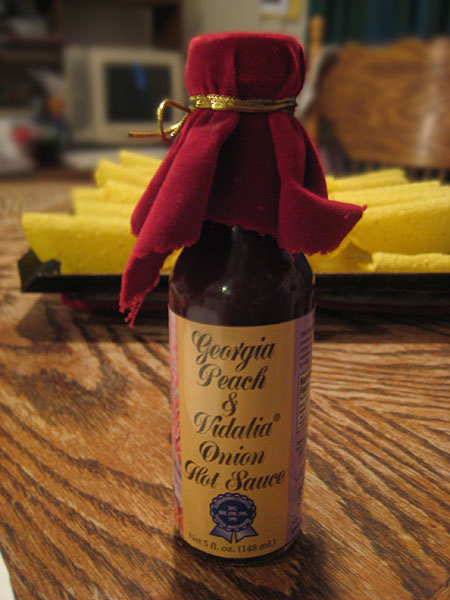 Another solid winner of a sauce is Pepper's Georgia Peach and Vidalia Onion Hot Sauce. This is a product that I heard rumblings about a few years back, and was reminded again of it recently from Brian Meagher of HotSauceDaily.com when he had shipped me a test bottle to give the old college try. Brian has raved about this sauce and considers it one of his and his wife's go-to condiments.
After I had my first taste, it won my taste buds over big time. I love the stuff, and was even able to persuade my own wife to give it a shot on tacos (more on that later). Even though she's not a chilehead and is highly fussy about what kinds of pepper sauces she uses, if any, she's hooked on Georgia Peach and Vidalia Onion Hot Sauce as well.
While this may sound all hunky-dory, the one drawback is that I don't find this sauce extremely versatile. Despite it being sweet and fruity, it's not a very good dessert sauce. If you're on the lookout for a blazing burn in your mouth, keep searching – this stuff ain't all that hot. But what it's good on – Mexican foods and grilled meats – it absolutely excels on. One thing I'm dying to try this out on is a batch of chicken wings. That's high on my to-do list.
Enough of that. Let's get down to the nitty gritty and analyze this sauce to see what makes it tick.
Ingredients:
Water, cane sugar, red chili puree, peaches, vinegar, green jalapeno peppers, salt, Vidalia onions, dehydrated tomato, Cayenne pepper, xanthan gum, erythorbic acid, polysorbate 80, and capsicum oil.
Aroma:
4 out of 5. Has the distinguishable and welcome presence of vidalia onions – not too strong, but still dominant. Touches of sweetness from the cane sugar and peaches are also noticeable.
Appearance and Texture:
4 out of 5. Georgia Peach and Vidalia Onion Hot Sauce is thick but pourable, comparable to standard barbecue sauces. It's brownish-red color also begs referencing a barbecue sauce as well, because this liquid looks closer to that than to most hot pepper sauces. There's a lot of sheds and specks of ingredients in the sauce mixture. All in all this is a nice looking product with the right consistency.
Taste Straight Up:
5 out of 5. This is where the sauce shines. It strikes a magnificent balance between the flavorful onions, the fruity sugariness and a chile pepper taste. It's really difficult to call this a straight-up hot sauce because of the odd swirl of flavors. It's resemblance to a barbecue sauce blurs the lines of definition further, but it certainly lacks the typical deep, bold attributes many BBQ sauces possess, such as smokiness, a rich tomato flavor, or the tartness of vinegar. Instead, Georgia Peach and Vidalia Onion packs a unique, sweet flavor all its own in the the 5 oz bottle it comes in.
Taste on Food:
5 out of 5. My wife and I will usually top some beef and bean tacos will a hot sauce that's heavier on the vinegar, but in this instance Georgia Peach and Vidalia Onion Sauce was being poured on. Wow! If you've never had a sweet chile sauce on tacos, you don't know what you're missing. It opens brand new doors and possibilities to Mexican-style foods. Here, it added a wonderful sweet n' savory tang to the already terrific ground beef mixture (by the way, if you're hankering for a great taco seasoning recipe, look no further than here).
Other uses for this sauces could include being slathered on grilled meat as a topper, coated on a whole chicken as a beautiful and tasty glaze, or (again, something I've yet to try) in chicken wings.
Heat:
1.5 out of 5. This sauce doesn't not have much heat at all, so its perfect for the novices you're attempting to introduce to the world of hot sauces (and what better one than this?).
Label:
5 out of 5. Nothing particularly special about the paper label itself – it shows what is assumed a Southern belle sitting in a flowery field, along with the text done in a fancy font. That might appeal to woman more than a macho male buyer. But each bottle comes topped with a red velvet cloth and a gold-colored string tied around it. It makes for an elegant-looking gift for Christmas or a birthday present.
Overall:
Awesome stuff. For what it's good on, it's amazing. Pepper's Georgia Peach and Vidalia Onion Hot Sauce gets my highest recommendation.
You might have correctly guessed that this item is a Peppers product. In addition to Peppers.com, you can purchase a bottle at many, many online sauce stores for around $6.00 a bottle. Multi-bottle packs and even gallon jugs are available, too.
Review – Georgia Peach and Vidalia Onion Hot Sauce