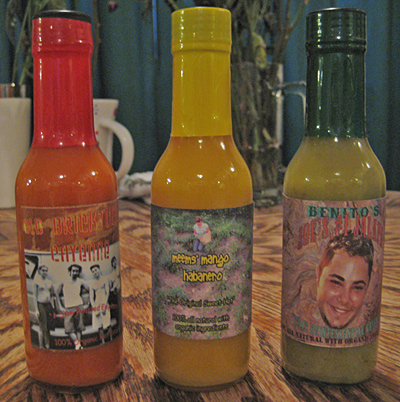 In this review I'll try out three more of Benito's colorful, organic hot sauces – the green Joe's #1 Jalapa, the yellow Meem's Mango Habanero, and the orange Old Bricktucky Cayenne. Because of the high marks I had previously given to the Naranja Organic Hot Sauce, I had lofty expectations for these other offerings.
Ingredients:
Old Bricktucky Cayenne – Organic Tomatoes, Organic Garlic, Organic Onions, Organic Lime Juice, Organic Distilled White Vinegar, Organic Cayenne Peppers, Organic Cinnamon, Organic Paprika
Joe's #1 Jalapa – Jalapeno Peppers, *Habanero Seeds, Cubanelle Peppers, *Garlic, *Carrots, Cilantro, Lime Juice, Distilled White Vinegar, Extra Virgin Olive Oil, Spring Water. *Organic
Meem's Mango Habanero – Organic Habanero Peppers, Mangos, Organic Garlic, Organic Yellow Tomatoes, Bell Peppers, Organic Lime Juice, Distilled White Vinegar, Onions, Extra Virgin Olive Oil
Aroma:
4 out of 5. One thing that is a trademark of Benito's sauces is the insanely fresh vegetable smell (and taste). Each one of these is wonderful in their own right. Joe's #1 Jalapa has a mild aroma of carrots, lime, chiles, and light vinegar. Meem's Mango Habanero is brighter and sweeter to the nose. Old Bricktucky has darker tones, while maintaining a distinctive sweet and peppery scent.
Appearance and Texture:
4 out of 5. Each sauce contains roughly ground up mash of ingredients, giving them a simultaneous pasty/watery texture. Meem's and Joe's are a bit more runny than the Old Bricktucky. All came with plastic droppers attachments to snap on the end of the bottle openings, but since I wanted to splash on a heapin' bunch I didn't bother putting them on.
Taste Straight Up:
4.5 out of 5. First up at bat was Joe's #1 Jalapa. Like it's delightful aroma, it had a fresh blend of lime, peppers, and carrots with balanced amounts of vinegar and garlic. It's much more subdued compared to other sauces that contain elements of jalapeno and habanero but retains a good deal of fire. I can imagine this sauce going on a wide variety of foods.
4 out of 5. Meem's Mango Habanero is much different than any other mango habanero sauce I've ever tried. This is like a fresh tropical garden in your mouth with fire to spare. It's bright, tart, sweet, and slightly vinegary. In my mind, this may not be as versatile as Joe's #1 Jalapa, but fish and pork could benefit from Meem's.
5 out of 5. Old Bricktucky possessed an odd sweet taste. At first, I couldn't put my finger on it. Was it pumpkin spice? Nutmeg? I looked at the label again. Ah, it was cinnamon! It's a unique taste that quickly grows on you after a few licks, and is nearly additive. Old Bricktucky has all the other attributes of other Benito's sauces: a veggie-dominated taste, with hints of tomatoes, garlic and vinegar. This had the least amount of heat of the three, and was probably my favorite. It would go well with pizza, meat, and maybe even popcorn.
One note I must add is that all of these (just like the Naranja Organic Hot Sauce) have a complete lack of any salty taste. This may be jarring to some who have a preconceived notion that hot sauces should be salt n' vinegar fests, and may taste too "plain" for them. Nonsense, I say; the vegetables uses in making these sauces are more than adequate for flavoring them up.
Taste on Food:
One of the standard tests I give hot sauces is whether or not they stand up on chicken wings. My wife and I fried up some whole wings (with the tips removed), both hot wing-style (naked) and buffalo-style (breaded), to see how the trio of Benito's products would compliment them.
First I poured Meem's and Joe's on the naked wings and the Bricktucky and Frank's Red Hot (as a "control") on the breaded pieces, and later switched the type of chicken for the sauces to give each one a fair chance. The flavor was great on the buffalo wings, but the watery/mashy consistency permeated and softened the breading instead of "sticking" to it, so I would have to knock off a point for this. I thought all three sauces were terrific on the fried naked wings, although I was thinking deep down (even though it was a small gripe) that "something" was missing – along the lines of a creamier, thicker wing sauce would have been a little more ideal. Was there something that these would even go better on?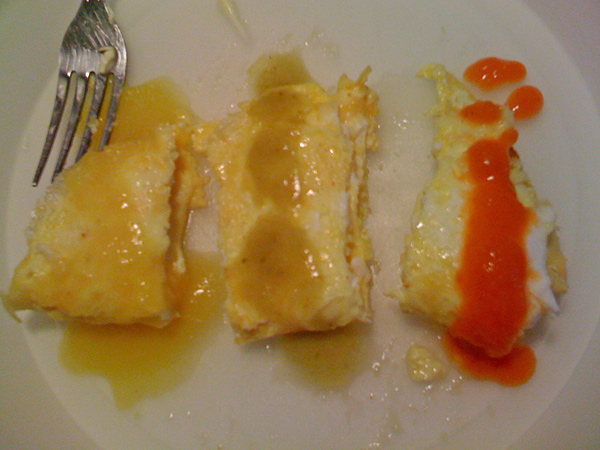 I think I hit the bulls-eye the next morning with a fluffy omelet. I cut it into three sections, liberally doused them with the sauces, and scarfed down each succulent bite. This was perfect and I couldn't imagine any other condiment being any better on eggs. Awesome!
Heat:
Benito's rarely ever makes claims on heat amounts as simply lets the sauce be what they are. All have enough fire that would please pepper fans but might be too much for milder tongues. On a scale of 1 to 5, all would click in at around 2.5 or 3 and have a slow, building hotness. There have been times in the past where I wished other sauces had a bit more or a bit less sizzle to make it seem "balanced" with the overall taste. Not Benito's. These were right on the money with the burn.
Label:
3 out of 5. All of Benito's products have labels covered with photographs and a cacophonous splattering of fonts (that makes most text difficult to read). While this does make these hard to miss if I was searching for them on a store shelf, in my humble opinion it comes across as slightly amateurish.
Oh, and what's the deal with the shirtless guys on the Old Bricktucky label?
Overall:
I don't know how much research, trial, error and elbow grease went into finding the formulas for Benito's hot sauces, but they should be applauded for their work. Every sauce is top-notch and worthy of being in your refrigerator, whether you use it as an "everyday" condiment or as something you just use to spice up your meals every now and then. All sauces come in 5 ounce bottle and are available at http://www.benitoshotsauce.com for $5.00 plus shipping.
Review – Benito's Meme's Mango Habanero, Joe's #1 Jalapa, and Old Bricktucky Hot Sauces