Via Ken Alexander, of FieryWorld.com and one of the Head Judges of the World Hot Sauce Awards:
"Below is a list of the winners of the inaugural World Hot Sauce Awards. The awards ceremony was held at the Lafayette, La Acadian Center, and the site of the Louisiana Hot Sauce Expo.
"The winners were selected by approximately 30 judges from across the country, including executive chefs, restaurant owners, elected officials, beauty queens, hot sauce industry experts, and enthusiasts!  The judges tasted 582 separate samples and each category had multiple judges. Everyone had a "hot" time and sweating foreheads, red faces, and sniffly noses were prevalent in the judge's ranks! The awards are listed by division and category.
"My apologies if there are misspellings along the way, but there was limited time to proofread the list in an effort to get it out to everyone in a timely manner!!!  Congratulations are in order for everyone who submitted an entry and especially to the winners across very crowded fields of excellent spicy sauces, spices, confections, etc etc etc!!!  So without further ado, here are the lucky winners…"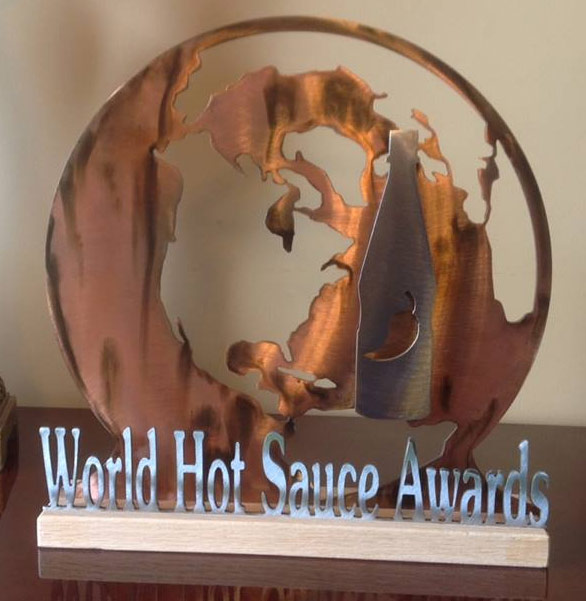 World Hot Sauce Awards Winners List
BBQ – Mustard
| | |
| --- | --- |
| 1.) Aunty Lilikoi Passion Fruit | Aunty Lilikoi Passion Fruit Kiawe BBQ Sauce |
| 2.) Firebud Brands | Slap Sauce |
| 3.) Backwoods Premium Sauces | Mustard Based |
BBQ – Asian
| | |
| --- | --- |
| 1.) Sweet & Spicy, LLC | Alaskan Umami Sauce "Hot" |
| 2.) High Octane Sauce Company | 1500 RPM Asian BBQ Sauce |
| 3.) CaJohns Fiery Foods | Awesome sauce |
BBQ – Bourbon
| | |
| --- | --- |
| 1.) Sloppy 2nds BBQ | Sloppy 2nds Peach Bourbon BBQ |
| 2.) CaJohns Fiery Foods | AmberFyre Manhattan Black Cherry Bourbon |
| 3.) CaJohns Fiery Foods | CaJohns Bourbon Street Spicy |
BBQ –Specialty
| | |
| --- | --- |
| 1.) Smoky Jon's #1 BBQ | Smoky Jon's Fiery Gourmet Supreme BBQ Sauce |
| 2.) Me-Me K's BBQ Sauce | Me-Me K's BBQ Sauce |
| 3.) SADIE B FOODS | SADIE B FOODS JERK BBQ SAUCE |
BBQ – Mild
| | |
| --- | --- |
| 1.) Fat Ferg's Backyard BBQ Sauce | Fat Ferg's Backyard BBQ Sauce, Sweet & Mild |
| 2.) Minorcan Datil Pepper Products, LLC | Minorcan Datil Pepper Barbecue Sauce |
| 3.) Cerniglia Enterprises LLC | Russ & Frank's Mild |
BBQ- Fruit
| | |
| --- | --- |
| 1.) Butch's Smack Your Lips BBQ | Butch's Smack Your Lips – Happy Apple |
| 2.) Southern Belles BBQ | Pineapple Twang |
| 3.) Southern Belles BBQ | Ms. Mango |
BBQ – Alcohol Infused
| | |
| --- | --- |
| 1.) Sensational Sauces | Toasted Vanilla Cognac |
| 2.) CaJohns Fiery Foods | Apple Smoked Spiced Rum Ancho |
| 3.) Me-Me K's BBQ Sauce | Me-Me K's BBQ Sauce |
BBQ – Chipotle
| | |
| --- | --- |
| 1.) CattleBoyz Foods LTD | CattleBoyz Chipotle Maple Bacon BBQ Sauce |
| 2.) Sloppy 2nds BBQ | Sloppy 2nds Chipotle BBQ |
| 3.) Hammer & Tongs BBQ Sauce | Smoked Chipotle |
BBQ – Hot
| | |
| --- | --- |
| 1.) Buddy's BBQ Sauce LLC | Buddy's BBQ Sauce |
| 2.) Butch's Smack Your Lips BBQ | Butch's Smack Your Lips – Pyro |
| 3.) CaJohns Fiery Foods | HDH Grillin Sauce |
BBQ – Medium
| | |
| --- | --- |
| 1.) New Venue LLC | Mango Peach |
| 2.) FrogBone | Bayou Barbeque |
| 3.) Grill Side Barbeque | Grill Side Downtown Heat |
BBQ – Tomato
| | |
| --- | --- |
| 1.) Uncle Kenny's BBQ | Uncle Kenny's BBQ Original |
| 2.) Butcher BBQ | Butcher BBQ |
| 3.) Smoky Jon's #1 BBQ | Smoky Jon's Fiery Gourmet Supreme BBQ Sauce |
BBQ – Vinegar Based
| | |
| --- | --- |
| 1.) SuckleBusters | SuckleBusters Original |
| 2.) Meat Mitch | Naked BBQ Sauce |
| 3.) Whiteford Gourmet Foods, Inc. | Whiteford's Olde 70 |
BBQ – X Hot
| | |
| --- | --- |
| 1.) Butch's Smack Your Lips BBQ | Butch's Smack Your Lips – super pyro |
| 2.) Sweet & Spicy, LLC | Alaskan Umami Sauce "Extra Hot" |
| 3.) CaJohns Fiery Foods | CaJohns BBQ Sauce 10 (Jolokia) |
Hot Sauce Asian
| | |
| --- | --- |
| 1.) CaJohns Fiery Foods | Al Buddah Hot |
| 2.) Race City Sauce Works | 7 Pepper Sriracha |
| 3.) CaJohns Fiery Foods | Al Buddah Mild |
Hot Sauce – Indian
| | |
| --- | --- |
| 1.) Rick's Test Kitchen | Ami (TM) |
| 2.) Race City Sauce Works | Pure Genius |
| 3.) Mr. Vikkis | King Naga |
Hot Sauce – Caribbean
| | |
| --- | --- |
| 1.) Pirate Jonny's Carribean BBQ Rubs, Seasonings, & Sauces | Syrena's Seduction |
| 2.) Cayman Islands Sauce Company | Citrus Heat |
| 3.) Ken's Pepper Works | Island Sunshine |
Hot Sauce – Latin
| | |
| --- | --- |
| 1.) CaJohns Fiery Foods | Caracara |
| 2.) CaJohns Fiery Foods | Oaxacan Chipotle |
| 3.) Culley's Limited | Culley's Green Chile |
Hot Sauce – Chipotle
| | | |
| --- | --- | --- |
| 1.) NW Elixirs Hott Sauce Co. | #3 Hott Smoke | |
| 2.) CaJohns Fiery Foods | Happy Beaver | |
| 3.) Cili Pipp | Chipotle BBQ | |
Hot Sauce – Pepper Blend:
| | |
| --- | --- |
| 1.) DAVEZ FOODZ | Just Chil'n |
| 2.) CaJohns Fiery Foods | AmberFyre Livingston Parish |
| 3.) CaJohns Fiery Foods | Bourbon Infused Chipotle Habanero |
Hot Sauce – Fruit
| | |
| --- | --- |
| 1.) Hot Mama's Belize | Manganero |
| 2.) Jungle Heat | Mango Heat |
| 3.) VooDoo Chile Sauces | Psycho Tropic |
Hot Sauce – Medium
| | |
| --- | --- |
| 1.) High Octane Sauce Company | Anubis' Chariot |
| 2.) Red Canyon Spice | Raptor Original |
| 3.) CaJohns Fiery Foods | Bumblefoot's Normal |
Hot Sauce – Mild
| | |
| --- | --- |
| 1.) Race City Sauce Works | Roasted Aleppo & Cayenne Shiatta |
| 2.) Davez Foodz | Sweet Spicy Girl |
| 3.) NW Elixirs Hot Sauce Co. | #2 Verde Hot |
Hot Sauce Hot
1) NW Elixirs – #5 Hot Jolkia
2) Humbolt Habenero Hot
3) Feisty Parrot  Ouch
Hot Sauce – Xhot
| | |
| --- | --- |
| 1.) Fire Dragon Chillies | Deadly |
| 2.) PuckerButt Pepper Company | Reaper |
| 3.) Scotty O'Hotty Hot Sauce | The Ghost Sauce |
Hot Sauce Ultra Hot
| | |
| --- | --- |
| 1.) CaJohns Fiery Foods | Sling Blade Reaper Hot Sauce |
| 2.) Race City Sauce Works | 7 Pepper Sriracha |
| 3.) Hellfire Hot Sauce Inc | Fear This! (Carolina Reaper Sauce) |
Condiment – Jam/Jelly
| | |
| --- | --- |
| 1.) Rasta Bros. | Jamaican Pepper Jelly |
| 2.) Bayou Born BBQ | Bayou Born – Fiesta Pepper Jam |
| 3.) Frog Bone | Apple Strawberry Ghost Pepper Preserves |
Snacks
| | |
| --- | --- |
| 1.) Madison Chocolatiers West | Gateway to Hell |
| 2.) Madison Chocolatiers West | Cayenne Caramels |
| 3.) Madison Chocolatiers West | Sweet Burn Butter Toffee |
Snacks – Pickles
| | |
| --- | --- |
| 1.) CHEEK Flavored Pickles | Sweet then Spicy Pickles |
| 2.) KA-Ranch | Smokey Hot Pickles |
| 3.) Texas Creek Products | Texas Creek Pickled Pepper Medley |
Bloody Mary Mix
| | |
| --- | --- |
| 1.) Whiteford Gourmet Foods, Inc. | Whiteford's Spicy BMM |
| 2.) Aunt Whiskey Enterprises | Aunt Whiskey's Smokin-Hot Bloody Mary Mix |
| 3.) Backyard Mary | Backyard Mary Bloody Mary Mix |
Wing – Medium
| | |
| --- | --- |
| 1.) Sean's booYah! | Bali |
| 2.) Sean's booYah! | Maple Habo Wabo |
| 3.) Sparky's Wing & Dippin Sauce | Sparky's Wing & Dippin Sauce |
Wing – Specialty
| | | |
| --- | --- | --- |
| 1.) Rasta Bros. | Carribean Heat Dipping Sauce & Glaze | |
| 2.) Sean's booYah! | Maple Habo Wabo | |
| 3.) SADIE B FOODS | SADIE B FOODS JAMAICAN MANGO JERK SAUCE | |
Wings – Hot
| | |
| --- | --- |
| 1.) Sean's booYah! | Creeper |
| 2.) Sean's booYah! | Sorta Hot |
| 3.) Sean's booYah! | Stinky Bee |
Wing – Mild
| | |
| --- | --- |
| 1.) Sean's booYah! | Bali |
| 2.) Sean's booYah! | Buffayaki |
| 3.) Gourmet Conveniences, Ltd. | Sweet Sunshine "Warm" |
Wing – Fruit
| | |
| --- | --- |
| 1.) CaJohns Fiery Foods | Mangonero |
| 2.) Sweet Slap'n Salsa Co. | Sweet Slap'n Salsa Strawberry |
| 3.) CaJohns Fiery Foods | Jalapino |
Salsa – Verde/Tomatillo
| | |
| --- | --- |
| 1.) Deception Salsa | Jealous |
| 2.) SilverLeaf International | Ghost Pepper Salsa Verde |
| 3.) Stagecoach Salsa Company | Green Extreme |
Salsa – Chipotle
| | |
| --- | --- |
| 1.) CaJohns Fiery Foods | Raspberry chipotle |
| 2.) Gunther's Gourmet Groceries | Spicy Chipotle Pepper & Smoked Corn Salsa |
| 3.) Trail Rider Salsa Company | Chipotle Heat |
Salsa – Bean and Corn
| | |
| --- | --- |
| 1.) Sweet Slap'n Salsa Co. | Sweet Slap'n Salsa Black Bean & Corn |
| 2.) CaJohns Fiery Foods | BBC Ghost Chile |
| 3.) Gunther's Gourmet Groceries | Black & White Bean Salsa |
Salsa – Hot
| | |
| --- | --- |
| 1.) Mr. Saucy | Flirting Flame |
| 2.) Uncle Bunk's | Rustic Pepper Sauce – hot |
| 3.) CaJohns Fiery Foods | Italian Hot |
Salsa – Medium
| | |
| --- | --- |
| 1.) CaJohns Fiery Foods | BBC Medium |
| 2.) Gunther's Gourmet Groceries | Jalapeno Salsa Fresca |
| 3.) Rooster's Salsa | Rooster's Salsa-Medium Blend |
Hot Sauce – Mild
| | |
| --- | --- |
| 1.) Gunther's Gourmet Groceries | Salsa Fresca |
| 2.) Mr. Saucy | Laid Back Jack |
| 3.) Trail Rider Salsa Company | Yankee Mild |
Condiment Relish
| | |
| --- | --- |
| 1.) Uncle Bunk's | Mustard Relish – Hot |
| 2.) Minorcan Datil Pepper Products, LLC | Minorcan Datil Pepper Relish |
| 3.) Posh Pickles and Preserves | Sa' Va' Tu'o'ng 'o't |
Condiments – Salad Dressing
| | |
| --- | --- |
| 1.) Stagecoach Salsa Company | Sheriff Mike's Spicy Salsa Ranch |
| 2.) Uncle Roy's Comestible Creations | "One & Only" Dressing |
| 3.) Poca's Hottest | Shak Nasti Cajun Honey Mustard |
Condiments – Specialty/Unique
| | |
| --- | --- |
| 1.) Uncle Roy's Comestible Creations | Super Horseradish Sauce |
| 2.) FrogBone | Bayou Cocktail |
| 3.) Gourmet Conveniences, Ltd. | Sweet Sunshine "Roasted Shallot & Garlic" |
Condiments – Mustard
| | |
| --- | --- |
| 1.) Uncle Roy's Comestible Creations | Rabbie's Burnie Mustard |
| 2.) Backwoods Mustard Company | Sweet Jalapeno |
| 3.) Texas Creek Products | MVG Chipotle Mustard |
Marketing Hot Sauce
1.) Lucky Dog Dia Del Perro
2.) Cullys's Fire Water
3.) Pirate Jonnys Syrena's Seduction
Marketing – BBQ Sauce
1.) Smokey Moon BBQ Sauce
2.) Jenk's Specialty Foods Sugar Britches
3.) Me-Me K's BBQ Sauce
Marketing Other
1. Frankie V's Wasabi Green Thai Chili
2. Zombie Cajun
3. Trail Rider Salsa Co. Yankee Mild Salsa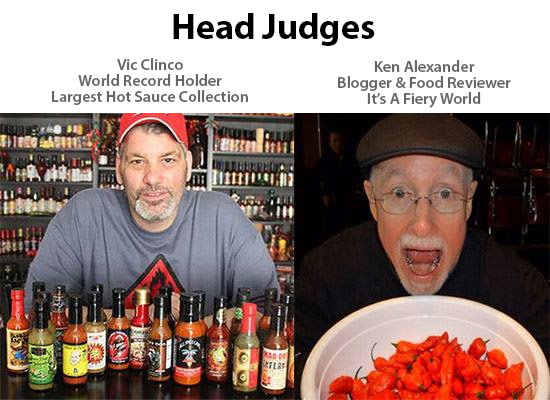 World Hot Sauce Awards Winners List