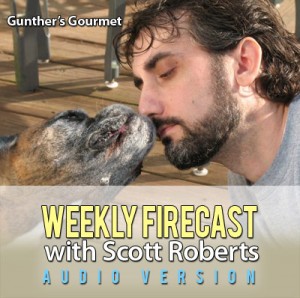 The Audio Weekly Firecast with Scott Roberts:
Weekly Firecast Podcast Episode #12 – Interview with Mike Lampros of Gunther's Gourmet
Scott chats with Chef Michael Lampros of Virginia-based food company Gunther's Gourmet, makers of numerous salsas, dips and marinades & vinaigrettes. Mike talks about his history, flavor profiles and life as one of the premiere, award-winning special food makers in the fiery foods business. Scott also reviews Trader Joe's Habanero Hot Sauce.
Links mentioned in the episode:
• Gunther's Gourmet Official Site
• Trader Joes
• Scoville Scale Chart
• Chilehead Events Calendar
Listen Instantly!
 Click Above to Listen to This Episode Now!
Download this episode |
Subscribe via iTunes |
Subscribe via RSS Feed
Weekly Firecast Episode #12 – Interview with Mike Lampros of Gunther's Gourmet