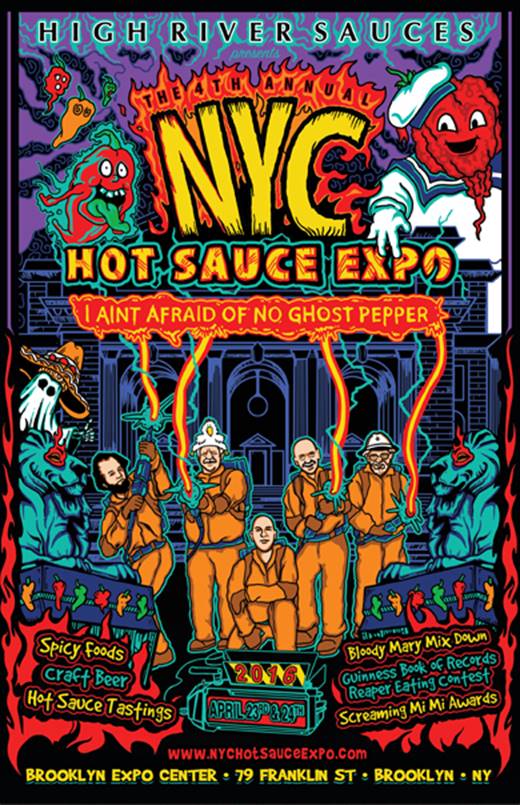 FOR IMMEDIATE RELEASE
November 22,  2015
The New York City Hot Sauce Expo Announcement
New York's own High River Sauces proudly presents the 2016 4th Annual New York City Hot Sauce Expo on April 23rd & 24th. The NYC Expo will feature up to 50 artisanal hot sauce makers from all over the United States and as far as Canada, Mexico, Panama and New Zealand. The NYC Hot Sauce Expo has grown into an International Hot Sauce celebration. Witness the action packed event with hot sauce tastings from each vendor, eating challenges, spicy food vendors, crafts and plenty of odd ball entertainment for the whole family.
This year's Expo's poster artwork [to the right] was inspired by the inaugural class of the Hot Sauce Hall of Fame. The members are depicted as Ghost Pepper Busters saving the world of the scariest of all peppers. From left to right are the mighty Edmund McIIhenny, Chip Hearn, Dave Hirshkop, Dave DeWitt and John Hard.
The NYC Hot Sauce Expo will feature the East Coast vs West Coast Bloody Mary Mix-Down. The winner from the CA Hot Sauce Expo will compete against NYC top bartenders to a winner take all Battle Royal. Think you have what it takes to be crowned theGuinness Book of World Records – Reaper Pepper Eating Contest, the World's Hottest Pepper. Each of the past 2 years a new world record has been posted. Will there be a new world record this year? Also on hand for the weekend is the Induction Ceremony for the Class of 2016 Hot Sauce Hall of Fame, The Screaming Mi Mi Awards, famous Grimaldi's Volcanic Pizza Eating Challenge, the Ghost Pepper Taco of Doom Challenge and many others.
The 4th  Annual New York City Hot Sauce Expo
April 23rd & 24th
Brooklyn Expo Center
79 Franklin Ave
Brooklyn, NY 11222
"I am so excited for the upcoming Expo. It's one of the best weekends of the year. Meeting like-minded people, enjoying spicy foods and celebrating the pepper is what life is all about. I just love it!!" states Steve Seabury owner of High River Sauces and Expo organizer. Mark your calendar and get ready for the most insane food show on planet earth.
For more information about the 4th Annual New York City Hot Sauce Expo please contact Steve Seabury: steve@highriversauces.com
Official website: www.NYCHotSauceExpo.com
Facebook: www.facebook.com/NewYorkCityHotSauceExpo
Instagram: www.instagram.com/highriversauces
Twitter: www.twitter.com/nychotsauceexpo
4th Annual NYC Hot Sauce Expo Announcement