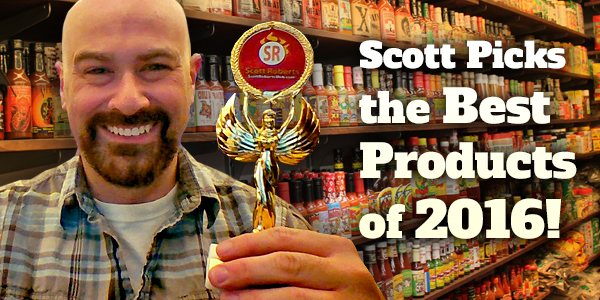 It's time for another rundown of what I thought were the Best Spicy and BBQ Products of 2016, AKA the "Scottvie Awards" (with apologies to Dave DeWitt)! All qualifying sauces, seasonings and snacks must have been tried by me for the first time within the calendar year of 2016, even if they might have released to the public in 2015.
Although most of the items listed below could be classified as "spicy", overall flavor trumps fire any day. I judged the products based on several factors, including taste, aroma, texture, consistency, versatility, and balance of heat and flavor.
This year's list marks a massive departure from what I have done in previous years. Before, I had broken down my favorite products in categories such as "Best Hot Sauce," "Best BBQ Sauce," "Best Wing Sauce," "Biggest Burn," and so on, and awarded those products accordingly.
Here in 2016's list, I'm going to merely list 10 products of all kinds, and in no particular order.
Congratulations to all of the winners! You all have made some phenomenal products.
Lucky Dog Hot Sauce's Year of the Dog Thai Chile Pineapple
Lucky Dog helmer Scott Zalkind has certainly had another banner year in 2016 with his Year of the Dog. This is a slickly-designed, full-bodied condiment which takes an unorthodox ingredient in pineapple and adds it to a Thai chile sauce blend. This is unlike most other pineapple hot sauces I've tasted (which exhibit primary traits of "fruit and chile pepper heat"), YOTD has a wildly exotic profile with honey, aleppo peppers, onion, garlic, mustard and ginger. This is one of my favorite new Asian style toppers.
Link: https://lucky-dog-hot-sauce.myshopify.com/products/year-of-the-dog
Texas Rib Rangers Rosemary & Herb Seasoning
Bill and Barbara Milroy are stalwarts and mainstays in the specialty BBQ industry. This time out, they wowed me with their terrific Rosemary & Herb Seasoning. There is not a hint of chile pepper heat in this, but that doesn't matter. This savory spice blend is incredibly delicious on foods like chicken, white fish and vegetables. I love to use Texas Rib Rangers' Rosemary & Herb Seasoning so much that it was probably the most-used pre-made spice for my grilling excursions this past summer.
Link: https://www.texasribrangers.com/products/rosemary-herb-seasoning
Born to Hula Harvest Sauce
While pumpkin spice is ubiquitous in foods in American society every Fall, the actual flavor of pumpkin fruit is especially hard to "get right" in the context of a spicy condiment. I've had pumpkin hot sauces and salsas that have ranged from decent to downright deplorable. Ed and Amy Buchholz have nailed the pumpkin flavor in the Autumn-themed seasonal sauce called Harvest. Wow, is it ever tasty! Harvest boasts dazzling apple, cinnamon, ginger, nutmeg, brown sugar, and of course, pumpkin tones into a cohesive blend that straddles the line between a sweet/dessert sauce and a savory condiment. The presence of flaming flare peppers give Harvest a little chile warmth on the backend. I've already tried this on roasted chicken, and cannot wait to see what else I can use this with.
Born to Hula Imperial Apple Barbecue Sauce
What? Another Born to Hula product? Yes, and this Imperial Apple Barbecue Sauce is my favorite new BBQ sauce of the year. Sweet, slightly smoky and well-balanced, this always has a unique, fruity backdrop thanks to it containing Berentzen Apple Liqueur imported from Germany. Nice stuff.
Link: http://www.borntohula.com
Ring of Fire All Purpose Seasoning
This spice blend comes from Mike and Diane Greening, producers of one of my favorite line of hot sauces. Their brand-new All Purpose Seasoning loves up to its name and goes on almost everything. It's pepper-heavy (with anchos and paprika), savory, and downright lip smackin' good. The more I use it, the more I like it.
Link: http://www.ringoffirehotsauce.com/ring-of-fire-original-all-purpose-seasoning
Culley's Sriracha Sauce
Another great NYC Hot Sauce Expo find. Chris Cullen, owner of the New Zealand-based Culley's, is a genuine fiery foods rising star. I could have put three or four of Culley's sauces on this list (including the great Chipotle Hot Sauce), but I had to narrow it down to just one. So I decided on giving the placement to Culley's Sriracha Sauce, a condiment that is far more developed as a product than Huy Fong Foods' Sriracha is. Culley's take on the popular sauce is slightly sweeter, has a deeper and richer base. I love it!
Link: http://culleys.co.nz/product/culleys-sriracha/
Jersey Barnfire Strawberry Scorpion Sauce
Austin D'Almeida and John Sauchelli create strikingly notable products that contort lines between sauce genres. Offerings like their Black Garlic or the Asian-inspired Ginger could do triple duty as BBQ sauces, finishing sauce or hot sauces. Jersey Barnfire's Strawberry Scorpion Sauce is a sweet treat of a flavor enhancer that is remarkable in every way. When I first sampled it at the New York City Hot Sauce Expo in April, I knew they had something special on their hands. From chicken wings to ice cream, this is a solid winner that would appeal to fruit hot sauce lovers like me.
Link: http://www.jerseybarnfire.com/buy-now
Little Bird Chocolates Fire Syrup
This is an odd little entry in my top 10 of the year that found it's way into my hands at the Weekend of Fire show in early October. Little Bird's Fire Syrup is a sweet simple syrup flavored with jalapeños that knocked my socks off! Everything you would use simple syrup on or in – from alcoholic beverages to coffee and even on ice cream – it's a testament that sometimes the most basic things can be the best.
Link: https://littlebirdkitchen.com/product/fire-syrup/
Elijah's Xtreme Gourmet Sauces Carolina Reaper Pepper Sauce
I first encountered Elijah's Xtreme Gourmet Sauces at the 2015 Chicago Fiery Foods Fest. Back then, they were producing only one product, their Ghost Pepper Sauce, of which I could only give a mild recommendation.
This year brought an excellent new item: Elijah's Carolina Reaper Pepper Sauce. This wonderful product contains perfects amounts of black cherry, cranberry, and bourbon, along with a scorching bluster of reaper peppers. Oh, yessssss…this stuff was GOOD! Super hot and sweet, this sauce rocks!
Link: http://www.elijahsxtreme.com/products.html
Patter Fam Ashes to Ashes Dust to Dust Wing Sauce
The last entry on this list was also the most recent new sauce I've tried. Coming from a rave recommendation from "Firehead" Thomas Gately, Patter Fam Ashes to Ashes Dust to Dust Wing Sauce proved to be much more than just a wing sauce. It's an all-purpose hot sauce, that despite it having a relatively lengthy ingredient list, it's flavor profile is straightforward as can be. It's ferocious burn and packs super delicious chile pepper taste thanks to the presence of cayennes, ghost peppers and carolina reapers. Super hot and super tongue-pleasing.
Link: http://www.patterfamsauces.com/products/ashes-to-ashes-dust-to-dust
And now, drum roll, please…
Product of the Year – Born to Hula Harvest Sauce
Ed and Amy Buchholz have done it again, as they earned my POTY award back in 2014 with the Carolina Reaper-inflected Reaper of Sorrow Hot Sauce. This year's Harvest is another staggering achievement in innovation. Congrats!
Link: http://www.borntohula.com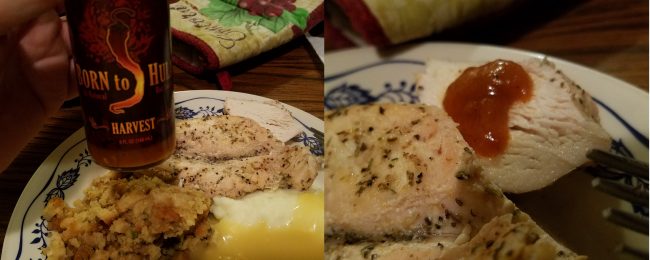 Special Award: Dragon's Blood Elixir Sauce
Chef Doug Crane is one of the underrated and under-known people in the hot sauce business. It's absolutely criminal that he's not a superstar. He would, could, and should easily be considered one of the most talented flavor geniuses in the fiery foods industry. His face deserves to be on a Hot Sauce Mount Rushmore. Chef Doug just knows his stuff, and ALL of his sauces I've bought from him, or simply seasonal/experimental ones he's sent me to try, have been absolutely exquisite.
The crowning achievement in Chef Doug Crane's body of spicy condiment work is his flagship product, Dragon's Blood Elixir.
Dragon's Blood was for me one that came out of nowhere. It just arrived in the mail one day back in 2010 with a simple introductory note from Doug. I first unwrapped the bottle and tasted it for literally the first time on camera. I was floored by how good it was. The sweet tartness from the triple-whammy of apple cider, apple cider vinegar, and apple puree give it a fruity edge, the savory fire-roasted tomato salsa base provide a wonderful and intoxicating body, and the Red Savina and other habanero chile peppers dial up a medium-hot fire inside the bottle. Oh, it is orgasmicly good and versatile. Dragon's Blood Elixir instantly skyrocketed to be in my favorite pepper sauces list.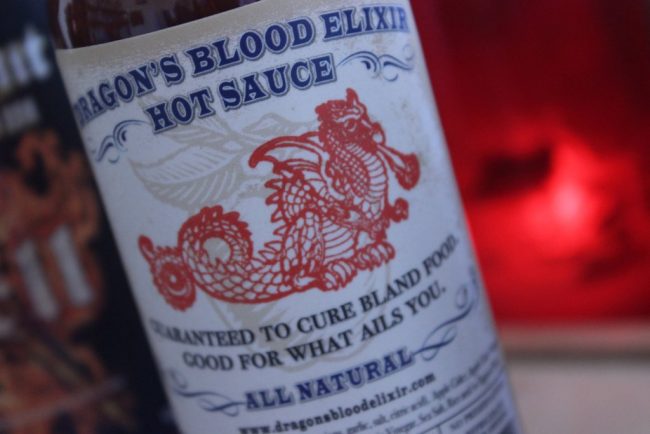 Over the years, I unfortunately neglected this little gem of a sauce, and had realized that it was going on two or three years since I've consumed any of it! To rectify this sad situation, I ordered some more bottles of Dragon's Blood Elixir from Chef Doug a few months ago.
To my pleasant surprise, Dragon's Blood was even better than I remembered! I polished off the content of those three bottles within a week's time because I loved it so much. And believe me, as soon as I realized that I was going through the stuff like water, I tried to be extremely conservative with the rest of my consumption!
Dragon's Blood was so good. So delicious. So…forthright in its approach, yet being very unique. Whereas some sauces and sauce makers try to change the world with daring and complexity (and there's certainly nothing wrong with that!), here this sauce is…just existing…just being a straightforward blend of a tomato/tart apple/vinegar/pepper flavor profile.
I fell in love with it all over again. I crave this sauce day and night. It now has a special place in my heart that perhaps no other hot sauce has claimed before. What am I saying?
Okay, after all of these years of eating, reviewing and talking about hot sauces…after stating that 10, 15, or 20 hot sauces are "tied" for First Place when it comes to my favorite hot sauces of all time…I'm going to do something I'VE NEVER DONE BEFORE.
<deep breath>
I'm going to knock my entire grouping of "top hot sauces of all time" down to "being tied for Second Place", and officially declare something:
DRAGON'S BLOOD ELIXIR IS NOW MY FAVORITE HOT SAUCE OF ALL TIME!!!
There, I said it. It's done. It's occupying at that sole spot that hovers over the thousands of other products I've tasted throughout the years. Congrats, Doug. You rock!
Link: http://dragonsbloodelixir.com/products/dragons-blood-elixir-original
Scott's Best Products of the Year for 2016