Volcanic Peppers is a company run by a gentleman by the name of Tim Bader based out of Omaha, Nebraska. Volcanic Peppers specializes in an array of hot sauces as well as super hot powders, peanuts, spice blends and even caramels. Todays review is for a sauce entitled "Death by Douglah."
Ingredients:
Pineapple, Vinegar, Water, Chile Peppers (7-Pot Douglah, Chocolate Bhut Jolokia, Scotch Bonnet), Black Cherries, Sugar, Aronia Berry Extract, Carrot, Onion, Sea Salt, Xanthan Gum, Lemon Extract
Aroma:
3 out of 5. The smell that hit me first was very sweet and fruity. As I took a second sniff, the sweetness was coupled beautifully by peppers and onion.
Appearance and Texture:
4 out of 5. This sauce has a phenomenally smooth and pourable consistency – not too runny, but at the same time it has just a little resistance which I really like. There are chunks of material floating about, but they're very small and it doesn't obstruct the sauce at all. When I opened the bottle there wasn't a collection of sauce at the top like with some that have bits and pieces of matter.
Taste Straight Up:
4 out of 5. My assumption was correct in that this was going to be a fairly sweet sauce (given the first ingredient was pineapple), as well as with the tag team combo of black cherries and sugar. I couldn't detect any other flavors except for a little bit of sourness from the vinegar and onion.
While this sauce is sweet, it doesn't distract you from the taste of the peppers and other ingredients which allows you to really enjoy this toothsome sauce.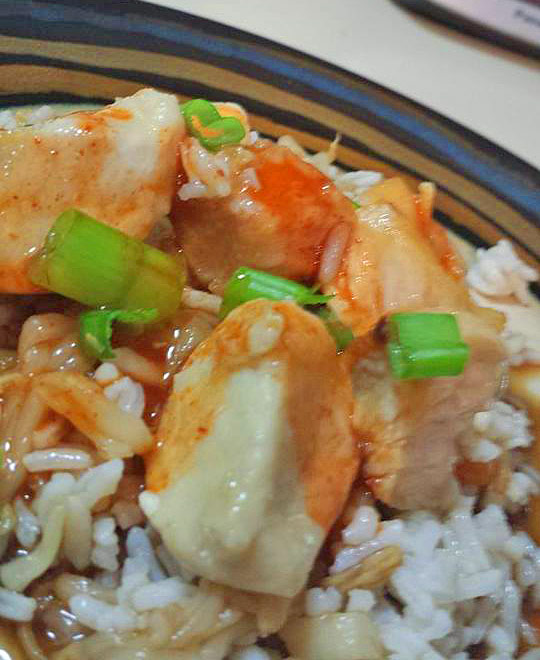 Taste on Food:
3 out of 5. I doused Death by Douglah Hot Sauce on a piece of honey glazed chicken and it was a real treat. I was a little afraid that the pair of sweet chicken and the sweetness of the sauce was going to smack me upside my head, but it didn't at all. In fact, it added another depth of flavor.
Heat:
4 out of 5. If you're into heat, Death by Douglah will not disappoint you at all. The heat was a creeper for me and didn't start to attack my tongue until a few seconds after I swallowed. The burn on this one was focused on the front on my tongue and a little on my lips – nothing on the back of the throat nor on the roof of my mouth.
Overall:
This is a great fruit-based hot sauce. I don't see myself using this as a "go to" sauce, but given the right application, this sauce will provide a good flavor and lasting heat long after you finish your meal (or spoonful.) I highly recommend this one.
For additional information on Volcanic Peppers and and a place to purchase Death by Douglah, here is a link to their website: http://www.volcanicpeppers.com
Review – Volcanic Peppers Death by Douglah Hot Sauce