Trader Joe's Baked Jalapeño Cheese Crunchies are one of the most disappointing food products I've sampled from the grocery chain. Usually they maintain a consistent degree of quality with most food they sell, but this time they've fallen flat on their collective faces with this snack.
Ingredients:
Cornmeal, Expeller Pressed Oil (Canola, Sunflower and/or Safflower), Cheddar Cheese (Cultured Pasteurized Milk, Salt, Enzymes), Salt, Buttermilk Solids, Maltodextrin, Rice Flour, Onion Flower, Whey (Milk), Parsley Powder, Jalapeno Pepper Powder, Green Bell Pepper Powder, Lactic Acid, Garlic Powder, Natural Flavor, Spice Extract.
Aroma:
2 out of 5. This one was difficult to pin down. This has sort of a blend of non-descript generic cheese seasoning with chives and sour cream, and a touch of corn meal smell.
Appearance and Texture:
3 out of 5. Shaped like your typical fried corn curls or doodles. These ones have an odd yellow tint with plenty of green specks covering them. Most pieces have a thick dusting of flavoring. The crunchiness is similar to Cheetos.
Taste:
1 out of 5. These taste NOTHING like "real" cheese or jalapeños in my opinion. The flavor is closer to an wild, experimental excursion into approximating the corn/onion taste combo of a Funyun, and it's a piss-poor attempt at that.
Either they mislabeled a batch of sour cream and onion-flavored puffed corn snacks, or someone at the TJ's quality control must be on drugs thinking that this can pass for what's described on the bag.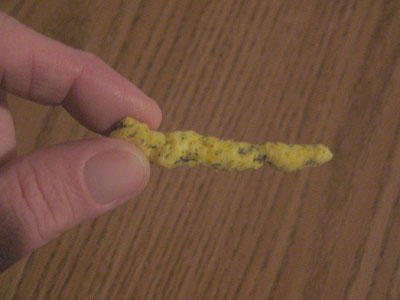 Heat:
0 out of 5. Perhaps if these had any jalapeño flavoring, would they contain a slight semblance of heat.
Label:
2 out of 5. The odd interconnected diamond shapes with bright colors made me think more of stained glass than anything "southwestern", the later of which is what I assume the graphic artist was trying to capture. The little image of the pepper in place of the "L" in the word "jalapeño" is even more laughable in light of the fact that these contain zero jalapeño flavoring (or did I mention that already?).
Overall:
Even calling this crap "lackluster" would be too high of a praise for it. Don't even contemplate purchasing this. Save your money or buy some of Trader Joe's dried fruit snacks instead.
Trader Joe's Baked Jalapeño Cheese Crunchies comes in 7 oz. bags and retails for $1.99. If you're not sure where a TJ store is close to you, you can have a look on their website's locator: http://www.traderjoes.com/locations.asp.
Review – Trader Joe's Baked Jalapeño Cheese Crunchies