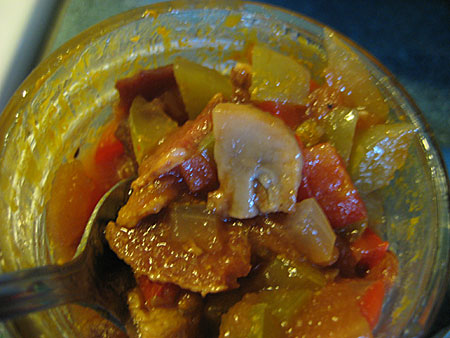 Here's the lowdown on Sandi Kraft's contribution to the Great Bacon Challenge, which was a call to craft a great-tasting spicy condiment or salsa containing an element of the meat of the hour – bacon! Sandi is a mainstay in the online chilehead community and a contributor at tastethefear.com, and had previously created her homemade "40:1 Salsa" for the annual Open Fields get-togethers. She devised the idea of "breakfast-izing" the salsa by adding bacon and maple syrup…
Ingredients:
Tomatoes, red and green bell peppers, onion, fully cooked bacon, garlic, jolokia powder, maple syrup, cilantro, mushrooms and salt
Appearance and Aroma:
A glance at this reveals a super chunky quality. Obviously since this is a homemade property, you're going to get irregular cuts, and there's nothing wrong with that; in fact I happen to like pieces and dices of vegetables of all sizes, where you're never quite sure what's about hit your tongue. The contents include, what what I can detect, tomatoes, green and red bell peppers, long slivers of onions and mushrooms. Yup, that's right, mushrooms. Normally I don't exactly go ga-ga over the slimy little fungi, but I'm willing to try most foods, even mushrooms in a salsa.
Oh yeah, there's also bacon. Not a whole lot of it, mind you, but a lot more than what you would find in an average can of pork 'n' beans (I honestly would like more pork'n and less beans, but that's a topic for another day). A few good stirs of the contents revealed more than enough bacon to appease most lovers of bacon.
The smell is expectantly peppery and faintly sweet.
Taste:
Sweeter than anticipated and full of bright peppery flavor. Cold and straight out of the jar there's only light heat. Bacon taste is minimal, but when I got a piece I thought it paired fairly well with the onions and peppers.
Sandi had mentioned that when chilled or at room temperature the peppers in this stuff weren't all that hot. She gave the recommendation to physically heat the salsa to turn up the dial on the spiciness.
I can imagine most applications of this would be breakfast-oriented, so the idea of a morning burrito popped into my head. I had cooked up fried potatoes and eggs and spooned a generous about of Sandi's bacon salsa on top. I let the mixture get warm for a few minutes. I piled the skillet-ed contents onto a white flour tortilla and sprinkled a pinch of shredded cheddar on top.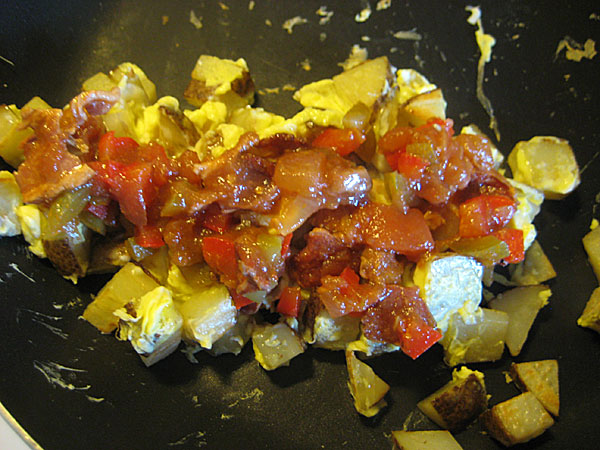 The results were superb. The taste of the salsa was not overpowering but played a respectable supporting role. It accented the potatoes and eggs nicely while letting their base flavors do most of the talking.
Overall Verdict:
I happen to think the whole bacon craze in general has gone a bit overboard. I'm not nuts about the meat but I think it's great when people think outside the box and attempt different variations on traditional tastes, especially sauces and salsa. Sandi's concoction was a nice little experiment that proves there's potential for bacon in spicy condiments.
Review – Sandi Kraft's Great Bacon Challenge Salsa