Along with pretzels, consider peanuts to be one of the two most boring and bland entities of the snacking word. Those two things are used waaaayyyy too often as a "filler" in trail mixes and snack mixes. I could honestly do without 'em most of the time.
So when Ricky's Lucky Nuts offered to send me five of their flavored peanuts – Black Pepper and Sea Salt, Real Coffee, Spicy Chile Chipotle, Sweet Chai, and Thai Red Curry – I admittedly was not too enthusiastic at all about trying them. I thought, "alright, let's get these quicjly out of the way."  I was ready to award these average or even below-average reviews.
Instead, I was wowed – and even floored – by these five offerings. The flavorings were pretty much spot-on, and dazzling roasted peanuts are miles higher than any hum-drum Planters variety.
Texture and Appearance
Ricky's Lucky Nuts all have a beautiful coating adorning the peanuts. This covering adds a tiny crunch and almost crispiness without it being cracker-like. The roasted peanuts themselves are fresh and never are too soft.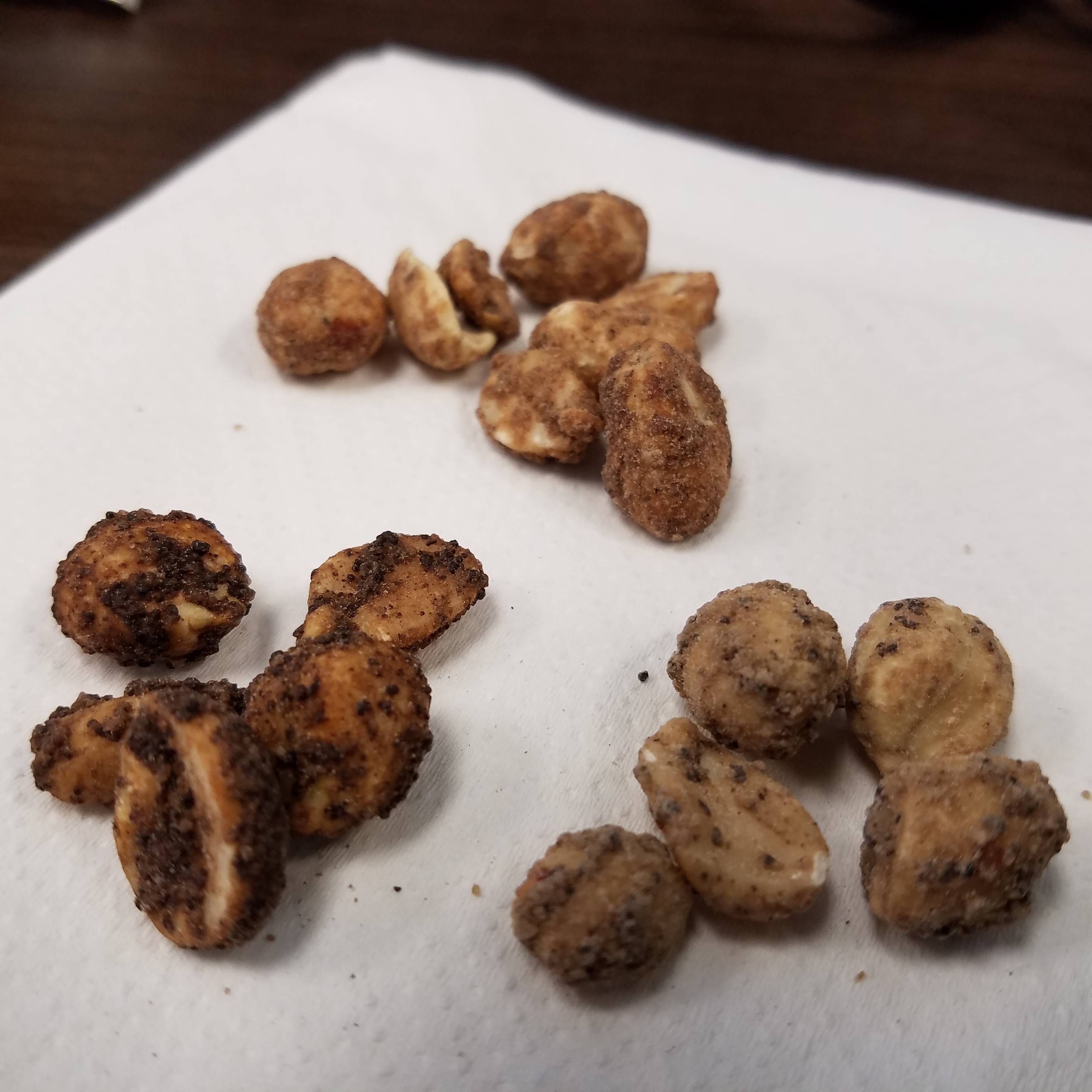 Black Pepper & Sea Salt
Ingredients: Peanuts, Cane Sugar, Black Pepper, Salt
Taste: 3.5 out of 5. Honestly, I was not expecting much out of the Ricky's Lucky Nuts Black Pepper & Sea Salt Peanuts. Yet these were one of the biggest surprises right off the bat! As you will read in the following descriptions for the five flavors, Ricky's begins with a "base" flavor formula of a cane sugar coating that covers the fresh peanuts. This one, with the Black Pepper & Sea Salt, blends admirably well with this sweet base. I get moderate hints of black pepper in the midst of the sugar, almost to the point of getting the odd feeling that a touch of chile pepper is somehow involved with producing this flavor. Strangely, I detect little to no saltiness, despite it being one of the core ingredients. This flavor gets a thumbs up from me, yet lacks that extreme addictibility factor that makes me want to shove more and more into my mouth.
Heat: 1.0 out of 5.
Real Coffee
Ingredients: Peanuts, Cane Sugar, Ground Coffee, Salt
Taste: 4.5 out of 5. These coffee-flavored nuts were a welcome sensation on the tongue. It avoided two things I was dreading. One, these thankfully lacked the cloyingly, artificial "cream and sweetener" taste that companies attempt to replicate when making a java-flavored product. Second, Ricky's Lucky Nuts could have went the other route and made something so bitter and off-putting in adding a "genuine" unsweetened coffee ground flavor that it could have turned off a large percentage of fair-weather snackers who like things non-offensive and sugary. Instead, these are right down the middle of the road by having just enough of a light, roasted coffee ground fragments to make it taste like a black cup o' joe and blending great sweet tones from the cane sugar, all while letting the natural flavor of the peanuts shine through. A winner of a snack.
Heat: 0 out of 5.
Spicy Chile Chipotle
Ingredients: Peanuts, Cane Sugar, Salt, Chipotle Chile.
Taste: 4 out of 5. Sweet, light, non-offensive, with a small, smoky kick on the back end, and made for the masses. By that last sentiment, I'm not implying that it's a bad product; in fact, it's pretty good. In fact, it straddles the thin line between tasty gourmet treat and crowd-pleaser quite well. Ricky's Lucky Nuts did a bang-up job with the Spicy Chile Chipotle nuts.
Heat: 1.5 out of 5.
Sweet Chai
Ingredients: Peanuts, Cane Sugar, Masala Chai Blend (Black Tea, Spices, Dehydrated Orange Peel), Salt
Taste: 4.5 out of 5. These are very, very nice, with a complex bite while still keeping a wonderful, sweet appeal. In addition to the sugary platform, I detect incredible tea and allspice notes, and perhaps a touch of cinnamon? The Sweet Chai peanuts from Ricky's Lucky Nuts are in my opinion the most "out there" of the flavors while never becoming too overpowering and never masking the fresh peanut flavor. And although this has no real chile pepper heat, the aromatic tones and bright, bold spices register the tiniest bit (a 0.5) on my heat scale. My favorite out the bunch!
Heat: 0.5 out of 5.
Thai Red Curry
Ingredients: Peanuts, Cane Sugar, Red Curry Powder (Spices Paprika, Turmeric), Salt
Taste: 4 out of 5. I can consume foods with Indian or Thai curry spices only in small amounts. It's a profound relief that Ricky's Thai Red Curry peanuts are covered only with a little of that curry flavoring. In fact, it may be a little light on it (too light?). All in all the base sweet taste mixed with the hint of delicious curry tones make this a pretty addictive snack. For chileheads, these do boast the tiniest bit of spiciness, but nothing that would scare mild mouths away.
Heat: 1.5 out of 5.
Label and Packaging:
5 out of 5. Superb. These packages of nuts are brightly-colored, easily distinguishable from each other, and are just plain fun to look at.
Overall: Although Ricky's Lucky Nuts may not appease hardcore chileheads who are looking for a fiery kick in their mouth, all of the flavors are above-average; I recommend all of them!
For more information about Ricky's Lucky Nuts, go on over to http://www.rickysluckynuts.com.

Review – Ricky's Lucky Nuts