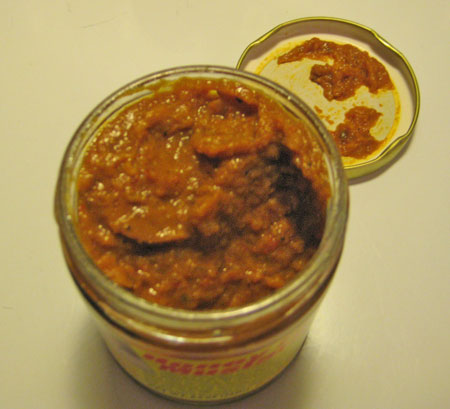 Hungry for a hearty, all-purpose condiment with bucketloads personality? Dr. E. Lee Spence has concocted not just one but a duo of spicy mustards that are among the best of their type that I've ever had.
Ingredients – Murder Mustard: Prepared mustard (distilled vinegar & water, mustard seed, salt, turmeric, spices), peppers (jalapeno peppers, water, vinegar, iodized salt, spices & soybean oil), vinegar, spices, onion, salt, and garlic.
Ingredients – Honey Fire Mustard: Prepared mustard (distilled vinegar & water, mustard seed, salt, turmeric, spices), peppers (jalapeno peppers, water, vinegar, iodized salt, spices & soybean oil), honey, spices, and onion.
Aroma: Each one has a satisfying smell when you take the lids off of the jars. Murder Mustard and Honey Fire Mustard both lack a super strong mustard odor, which is good if you don't like being hit in the face as if a mustard gas grenade blew up in your kitchen. As expected, Honey Fire had a bit more of a sweeter, pleasant smell.
Appearance and Texture: Each one is an ultra-hefty, churned-up blend of prepared mustard, jalapenos, and E. Lee Spence's own blend of spices and other ingredients. There's nothing runny about these; they're unmistakably thick and dense. The mustards are much softer and lighter than peanut butter but still require a knife to spread.

Honey Fire Mustard

Murder Mustard
Just taking a glance at each Murder and Honey Fire, neither one looks too appealing with their chunky consistency and light brown hues. They look like….well, I'll let you use your imagination (but don't let that deter you from trying these). There are good-sized pieces of peppers and spices visible.
Taste: Absolute dynamite! Both Murder Mustard and Honey Fire Mustard have the right touches of heat and spices to bring out a one of a kind taste out of each condiment. Neither one has an extremely powerful mustard taste to them. I'm a bigger fan of mild, sweet honey mustards, so if I had to choose between the two, I would prefer the Honey Fire Mustard.
Heat: Neither product had an overpowering heat. Most fairweather fans of spicy mustards would not be turned off by these two. Ironically, despite the "killer" moniker, the Murder Mustard I found to be less hot then the Honey Fire. Murder I would rate 1.5 on a scale of 5, and Honey Fire a 2.5.
Label: Many novelty and specialty sauce makers love to attempt to outdo everyone else when it comes to wacky, over-the-top names and crazy images on their bottles. Dr. E. Lee Spence tries a similar tact, but with humorous warning labels and insane origin stories. For example, the Honey Fire Mustard's label reads:
"Unfortunately, Honey Fire Mustard was wrongly implicated in the burning of Atlanta and Columbia. There is simply no truth to the claim that those fires were 'innocently' caused when raw recruits in General Sherman's army tried to eat their rations smothered with Trenholm's honey fire Mustard but ran out of water halfway through. thousands of beautiful Southern homes were destroyed. (Note: This recipe was created by the famed undersea explorer and discoverer of the confederate submarine Hunley, Dr. E. Lee Spence.)"
Culinary Fire Hazard!
"We use it to make Honey Fire Wings!"
"Captain Trenholm says its "like the perfect lady, sweet as honey, but hot as fire!"
"Ersatz Warning: Beware of Placebo Effect! Federal law absolutely prohibits any spurious claims of health or aphrodisiac properties, so none are made! However, you should be aware that, for good reasons, this product is not made for use in prisons. And, you are hereby admonished to keep it away from all teens and ex-spouses, unless very cold showers are available."
Very entertaining, in my opinion. And luckily, the mustards are as entertaining as the labels.
Both products can be purchased at Dr. E. Lee Spence's http://www.murdermustard.com/ website for $7.50 each. In my opinion it may be a buck or two too high, but I bet if you'd spring for a jar of either mustard you'll be buying more in the future.
Review: Murder Mustard and Honey Fire Mustard