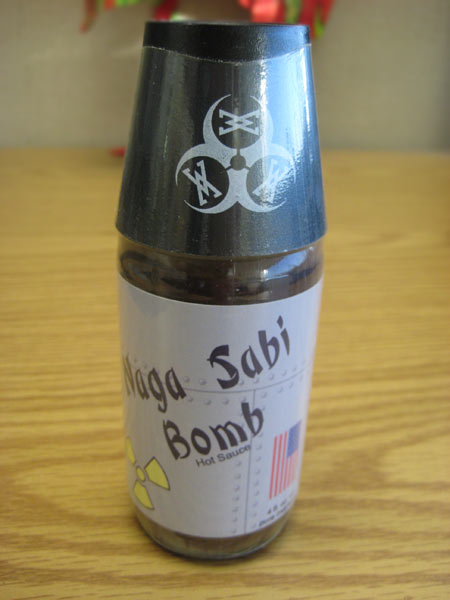 I'd previously sampled Danny Cash's unique Naga Sabi Bomb sauce. A healthy spoonful had been enough to impress me with its power as a dual naga/bhut jolokia and wasabi hot sauce, even if I wasn't crazy about the taste. Alas, sometimes first impressions can be deceiving. Often, a sauce or condiment will need a "proper context", e.g. used with certain foods, to obtain its true flavor and usefulness. Danny had told me that Naga Sabi was amazing on sushi and even guacamole, so I knew that this sauce required to be put on some grub to give it a fair assessment.
Ingredients:
Naga Jolokia, Red Habanero, Red Thai, Wasabi, and Vinegar
Bottle and Label:
5 out of 5. Ultra cool, this is. This sauce is contained in a large 4 oz. "medicine" bottle with a label covered in what looks like riveted metal. The hard plastic cap (which I guess could double as a shot glass) is removed to reveal the real, screw-on cap. There's a Japanese-looking font, a "radioactive" symbol, a "biohazard" symbol and an American flag so the overall impression of a bomb is clearly given. Sure, it could use a JDAM kit wrapped around it, but let's not get egregious, okay?;-)
Aroma:
4 out of 5. Surprising mellow. With wasabi and jolokias, one would expect it to blow them back with its odor. Naga Sabi is extremely nice, with a sweet apple cider vinegar claiming the bulk of the smell, with the fruitiness of nagas and habaneros plus the sharpness of wasabi giving it some nice accents.
Appearance and Texture:
3.5 out of 5. Medium-thin in consistency, this light brown/red liquid is not bad to look at. It's full of shreds of red chiles and seeds and would brighten the appearance of light-colored dishes.
Taste Straight Up:
3 out of 5. I found nothing at sub-par with Naga Sabi Bomb's taste. It was a touch sweeter than I had recalled; maybe a reformulation on recently had been done on this as had other great Danny Cash sauces such as Mean Streak. Smooth with the sweet tart of vinegar but with the infusion of peppers and a dash of wasabi I was at a lot for thoughts. It's definitely an odd and unique sauce and thinking of how this would fit in proved to be perplexing.
Taste on Food:
5 out of 5. Taking Danny's recommendations into consideration, I wasn't planning on making homemade guacamole any time soon and I don't frequently eat sushi, so I ventured in the seafood direction and went with a grilled tilapia steak. I drizzled some Naga Sabi over the center of the fish and hoped for the best. Wow, did this ever pair well together! The simple, mild taste of the meat was dazzling with the minimally pungent, spicy and tart sauce. Although is was unmistakable flavorful, it was never at any point overpowering.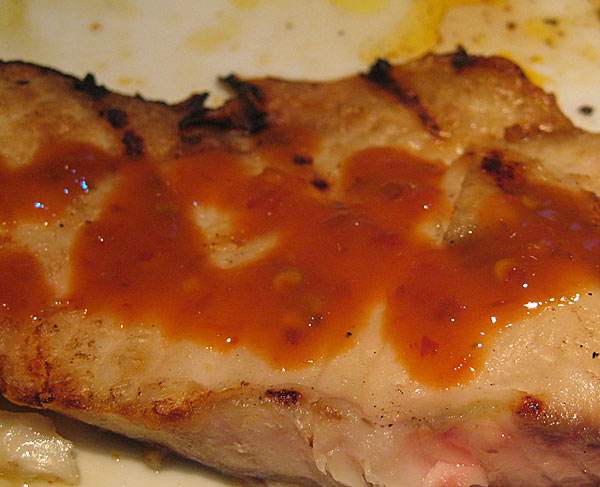 I love fruit-based hot sauces with seafood; and while Naga Sabi lacked any fruitiness in its flavor profile, it would be great with a vast assortment of grilled or oven-baked fish fillets, shrimp or scallops. This would be wonderful on some fish and steamed rice. And if you would go in the joint seafood/Mexican (a la the guacamole mention earlier) direction, how about some fish tacos? My stomach is growling thinking about it!
Heat:
In just the right amounts this sauce can be fantastic. As long as you're not chugging down half the bottle or sucking down spoonful after spoonful, you won't be blown away by the heat…too much. There exists a lot of pungent fury, more so with the capsaicin-derived burn of the chile peppers than the nasal-clearing properties of wasabi. This possibly could have used more wasabi, but Danny Cash has always been more about the flavor than knocking you back with atomic ingredients, and the amount used here was spot-on for the taste. Most die-hard lovers of hot sauce should be comfortable with Naga Sabi, with some being able to use a larger dose on their foods while others would be comfortable with a couple of drops. If you're not a chilehead, use with caution.
Overall:
I'm glad I gave this sauce a second opinion. You should give it a first chance to see what uses you can find for it. Pick up the 4 oz bottle of Naga Sabi Bomb here.
Review – Danny Cash Naga Sabi Bomb