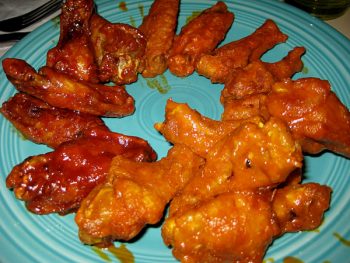 For years Culpeppers has garnered a rep as one of, if not THE best, wings joints in the St. Louis, MO metropolitan area. As most of you in the Gateway City know, you can grab the goods at, as of this writing, nine different locations in the Missouri side of the mighty Mississippi river.
For this review, I visited the Arnold location. The inside was brightly lit, relatively spacious, and felt visually comfortable. Although Culpeppers specializes in typical American/pub cuisine, you won't find sports memorabilia adorning the walls, TV screens hanging everywhere, and female wait staff in skintight outfits. Its decor was unlike your corner "sports bar": the walls were covered with hoidy toidy Italian and French liquor ads from the 1920s and 1930s. There was a fireplace. And everything was geared toward welcoming the entire family. All of which makes Culpeppers a unique entity to be renown for serving great chicken wings.
My family and I sat down at a table was immediately taken care of by our waitress (I should have written her name down so that I could have given her the credit she deserves) and was never for want at any point during our experience. We ordered up some potato skins for starters. When they arrived, I noticed they were the skinniest skins I had ever seen – they were the size of one individual section of an orange.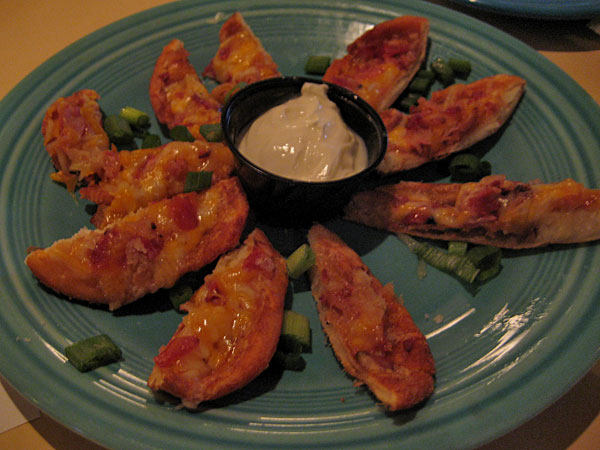 As minuscule as their size was, the potato skins were cheesy and tasty, and nearly worth the amount they cost. If the restaurant would have included a few more of these dinky babies on the plate, I would certainly recommend them.
My main entree included the big event: fifteen Culpeppers chicken wings, with five each covered in three different sauces – Original-Style Hot Wings, Gold Wings, and Chipotle Barbecue Wings.
The Original Hot Wings were a bit redder in color than a general buffalo sauce and had a great taste. It's heat level was fairly low in order to please the non-chilehead masses, and had a savory sweetness and tang to it. These are among the best hot wings I've come across in my life.
The Gold Wings were similar in flavor to the Hot Wings but had noticeable hints of mustard. I've munched into some mustard-based hot wings in my day where the mustard was simply too pungent and overpowering, but Culpeppers have struck the optimal balance between mustard and other flavors. I couldn't eat a whole plateful of Gold Wings but the five I had were just enough to soothe my unrefined palette.
My favorite were the Chipotle Barbecue Wings. I've found it easy to screw up wings with a weak BBQ sauce but these pass my taste test with flying colors. The flavor is magnificent with lots of smokiness, spiciness and boldness on top of an already great little wing. You'll be happily licking this sticky sauce off the bones and your fingers long after the meat has been chewed away.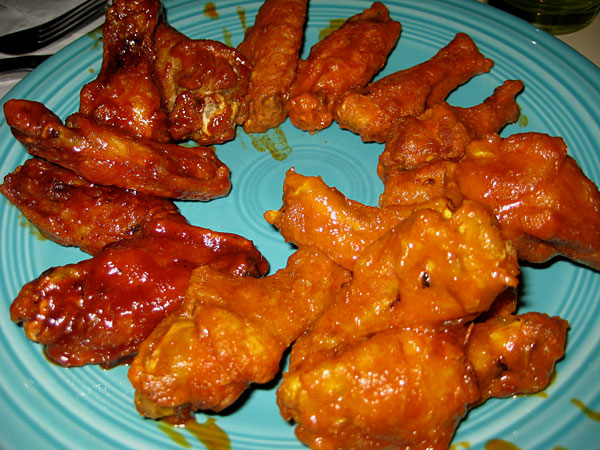 Each wing was coated evenly with its respective sauce. If there was any disappointment, it was a small one – all of the wings were below average in size. Luckily for this establishment is that the chicken pieces are healthy and meaty, and I would take a small, lean wing any day over one that was large but attributed half it's volume to skin and flab.
Maybe the cost is due to the times in which we live or the economy, but $11.99 for fifteen wings seems a bit steep (that's around 80 cents a pop), especially considering they're tiny and chintzy. If money isn't an issue for you, then feel free to splurge because Culpeppers' wonderful-tasting wings are well worth it.
In case you missed it from last week: St. Louis Wings, Part One – Imo's Wings
Review – Culpeppers Wings – St. Louis Wings, Part Two