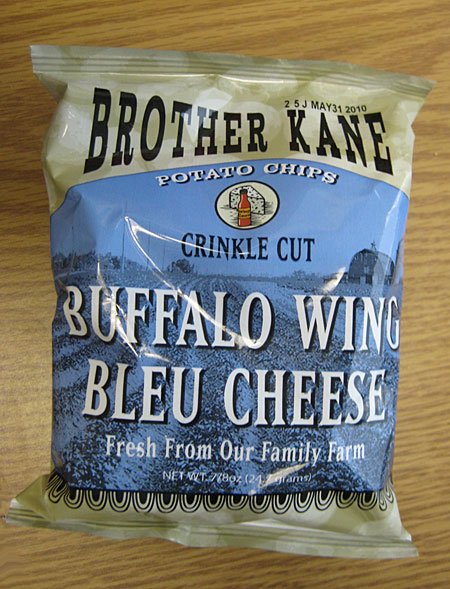 With the mind-boggling glut of spicy-flavored and buffalo-style snacks offerings – both good and bad – here's yet another chip vying for the attention for junk food lovers and chileheads alike. Nothing jumps out at me when biting into Brother Kane Buffalo Wing Bleu Cheese Potato Chips yet a would still give this a thumbs up because of the smooth, cheesy flavor.
Ingredients:
Ingredients:
Potatoes, Vegetable Oil (Cottonseed or Corn Oil), Salt, Maltodextrin, Whey, Sugar, Dextrose, Whey Protein Concentrate, Monosodium Glutamate, Vinegar Powder, Reduced Lactose Whey, Spices, Citric Acid, Sodium Acetate, Natural Flavors, Acetic Acid, Cheese (cultured milk, salt, enzymes), Canola Oil, Artificial Colors (Yellow 5, Yellow 6, Red 40, and annatio), Disodium Guanylate, Lactic Acid, Garlic Powder, and Silicon Dioxide. Contains Whey Ingredients.
Aroma:
2.5 out of 5. Middle of the road, so it's not bad but not mouth-wateringly tempting either. Plain, with very little buffalo-type smell.
Appearance and Texture:
2.5 out of 5. Ridged ("crinkle cut") chips with a very light coating of a pale orange seasoning.
Taste:
3.5 out of 5. I was pleasantly pleased with the flavor of Brother Kane Buffalo Wing Bleu Cheese Potato Chips. They approximated the taste of a nice – yet somewhat generic – buffalo sauce very well. It was partially cheesey, such as a cheddar and sour cream chip, and boasted an overall smooth quality. Easygoing, clean and almost creamy, you could munch on a large bowlful of these and not realize how many you've eaten. That having been said, it's still not something you'd rave about to friends and colleagues.
Heat:
0 out of 5. Okay, you want to get technical? The heat level maybe, if you're stretching it, could be a 0.25 if you're extremely sensitive to even the most minute amounts of spice. There's really no heat to these, just flavor.
Overall:
Another decent snack that's worth a try, but if you're craving explosive flavor or any measure of truly substantial heat, you'll be sorely disappointed.
You may have to do some searching if you reside in certain geographical areas. If you live in some regions, Brother Kane's products may be readily available at your local convenience store or vending machine. Other places around the U.S., you're probably S.O.L.. The Brother Kane website is ridiculously out of date (not to mention looks like it was designed in 1997) and doesn't even show chips – only peanuts – let alone no purchasing or distribution information.
Update 6/23/10: The Brother Kane website has gotten a fresh redesign and looks much better. Although still only Brother Kane's peanuts are available for purchase, you can contact them for distribution information.
Review – Brother Kane Buffalo Wing Bleu Cheese Potato Chips