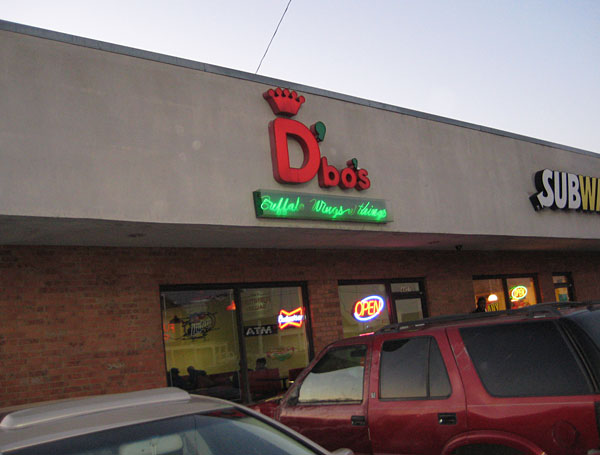 D'Bo's Buffalo Wings n' Things
4407 Elvis Presley Blvd, Memphis, TN, 38106
Started in 1990 by entrepreneur David Boyd and his wife, D'Bo's Wings n' Things has expanded to four locations in the Memphis, TN metro area and has garnered a reputation as one of the best chicken wing joints of the South. Naturally, while staying in the area I had to try D'Bo's food for myself.
My wife and I entered the small but bustling restaurant. Virtually all of the tables were occupied by customers waiting for their "to go" orders. We walked up to the counter to place our own order; and, of course, wings were going to be our item of choice. Their wings come in six flavors: Mild, Hot, Suicidal, Honey Hot, Honey Gold or BBQ, and can be purchased in various pairings from 10 pieces to 1000+ pieces (I guess if you're really, REALY hungry).
D'Bo's menu showcases other Southern goodies such as chicken tenders, waffles, catfish strips, okra, burgers, and more. Dessert is also a big draw, with a Blue Bell Ice Cream freezer case on hand to dish out the scoops, as well as offering cake, fruit cups, strawberry shortcake, cobbler, and brownies.
We paid for 30 Suicidal wings and our drinks and sat down at one of few empty tables while our food was being prepared. As we patiently waited, more and more customers entered the establishment – they are a hoppin' place on Friday nights! Unfortunately, there is at some point were a restaurant crosses the fine line between understandably busy and slow to get your food to being inexcusably dawdling. The wait was around twenty minutes, so D'Bo's had started to cross that point.
Finally we got our foam tray of wings. The smell was both familiar and pleasant, just like good ol' classic buffalo wings. I usually don't have sauce with my hot wings, but I decided to have ranch with mine. My wife choose bleu cheese. She opened her sauce container only to find that the dressing had gone rancid and watery. My ranch was fine, fortunately.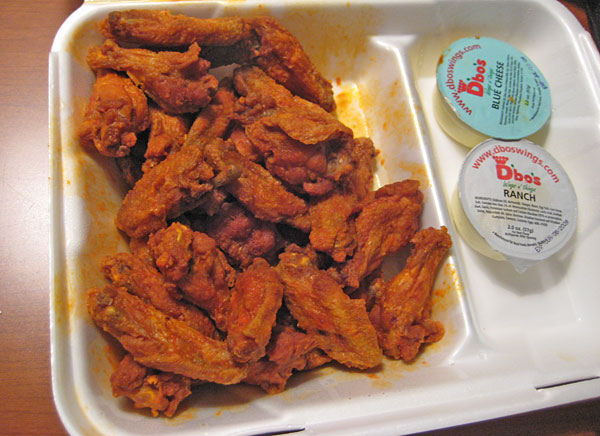 It was time to pig in. Each wing was fried to perfection and coated all over with a beautiful wing sauce. I hurriedly suck the meat of the first wing and felt right at home. There was nothing vastly different with this than with other wings, only this had all the "rough edges" worked out and had the perfect blend of spices and flavor. It was one of the best wings I had ever eaten.
Although we had gotten the Suicidal wings, the heat was far less than that of other hot wing restaurants and hot sauces. Most hardcore chileheads would have no problem downing 10 of these babies and they would barely break out in a sweat. Still, the sauce was warm enough to be pleasing and left my lips mildly nub after eating my half of the order.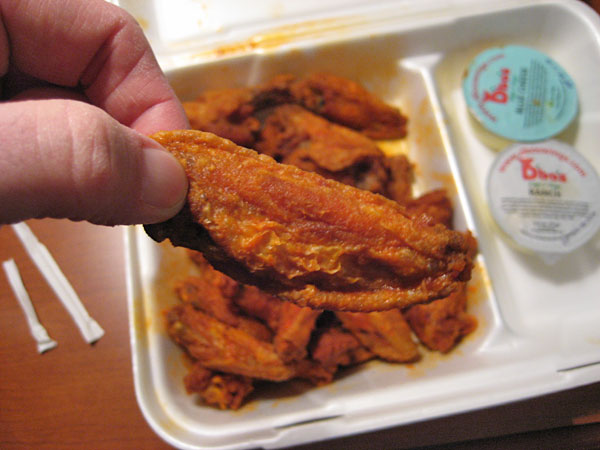 Just look at that beautiful thing!
Because of the extra long wait, and the nastiness of the bleu cheese dressing, I have to knock a half-point off of what would have otherwise been a perfect 5 out of 5 score for them. So, D'Bo's Buffalo Wings n' Things gets a
.
D'Bo's is a worthwhile place to stop if you live anywhere around Memphis or are traveling through. If you can, try to catch them on a non-busy night. These guys have a thing or two to teach the average joe, white-bread sports bar about making a real chicken wing.
Restaurant Review – D'Bo's Wings n' Things