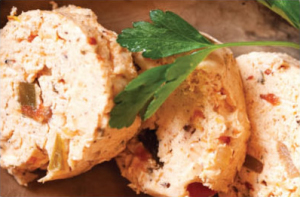 Want a spicy new topper for your next beef steak, piece of grilled meat or grilled seafood?  Try a compound butter like this one: a delicious spread that employs both Green Mountain Gringo Roasted Garlic Salsa and a vinegar-y cayenne pepper sauce like Texas Pete. It's simple, can be made in a matter of minutes, and can be prepared for several hours before your big meal.
Ingredients:
1/2 cup Roasted Garlic Green Mountain Gringo® Salsa, drained
1/2 lb. butter, softened
1/2 tsp. coarse black pepper
1/8 tsp. Texas Pete® Original Hot Sauce or similar cayenne pepper-style hot sauce
Preparation:
Place butter in a mixer fitted with a whip attachment. Whip until creamy, then slowly add salsa, hot sauce and black pepper. Once the butter is thoroughly mixed, remove from mixing bowl. Butter can be placed in a container and held in the refrigerator for up to a day. When ready to serve, top grilled steak or other grilled meat and seafood.
Green Mountain Gringo Salsa Steak Butter Recipe