FIND ALL SPICE CAFE ONLINE:
www.allspicecafe.com
FOR IMMEDIATE RELEASE
CHICAGO-BASED ALL SPICE CAFE GETS FIRED UP ABOUT THE SUCCESS OF ITS AWARD WINNING PRODUCT LINE
Gourmet Fiery Hot Sauces Now Available at Grocery Retailers Nationwide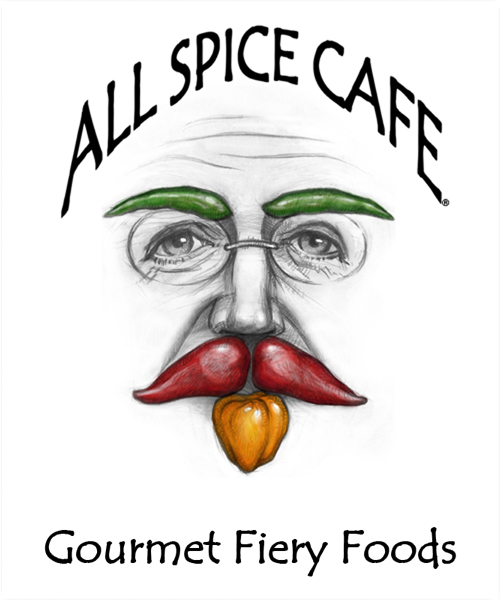 CHICAGO, IL (AUGUST 2015) – Midwesterners love spicy food and thanks to Chicago-based All Spice Cafe their award-winning gourmet fiery hot sauces are now available across the region to satisfy this blazing craving! The complete line of one-of-a-kind, vegan and gluten free hot sauces, developed by Los Angeles-based Chef J.D. Cowles, and named "Best Hot Sauce Maker" by Los Angeles Magazine, has taken a strong foothold in the region and is expanding rapidly throughout the Midwest, thanks to two Chicago-area businessmen.
Buddy Feldman, a food industry sales and marketing veteran from Highland Park, IL, and Michael Brindza, a former financial industry executive from Downers Grove, IL, were introduced to Cowles, by Don Mazzoni, a real estate developer, as Cowles incredible hot sauces were only available at select L.A. restaurants and online, and partnered in June 2014, forming the perfect trifecta of business, retail and gourmet experts.
With a thorough understanding of the retail food industry, the duo moved the company to their hometown of Chicago in April of 2015, and have since expanded the outstanding line of All Spice Cafe gourmet fiery sauces to grocery retail locations throughout the country, including Mariano's, Jewel Osco, and many others across Wisconsin, Illinois, Missouri, Ohio and Michigan, in addition to select locations in Texas and California and Whole Foods stores in Arizona, Hawaii and Nevada, with future national growth in the works.
This is a hot time for the hot sauce category as it is currently one of the fastest growing industries in the U.S. "I've always had a passion for developing businesses and identifying their growth potential," says Mike Brindza who is looking forward to taking the brand to a new level.
All Spice Cafe gourmet fiery sauces start with really great flavor first, and then add the heat. "Not a drop of flavor is sacrificed for the sake of being over-the-top and uniquely hot," says Buddy Feldman.
"This isn't just another 'me too' hot sauce, these are thicker quality gourmet sauces that are great to cook with as a marinade, dip, or on the barbeque."
Available in four distinctively bold flavors: Caribbean Spice, Chipotle Garlic, Cayenne Habanero and the spicy Jolokia Ghost Pepper, these delectable bottles of All Spice Café gourmet fiery hot sauces are versatile when making any recipe from marinating meats, chicken, fish and veggies, to classic hot wings, spicing up a Bloody Mary or marinara sauce, or when preparing any dish that's just calling out for an 'extra kick'.
"I find my cooking inspiration from the most amazing ethnic cuisines the world has to offer, incorporating Thai, Indian, Caribbean and Cajun flavors into our sauces," says Cowles. "I'm kind of a 'chilehead', and when hot peppers reach my tongue, endorphins are released and create a feeling of euphoria."
AWARD WINNING FLAVORS
Mild Caribbean Spice Sauce – a perfect mix of flavor and heat. The hint of jerk seasonings, including allspice, nutmeg, cinnamon, garlic and onion work well with chicken, pork, seafood, and even eggs.
Chipotle Garlic Sauce – an overwhelming favorite and best seller, this is a great grilling sauce, dipping sauce or marinade for beef and chicken, or flavorful addition to omelets or chilaquiles.
Cayenne Habanero Sauce – got it's start as a hot wing sauce, but this perfect flavor has been used on everything from popcorn to pasta sauce, as well as a marinade for chicken or steak, and even added to Ranch Dressing.
Jolokia Ghost Pepper Sauce – Not for the faint-hearted, this extreme heat sauce has a similar flavor profile to the Cayenne Habanero sauce but with the slight smoky flavor and fiery heat of the ghost pepper from northeastern India, once confirmed by Guinness World Records as the hottest pepper in the world.
ABOUT ALL SPICE CAFE
Since its inception in 2006, All Spice Cafe has won more than 20 awards in some of the biggest shows in the Hot Sauce and Barbecue industry, including Scovie Awards from the Fiery Foods and Barbecue Show in Albuquerque, NM; Golden Chile Awards at Zest Fest's Fiery Foods Challenge in Irving, TX; and named "Best Hot Sauce Maker" by Los Angeles Magazine.
To experience the outstanding fiery taste first-hand, visit www.allspicecafe.com for a list of store locations and product demonstration events. And like All Spice Cafe on Facebook to stay tuned for more new products coming soon.
###

Chicago-Based All Spice Cafe Gets Fired Up About The Success Of Its Award Winning Product Line