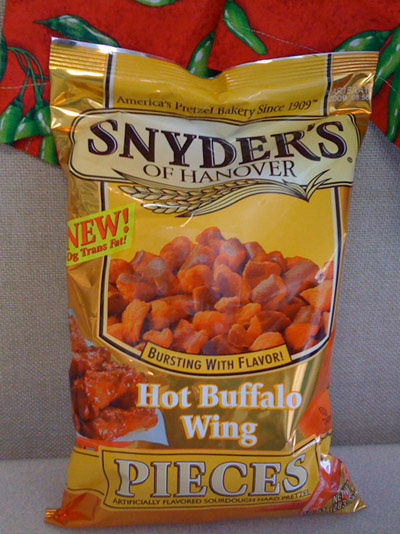 I'm not a fan of hard pretzels by any stretch of the imagination. Soft ones I can handle, but to me regular hard pretzel twists and sticks are akin to gnawing on salty, overly dry tree branches. The really big hard ones are absolutely horrible – why someone would chew on burnt-bread-flavored rocks that suck all moisture out of your mouth is beyond my comprehension.
Surprisingly, though, Snyder's of Hanover Hot Buffalo Wing Pieces are these such hard pretzel bites and actually appeal to me. Read on to find out why.
Ingredients:
Unbleached wheat flour, palm oil, water, maltodextrin, salt, dried cayenne pepper sauce (cayenne peppers, vinegar, salt, garlic), sodium diacetate, modified corn starch, monosodium glutamate, yeast, vinegar, paprika extract, citric acid, garlic powder, caramel color, disodium inosinate and guanylate, lactic acid, soda.
Aroma:
4 out of 5. These have a good, mild buffalo wing smell. Not too strong.
Texture and Appearance:
4 out of 5. Snyder's of Hanover Hot Buffalo Wing Pieces look like they're remnants of a Cheetos and Rold Gold Rods factory explosion. The pieces range in size from pea-like to larger, one-inch chunks of broken-up hard pretzels. The "white" parts of the pieces are heavily covered in a deep orange buffalo seasoning. The coating is not really greasy, but "sticky" in the sense that the cheese residue forms on your fingertips after devouring a bag of Cheetos.
Taste:
5 out of 5. Outstanding. The flavor of these buffalo wing pretzel pieces are uncannily similar to Frank's Red Hot. The merging of the warm buffalo taste with the crunch of a sourdough pretzel is a stroke of genius. Somehow, the flavoring is able to give a richness and intensity that makes you forget about the usual dryness pretzels possess. If you're already a fan of pretzels, you'll appreciate the fact that you can get the flavor of buffalo wings in bite-sized form.
Heat:
1 out of 5. Hardly any spiciness at all. The most burn you'll get out of this bag is consuming the concentrated flavoring and tiny, salty bits of pretzel that have settled to the bottom.
Label:
Not too inspiring with this one. The bag shows a bunch of pretzel pieces in the center with actual chicken wings around the bottom. There are some cayenne peppers in the bottom right corner, despite the fact that it's difficult to the feel the heat from any such peppers.
Overall:
Snyder's of Hanover have produced an additive buffalo wing snack that is remarkably similar to the real deal. If they would introduce a super hot version and still retain the delicious taste of the original, they would put me in hot sauce heaven.
Snyder's of Hanover Hot Buffalo Wing Pieces comes in 10 oz. bags and is sold at many fine grocers and retailers nationwide.
Review: Snyder's of Hanover Hot Buffalo Wing Pieces