Spicy Food
All about spicy food of all kinds - hot sauces, hot chile peppers, snacks, spicy dishes, hot wings, and more - and even bland food!
New! Spicy Food Reviews - Hot Sauces and Spicy Snacks
I'm going to forgo a long introduction and say that Hot Heads Pepperspread Hoppin Jalapeno Spread is a great, all-purpose fiery product that you could use in place of most any general hot sauce, pepper relish or salsa.

Ingredients:
Jalapeno peppers, onions, vinegar, salt, garlic, lime juice, sugar, spices

Aroma:
3.5 out of 5. I detected some relatively prominent smells such as vinegar and onions to give it a nice relish-like aroma, but the jalapeno peppers give it a bit of depth...


Permalink 8 Comments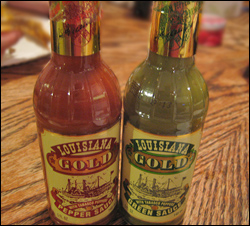 I wouldn't be going out on a limb to say that the vast majority of foodies are well familiar with Louisiana "The Original" Hot Sauce, as would be a large bulk of the American populace. For over 80 years the Bruce Foods corporation has been churning out the product, which easily stands amongst Crystal Hot Sauce, Texas Pete, Tabasco and Frank's Red Hot as historical biggies of American pepper sauce (for those of you interested in learning more about the historical record, look at Chuck Evans exhaustive treatise on Louisiana pepper sauce). At the request of Louisiana chefs, Bruce Foods has opted to introduce a premium lineup of sauces loosely based on their original condiments but with smoother, richer properties. They've dubbed these as their Louisiana Gold sauces, and the offerings are Louisiana Gold Red Pepper Sauce, Louisiana Gold Green Pepper, Louisiana Gold Horseradish Sauce and Louisiana Gold Wasabi Pepper Sauce, which are available separately or as part of convenient 4 bottle gift pack. The eager beaver I am, I was hoppin' to test all of these out, so I had requested of Bruce Foods that they send all four flavors for me to indulge in (thanks guys!).

All split the review into two parts. This time out, I'll cover the Red and Green Sauces, and next time out I'll be taking the horseradish and wasabi versions for a spin.
Permalink 0 Comments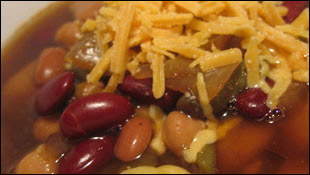 If you know me well then you know I ain't a soup fan. While I like chunky chilis, stews, and ham and beans, I believe typical, thin, brothy soups lack the adequate substance to be any part of a meal. Well, here's a recipe for a buffalo bean soup that's anything but run-of-the-mill and watery. Using Ott's Wing Sauce, this is a thick, hearty delight that would please the palette of both chileheads and soup lovers...


Permalink 4 Comments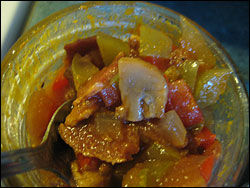 Here's the lowdown on Sandi Kraft's contribution to the Great Bacon Challenge, which was a call to craft a great-tasting spicy condiment or salsa containing an element of the meat of the hour - bacon! Sandi is a mainstay in the online chilehead community and a contributor at tastethefear.com, and had previously created her homemade "40:1 Salsa" for the annual Open Fields get-togethers. She devised the idea of "breakfast-izing" the salsa by adding bacon and maple syrup...


Permalink 2 Comments
Here's a clever little Toluca Gourmet TV commercial that ran several months ago. It features their Jalapeno and Habanero hot sauces at the end.


Permalink 4 Comments
That's right guys and girls it's that time of the year again. Peppers and More is proud to be hosting its second annual "Super Bowl Box Contest". The entry fee will be the same as last year - one bottle of hot sauce or any one product that is spicy. This will entitle you to get 2 boxes in their pool.
Prizes will be divided into four baskets and given away at the end of each quarter. In the event of someone winning multiple quarters they would ask that you donate your second prize to our troops overseas. This is not required but what better way is there to help out the men and women that sacrifice for us everyday. They will have the boxes set up on the old forum so that it will be much easier to keep track of. Please click here for more details.
Permalink 0 Comments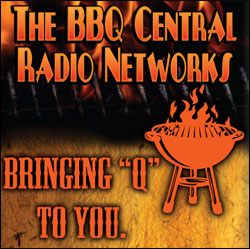 Jonesin' for some excellent talk about grilling, smoking, cooking meat or even hot sauce? Just about anywhere where you have internet access, you can tune into the BBQ Central Radio Network, which provides non-stop streaming of some of the best foodie shows and podcasts around the clock. Greg Rempe hosts the flagship show BBQ Central Radio show where he talks to the biggest names in the world of barbecuing and grilling. In the Hut and The Celebrity Grill podcasts are other worthy shows focusing on great discussion, conversation and tips and tricks from people who really love the art and sport of grilling. And if you've been reading my blog lately, you're probably familiar with Hot Sauce Weekly, which also makes the rotation of shows streaming on the network.

What's great about the whole concept of online radio, podcasts or streaming audio in general is that you can turn in on in another browser tab or window, and go about your business while you surf the interwebs. I love this type of passive entertainment; you get to hear cool topics and information that most foodies, BBQ-ers and pepperheads would be truly interested in. It's like talk radio that doesn't suck.
One thing I personally love is that you can listen to the QuickTime stream of BBQ Central Radio on the iPhone! That means I can listen to the network wherever I go and not having to have all the podcast mp3 files downloaded on the phone.
Click here to select the listening options.
Permalink 1 Comments
California sauce producers All Spice Cafe are celebrating "Give Away Mondays" in 2010. Every week they will choose one person at random to receive a free, single product of the winner's choice. To be included in the pool from which All Spice Cafe draws names, you must follow the company on Twitter, be a fan on ASC's Facebook page or have an account at their online store. Each week All Spice Cafe will rotate the list from which the random name is selected.

Link: http://www.allspicecafe.com/news/2010/01/give-away-mondays-2010/.


Permalink 1 Comments
With the mind-boggling glut of spicy-flavored and buffalo-style snacks offerings - both good and bad - here's yet another chip vying for the attention for junk food lovers and chileheads alike. Nothing jumps out at me when biting into Brother Kane Buffalo Wing Bleu Cheese Potato Chips yet a would still give this a thumbs up because of the smooth, cheesy flavor.








Permalink 42 Comments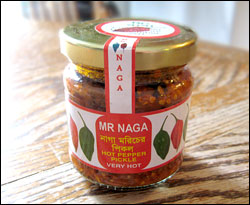 This jar of Mr. Naga Hot Pepper Pickle was shipped to me from the UK by Alexis Holliman, as this was one of his favorite naga chile products and he was eager to see my take on it. Overall my favorite chile pepper would have to be a nice, sweet habanero, but I also love the taste and fire of bhut jolokia/naga jolokia/naga morich, so I was hoppin' to test out this chile sauce/salsa.





Permalink 11 Comments
It's always great to see the online chilehead sites continue to grow and evolve, even if it may be something as simple as acquiring a fresh new look and layout. Two such hot food sites that have received a New Year's revamping are The Hot Pepper and The Hot Zone Online.

The Hot Pepper is the biggest and best chile pepper message boards. Dan the webmaster has recently upgraded the forums software to version 4.0.0 of vBulletin, and with it gave it a much-needed sprucing up of the styles and colors.


One of my favorite blogs - not just fiery foods-oriented but of all subject matters - The Hot Zone Online has gotten a facelift. Full disclosure here: I helped design the new theme for Joe and Linda Levinson, the site's owners. I have to add that it was a pleasure and honor to work with them on getting the HZO blog reskinned. Be on the lookout in the coming days as sidebar elements are consolidated and moved, pages are added, and things are tweaked here and there to improve the site overall.

Permalink 0 Comments
Out of the 52 people who entered the Complete Chile Pepper Book Contest, six answered all 4 questions correctly. These peoples' names were put into a cup and were chosen at random. Here is my oldest son picking out the winner:



Thanks for everyone who entered!

If you're wondering what the answers to the questions were, here they are:

1. What is the most widely grown pepper in the world? Answer: Bell Peppers (capsicim annuum).

2. What explorer is credited for first calling chiles "peppers"? Answer: Christopher Columbus.

3. In what city and state is the Chile Pepper Institute located? Answer: Las Cruces, New Mexico.

4. What chemical compound makes chile peppers taste hot? Answer: Capsaicin.

Even if you didn't win, you can tell pick up a copy of Bosland and DeWitt's The Complete Chile Pepper Book at Amazon. It makes a fantastic gift for gardeners, chileheads and hot sauce fanatics alike.
Permalink 5 Comments
I wasn't exactly blown away with the previous Sun Pony product I had put through the paces, which was their habanero-based DC Redbone Hot Sauce. It boasted a mighty fine armament of firepower in the chile pepper department, but honestly lacked a good, cohesive taste that otherwise would have made it a sauce one would go to again and again to perk up your meals.

Thankfully Sun Pony has a sauce available I certainly wouldn't hesitate to recommend in their Shak Shak Gourmet Jerk Sauce. It doesn't aim to reinvent the wheel; it is basically a standard jerk sauce and performs that job with remarkable astuteness.

If you're unfamiliar with jerk sauces or seasonings, it's similar to an American-style barbecue taste yet still light years away from it. Jerk flavoring will almost always contain the peculiar flavors of allspice fused with other spices and ingredients such as chile peppers, nutmeg, cinnamon, garlic, cloves and scallions (green onions). It's a unique coalescing of tastes that defies simple categorization.

Shak Shak is another winner from the last The Hot Pepper Awards, this time claiming a First Place prize in the Specialty Sauces category.

Permalink 0 Comments
TheChileMan.org is once again having an annual chile pepper growing contest. For 2010 the type of qualifying pod is any capsicum pubescens variety, but instead of seeing how long you can get one to grow, the object is to see how fat you can get one. Go to http://thechileman.org/fat_rocoto.php for more details or to sign up.





Permalink 1 Comments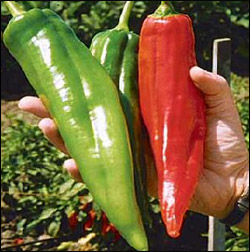 From the Las Cruces [Nex Mexico] Sun News:

EYE ON RESEARCH: NMSU produces super-flavored chile
By Justin Bannister/For the Sun-News
Posted: 12/28/2009 12:00:00 AM MST

LAS CRUCES - Prepare to take your enchiladas, burritos and anything else made from chile to a whole new level. Researchers at New Mexico State University's Chile Pepper Institute have partnered with Las Cruces-based Biad Chili Products LLC to produce a super-flavored chile, bred to have five times the aroma and flavor compounds of similar chiles grown today.

The chile is part of the NuMex Heritage lines, derived from seeds that were frozen in the 1960s from the original plant strains.

Dr. Paul Bosland, director of the Chile Pepper Institute, said decades of breeding practices that emphasized the traits of plant yield and disease resistance have caused several green chile varieties to lose their signature taste and aroma. The new chile peppers still have beneficial traits for farmers but also have 500 percent more flavor...

Permalink 0 Comments
David Stehnike is an organic farmer based in Oregon who aims not to have just another crushed chile product in his Dave's Dragon Dust, but the highest-quality, freshest and hottest overall. By God, I think maybe he's accomplished that, because this stuff makes most other pure chile seasonings seem tame, limp and over-dried by comparison. That's actually not meant as a put-down towards anyone else, but it's meant as a compliment to Dragon Dust. If fresh chile peppers are not readily available in your kitchen and you're in the need for a rapid shot of scalding heat in your dishes, Dragon Dust may be the next best thing.






Permalink 5 Comments
2009 turned out great for the site. Earlier this year I decided to change the focus from a plethora of topics to almost exclusively spicy foods. I've tried to work hard at developing the kind of hot sauce/fiery food blog that I would want to read, and hopefully some of you folks have liked what you've seen. I feel 2010 is going to be an even bigger. I'm really excited about the coming year and what is in store for this site...

Permalink 7 Comments
I have been an avid reader of Scott Roberts's blog for some time and to be asked to write an article for his blog is a tremendous honour. I hope I do you all justice!

I write for The English Chilli Company over in well, um, England. The blog was set up to review chilli related products and is a labour of love – we are trying to catalogue every chilli product we can find!

So to be asked by Scott to write for his blog is a nerve wracking experience – firstly, us English must appear a funny group of people to those of you in the USA – having bad teeth, liking cricket and spelling Chile differently – Chilli.

There is a well established and fast growing chilli scene over here in the UK, we have plenty of fine sauce companies such as Chilli Pepper Pete, the UK's best chilli magazine – The Chile Foundry and our very own Darth Naga who reviews hot sauces with no fear.

However when selecting the product I was going to review, the decision was simple, my favourite sauce brand is CaJohn's. They are without doubt a fantastic and original hot sauce maker – they have some awesome brands in their collection and they always innovate. The real clincher however, is the fact that the sauces have some of the best tastes around...
Permalink 1 Comments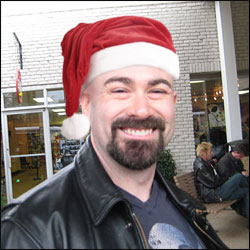 I would like to wish EVERYONE a Merry Christmas and a Happy and Prosperous New Year. Please remember what's important in your life, and work hard and stay positive.







Permalink 7 Comments
From John "DEFCON Creator" Dilley:

CALLING ALL MANUFACTURERS AND HOT SAUCE AFICIONADOS!!!

I've been in recent contact with Chip Hearn at Peppers. I told him I've been receiving a number of emails from bloggers and other hot sauce enthusiasts regarding having a Hot Sauce Extravaganza at their store Peppers, in Rehoboth Beach, Delaware. He was definitely up for doing it and has already gotten permission to put up tents and all sorts of crazy stuff to make it quite a memorable experience. The Peppers store itself is something to behold. If you've never been there, this would be a perfect opportunity for a very cool road trip.

I'm looking to see how many people would be interested in something like this. I think it would be a ton of fun, and a great chance for people to meet up with a number of manufacturers, hang out for an afternoon, and just plain have a good time. There would be plenty of sampling going on, and heck, I might even bring down my turkey fryers and throw a Deathmatch together.
This would also be a great opportunity for newer companies to get their name out, as I think the turnout would be pretty good. As many of you know, who have been to hot sauce shows big and small, it's all about having fun, meeting people, and just having an all-around good time.
We are tentatively looking at some time in May, when the weather is usually pretty good. If you are at all interested in something like this, please email me at john (at) defconsauces.com [replace the "(at)" with a "@"]. Chip will also be inviting some local vendors from his area as well...
Permalink 4 Comments
Spicy Food Reviews - Hot Sauces, Spicy Snacks, and more.