Spicy Food
All about spicy food of all kinds - hot sauces, hot chile peppers, snacks, spicy dishes, hot wings, and more - and even bland food!
New! Spicy Food Reviews - Hot Sauces and Spicy Snacks
Dave's Gourmet, one of the oldest and most popular hot sauce and specialty sauce makers in the industry today, realize that there are some very talented up-and-coming sauce makers with brilliant ideas when it comes to sauces, condiments, dips and salsas. To help attract some of that talent, Dave's Gourmet has announced that they are holding a Million Dollar Sauce Contest. Any budding flavor maestro with a killer sauce recipe can win up to $1 million in royalties from Dave's Gourmet, Inc. if they have a winning product.
Entrants that are selected to be marketed by Dave's Gourmet under its label (Brand Prize Winners) will receive royalties of as much as $1,000,000 and may have their name put on the label. Royalties to any Brand Prize winner will be calculated as 5% of that product's sales (not including shipping, sales taxes, and returned product) for a period of six years or until payment of $1,000,000 million dollars in royalties is reached, whichever comes first. Those selected to have their products marketed are Brand Prize Winners. These Brand Prize Winners will each receive a $2000 advance payment after filling out appropriate forms.
For all the details, click here!
Permalink 4 Comments
If you're looking for a company that's truly one of the bright, new shining stars of 2011, look no further than Bonfatto's Wing Sauce & Marinade. Owner David Letterman (not the late night talk show host) took his grandfather Guy Bonfatto's restaurant and introduced a line of spicy sauces with a uniqueness and panache rarely seen in even this overcrowded gourmet food market.

I first encountered Letterman and his Bonfatto's lineup at this year's Peppers at the Beach (you can watch my entire video here courtesy of ILoveItSpicy.com). Each and every one of his concoctions boasted an above-average burst of pleasure on my tongue, making Bonfatto's one of my favorite new manufacturers of the year.

One of his best offerings, the Apple Pepper Jack Sauce impressed me to pick up a bottle at Peppers just to try on some ice cream, one of my all-time most beloved sweet/snack foods...


Permalink 6 Comments
The weather was spot-on perfect for Open Fields 2011. Although last year was thought of as the final Open Fields chilehead gathering/camping excursion since organizer Jim Campbell no longer maintained chile pepper plants on the patch of land that hosted the annual event, the bond of camaraderie proved stronger and people came despite the lack of fresh pods to pick. Although, according to Jim's estimates, only half the number that regularly attends showed up during some part of the weekend, there were still enough friendly, chile-loving folks and cooked-up food to satisfy everyone.
I brought my boys Cory and Kevin to give them a little taste of what Open Fields was all about. Whether it was playing catch football with Jim and me, or tending to the bonfire all day, my boys had a blast; although by the end of Saturday they were...

Permalink 5 Comments
What possibly might be my most eagerly-anticipated fiery foods event of the year was finally here - the Jungle Jim's Weekend of Fire Fiery Food Expo. I rated last year's show as one of my top 10 moments as a blogger. I knew that it could in no way honestly live up to anything I built up in my mind, so I was just looking for a laid-back, relaxing, good time. In fact, if my girlfriend would have been able to make the trip with me, I would have had an even more stand-off approach to the hot sauce. Alas, she didn't, but I didn't kill myself to record and report on every single happening during the show. I'll leave the non-stop work like that to Al "Buddah" Goldenberg of I Love It Spicy. So I took things at my own pace, wasn't worried about this thing and that thing, and had a terrific time just hanging out.

Here are some random thoughts and musings about my travels and the show in general...

Permalink 4 Comments
Finally! In case you missed it last night, here's the drawing to determine the winner of the 1000th Post / Largest Hot Sauce Contest Giveaway in History:


Permalink 7 Comments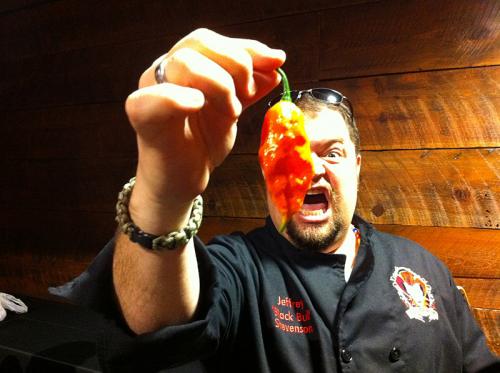 Jeff 'Black Bull' Stevenson AKA Crazy Uncle Jester holding up a monster jolokia
I'm back from the 5th Annual Jungle Jim's Weekend of Fire. Unfortunately, due to sickness I had to bail early on Sunday, which was the second day of the two-day event. Thankfully, plenty happened on Saturday. I got to meet all the new vendors, try some amazing new products from both first time and established sauce manufacturers, see some exciting food contests, ride the monorail out to the new BBQ Alley, participated in the 3rd Bloggers Roundtable discussion, paid a visit to the always-breathtaking Jungle Jim's International Market, witnessed the 2011 Defcon Deathmatch Wing-Eating Contest, and enjoyed a tasty BBQ dinner with chileheads and vendors after the show.
I took plenty of photos as well. Click on one of the links below to check them out:
View Thumbnail Gallery
View Slideshow
Permalink 2 Comments
Here's the full video of the 2011 Defcon Deathmatch National Wing-Eating Championship at the 5th Annual Weekend of Fire this past Saturday, October 1, 2011 (the only part that's edited is when the death certificates release forms are handed out). If you want to skip right to the contest action, go into about about the 14:45 mark:



Mark Ennis was this year's winner. 2010 champ Steve "The Machine" Smallwood took second place, while 2009 winner David "Hudd" Huddleston took third.

For more info on Defcon Sauces, go to www.defconsauces.com.
Permalink 1 Comments
Australian Geographic posted a web article a couple of weeks ago listing the top 10 hottest chile peppers. It's a fairly interesting list with quite a bit of factual, but most chile fans can immediately spot a few glaring errors:

1) The Scoville Heat Unit numbers are WAY off. Where on earth did they get these? The Infinity Chiles coming in at 1,250,000 SHUs? Never happened. Nagas (AKA bhut jolokias, naga jolokias, ghost chiles, etc.) reaching as high as 1.1 million SHU for jolokias (the actual average are considerably lower in virtually all other testing that's been done on them)? What lab(s) provided the HPLC testing results for these? Update October 3, 2011: Nick "Woody" Woods of http://www.firefoods.co.uk has provided a link to the HPLC test results for his Infinity Chili at http://www.firefoods.co.uk/infinity_results.htm, where it is given a rating of 1,257,468 SHU.
2) The inclusion of unstable hybrids....

Permalink 5 Comments
One of the newer sauce creators of 2011, Steve Seabury of High River Sauceswas casually introduced to many of us chilehead bloggers at this year's Peppers at the Beach, where we were first introduced to his own Hellacious Hot Sauce (review to come soon!). During that event, he and I mutually discovered that we were fellow metalheads, and graciously gave me a copy of his Mosh Potatoes cookbook, which features dozens of juicy recipes from a bevy of well-known hard rockin' bands. Under the High River Sauces banner, Steve also produces sauces for other parties, and is slowly expanding his own condiment line at the same time...

Scott: What's your professional background?

Steve: I currently work for a record company called eOne Entertainment. For the past 17 years I have been honored to work for various management, marketing and record companies.

Scott: And a lot of what you do is focused around heavy metal music. What do you like most about metal?

Steve: I love the "F*** YOU" attitude in heavy metal music. Most people are terrified to say what they want because of the PC Police. I say crank it up and give the middle finger to the system. Metal is all about having balls and about conforming to your own beliefs...


Permalink 11 Comments
It seemed like this event would NEVER get here. I'm talking about Jungle Jim's Weekend of Fire Fiery Foods Show, which is the largest of its kind in the Midwest. As it was expanded last year, the 2011 proceedings will have the maximum of 55 indoor vendors and a plethora of spicy eating contests. If you love hot sauce and flavor you have to attend!

This year, the biggest addition will be the debut of BBQ Alley, an...




Permalink 7 Comments
If you're familiar at all with the spicy food or gourmet food industries, you probably know about the two main awards held to honor hot sauces, other similar condiments and associated hot snack items: the Scovie Awards and ZestFest's Fiery Food Challenge, with a third contest gaining a bit more traction, The Hot Pepper Awards. There are others that can be mentioned, such as the Fleur Di Lis Awards from the NOLA Hot Sauce Show. Plus you can't ignore is what many consider to be even bigger than all of them - the SOFI Award, given out by the National Association for the Specialty Food Trade.

The original goals of these annual contests were to bestow prestige to what the judges of each contest considered to be the best of the best, and to give exposure to products that may have otherwise flown under the radar in foodies' eyes.
The questions I am posing are:
For sauce manufacturers, is it worth paying the entry fees for these awards? Have you seen any significant increase in exposure or sales from winning these or any other competition?
For consumers, does an award have any influence on whether or not you may purchase a product? Do you keep up with award-winners or companies that have earned numerous Scovies, Golden Chiles, etc.?
Permalink 24 Comments
I want to extend a big "thank you" to Michael Hultquist of the Chili Pepper Madness blog for recently taking the time to ask me a few questions. Mike's a great guy with a terrific website and it was fun to be interviewed by him.
If you haven't read the interview, you can do so by clicking here. By the way, in one of the last questions, Mike asked who I would want to play me if a movie were ever made about me. An interesting query, and one that I would like to ask everyone reading this: If your life could be turned into a movie, who would you like to have play YOU on the silver screen?
Permalink 6 Comments

Just in time for Halloween, Oakridge BBQ is announcing a brand new, limited edition, one-time-only run of a very special BBQ rub blend made especially for all you chileheads!
They are putting the finishing touches on the blend as I type this... it will feature ultra-high quality ground habanero chilies, smokey-hot chipotle chilies, and 13 other herbs and spices. It will be somewhat similar to their Competition Beef & Pork Rub in its flavor profile... however, it will be a lot bolder with more garlic presence and a LOT hotter.
The new rub will be...

Permalink 2 Comments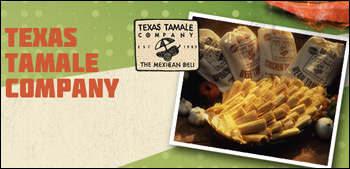 FOR IMMEDIATE RELEASE


TexasTamale.com Now Open For Business

Houston – Texas Tamale has been a well-known tradition in Houston for over two decades and is now available for product ordering (retail and wholesale) everywhere thanks to their new website launch (www.texastamale.com) earlier this month.

The Texas Tamale team prides itself on offering healthier alternatives in many different product categories. Their number one seller are their gluten-free and lard-free tamales that come in beef, black bean, chicken, pork and spinach and cheese. The fresh-made tamales can be shipped to any domestic location in the US and have been named one of the best mail-order tamales by publications such as Texas Monthly, MSNBC.com, NY Times, and Today.com's Holiday Guide...


Permalink 0 Comments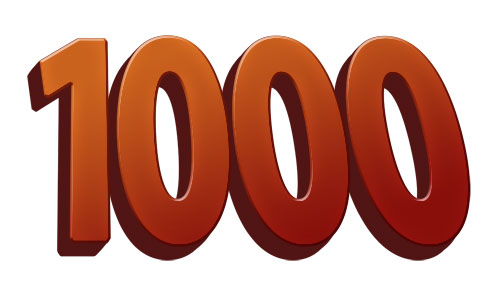 Have there really been 1000 official blog posts I've whipped up here on ScottRobertsWeb.com? Where has the time gone?!? It's been an absolute blast and a roller-coaster ride, and I look forward to many more years of doing this.

There's the obligatory list of people to thank for the success of this site. Unfortunately it contains far too many people to give a mention to everyone individually. You've all been amazing! So I want to give a shout out to my fellow bloggers for their friendship and support; ALL the chileheads and BBQers out there who love the spice and cook up great grub every weekend; all the hundreds of friendly industry folks who make tasty products, sell the products, and promote everything we love about chile peppers, sauces and seasonings; everyone who has allowed me to talk, write and collaborate with them, whether it be online, on a podcast or on the radio; my two boys, Cory and Kevin, for putting up with dad's hobby and for being the best kids any man could ever ask for; my Lord and Savior Jesus Christ; my girlfriend Mary Ellen who has been an unwavering rock with her love and encouragement; and lastly all the visitors and readers of this blog. I would be nothing without you as an audience!
I couldn't just let this 1000th post milestone pass by without a little fanfare. What should I do to celebrate? Hmmmm....
Permalink 27 Comments
For Immediate Release:
7 September 2011

High River Sauces Releases Chris Caffery's Tears of The Sun Hot Sauce

Lead guitarist Chris Caffery (TRANS-SIBERIAN ORCHESTRA) has collaborated with High River Sauces to release an amazing gourmet hot sauce called Tears of The Sun. This sauce is a deliciously dangerous blend of habanero peppers and tropical fruit. Your taste buds are greeted by the sweetness, then rising like the sun on a hot summer day the heat settles in to make this truly a unique sauce. If your food is crying for help...it's crying for some Tears of the Sun!

The Tears of The Sun Hot Sauce will be released on September 12th and can be pre ordered on the High River Sauces website at http://highriversauces.com/main/shop-hr/. Each bottled pre ordered will be personally signed by...

Permalink 4 Comments
In a pinch, I admit that I'll use the thin, rubbery, store-bought flour tortillas for burritos, soft tacos or wraps. If I really want something that pops with freshness, texture and flavor, nothing beats making some homemade flour tortillas for my Mexican-style meals.

Here's a simple recipe for homemade flour tortillas that anyone can do - even the laziest cook out there! After one or two tries, you'll have this down pat. In fact, you'll get the craving for these for whenever you're concocting your own south-of-the-border recipes...

Permalink 4 Comments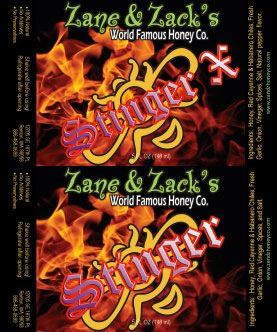 Why is it that every time I review a Zane & Zack's product, I can't find the bottle or jar for reference? When completing a review form posting on this site, I'll almost always go back to the product for a refresher in order to flesh out my original notes on it. When I went to grab my bottles of Stinger and Stinger X, the fantastic new sauces that helped Zane & Zack's World Famous Honey Co. snag the "Best of Show" honor at this year's ZestFest, they were no where to be found in my fridge.

Well, I also lacked a shot of the bottles themselves, even though I had plenty of pics with the sauce on food. Therefore, missing bottles equals no photos from me. What's worse is that there are very few high quality photos of ANY of Zane and Zack's sauces and dips on the internet to "borrow" (let alone Stinger and Stinger X, where they are non-existent); and even Zane & Zack's own website only has the low resolution pictures of the Stinger labels to see to the right of this text.

So I'll plod through this review using only my rough notes and my memory. The good news is, I've used both sauces several times and have indelible impressions etched in my mind of their quality and flavor profiles. So here are my thoughts on Stinger and Stinger X, the later of which only differs from the former by the light presence of "Natural Pepper Flavor", aka capsaicin extract. Enjoy...
Permalink 6 Comments
Yup...Open Fields, the chilehead gathering and camping outing, is back! It will officially be held this October 7th - 10th. Below are the details, with both Jim's words and my words mixed.

First off, if you've never attended and wish to, then send Jim and e-mail at jim @ stepupforcharity.org (just remove the spaces) as soon as possible and he will gladly send you an invite with all the confidential info you'll need to find the "secret" location of the central Indiana fields on which this annual event is held. To help keep local riff-raff out and from possibly crashing the party, once you get directions, please do not post the info on the internet.

Unique about this year will be...


Permalink 6 Comments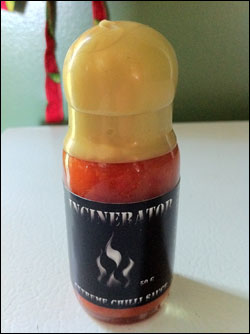 Here's a fairly unique type of sauce: Heatseekers Chilli Incinerator Extreme Hot Sauce with pure capsaicin crystals. That's right, this elixir contains 16 million Scoville Heat Unit capsaicin, the highest obtainable pungency when it comes to the chemical that makes chile pepper burn.

This particular sauce is the brainchild of Candice Burns of Wildfire Chilli from Australia. She submitted me her Heatseekers Chilli Smokey Jolokia Original Steak Sauce and blew mw away by the simple deliciousness and the heat it packed.

With Incinerator Extreme Chilli Sauce, she aims to create a sauce with the base flavor and heat deriving from the 7 pot chile pepper, one of the hottest in the world at between 800,000 and 1,200,000 SHU (hotter than a Bhut Jolokia/Ghost Chile and just under a Trinidad Scorpion Butch T), and make it even more insane by introducing the aforementioned pure capsaicin crystals. How was it done, you may be asking? Are there literal grains and flakes of capsaicin suspended in the sauce that can hit your tongue? Technically, not really...

The thing with capsaicin crystals is that they are hydrophobic. This means they cannot be dissolved fully and directly...
Permalink 21 Comments
Spicy Food Reviews - Hot Sauces, Spicy Snacks, and more.