FireTalkers
Interviews with the producers and makers, movers and shakers in the fiery food and BBQ world.


This year at the Peppers at the Beach Tailgate Party, the man with the seemingly heat-retardant digestive system known as Steve "The Machine" Smallwood took down one World Record and set another one: respectively, the record for The Most Ghost Chile Peppers (also known as Bhut Jolokias) Eaten in One Minute, and The Most Trinidad Scorpion Chile Peppers eaten in One Minute. Although as of this writing it's still unofficial by Guinness, with the meticulous camera work, the timing and weighing of the chile peppers by Eat More Heat and I Love It Spicy, his daredevil gastronomical feats should be a shoe-in as officially Official very soon.

On Saturday, May 19, 2012, Smallwood demolished the previous Ghost Pepper record of 3 peppers by consuming a mind-boggling (not to mention lip-numbing) 8 chile peppers in a minute. What's even more extraordinary is that approximately one hour later he downed 8 Trinidad Scorpion chiles within a 60-second period and created a new World Record (there had been no previous record yet set).

This successful World Record Weekend was sponsored by High River Sauces, Chile Pepper Magazine, Endorphin Farms, ScottRoberts Web.com, and lastly Peppers.com, where the event was of course hosted.

When I hung out with The Machine this weekend, his demeanor and composure couldn't have been more calm; in fact, he was almost stone-cold...or, yes, machine-like. This guy was ready to make mincemeat out of super-hot chiles! But simultaneously, Steve is one of the nicest and most humble individuals I've ever come across in our Chilehead Nation. After he accomplished his feats, I asked him how it all went down...


Permalink 2 Comments
During the Peppers At The Beach Weekend this coming May 18 - 20 in Rehoboth Beach, Delaware, the well-known chilehead known as Steve "The Machine" Smallwood will attempt to set or break a couple of Guinness World Records when it comes to speed eating super-hot chile peppers.

But who exactly is the man known as "The Machine"? Well, he was given the nickname by "Firehead" Thomas Gately of I Love It Spicy! because of two things. One, Smallwood's superhuman tolerance for capsaicin-included heat in challenges that would leave a vast number of experienced chileheads go running for a carton of milk to soothe the burn. For example, just look at how The Machine handles 11 million Scoville Heat Unit extract - the guy is so calm, cool and collected he makes The Fonz look like a panicking little wuss. Two, Smallwood possesses incredible speed and stamina in spicy eating contests. Go against him in a burn battle and chances are that this no-nonsense Kentucky boy will trounce you.

To help ramp up for the Peppers At The Beach Weekend, I recently talked to The Machine to get to know the man behind the myth and the legend. Many of us in the online chilehead circles already know him as a humble guy, a friend, and as a reviewer for the aforementioned I Love It Spicy!. But what exactly fuels this chile-chomping Machine and how does he keep it running so efficiently? Read on to find out...

Permalink 5 Comments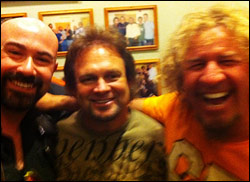 To millions of Van Halen fans, bass player Michael Anthony was not only the cucumber-cool glue that held the band together and provided their distinctive high harmonies, but was also the member of the band they could identify with the most; more specifically, a down-to-earth, real guy that you'd want to sit down and have a beer with.

Unfortunately, in 2004, Michael was unceramoniously ousted from Van Halen to make room for Eddie Van Halen's son Wolfgang in the bassist role. Not to throw a pity party, Michael instead formed a new group with close pal and former Van Halen lead singer Sammy Hagar, legendary guitar virtuoso Joe Satriani and Red Hot Chili Peppers stickman Chad Smith. They dubbed themselves Chickenfoot, and have since released two albums; the second of which is humorously titled Chickenfoot III. The four-piece unit is currently gearing up for the second leg of their U.S. tour in support of it.

Many hard rock fans also know of Michael's extracirricuar pursuits - hot rods, collecting Mickey Mouse watches, acquiring old unrelased and bootleg Van Halen tapes, and fiery foods. It's that last passion that chileheads have taken an keen interest in.

Mike - or "Mad Anthony" as he's sometimes nicknamed - is a well-known heat freak in the rock 'n' roll world who hooked up with Ring of Fire Hot Sauce creator Mike Greening of Mike and Diane's Gourmet Kitchen. Between the collaboration of the two Mikes, they unleashed Mad Anthony's Hot Sauces, which include a lineup featuring the his original Hot Sauce, the XXXTra Hot Private Reserve (read my review of this here), Fiery Mustard Sauce, Original Style BBQ Sauce and Extra Hot BBQ Sauce, plus an upcoming (and as of this writing untitled) bhut jolokia-based seasoning.

Oddly enough, although I at one time I was a diehard Van Halen fan who once maintained three different VH websites (VHTrading.com, VHFAQ.com and VHGuitar.com), it wasn't until I become a fiery foods writer that I was granted the opportunity to interview Michael Greening, and now Michael Anthony. Now withour further ado, here's Mike chatting with me a little about Chickenfoot and a great deal about the wonderous foods that make our mouths feel like it's on fire...
Permalink 10 Comments
It's official that there's a new hottest kid on the block - the Moruga Scorpion chile pepper. What's more important than that is that the largest and most comprehensive study on super-hot chile peppers has been made by New Mexico State University's Chile Pepper Institute and that tons of data will soon be available. After nearly 11 months of work that was headed up by graduate student Gregory Reeves, CPI senior research specialist Danise Coon and CPI director and regents professor Dr. Paul Bosland, the results were publicly announced at last weekend's Chile Pepper Conference in Las Cruces, New Mexico.

Essential to a lot of this was my good friend and chile pepper grower Jim Duffy of Refining Fire Chiles. He, along with Dr. Herman Adam of CARDI, (Caribbean Agriculture Research & Development Institute) provided the vital seeds used to grow the plants in this testing.
Permalink 17 Comments
One of the newer sauce creators of 2011, Steve Seabury of High River Sauceswas casually introduced to many of us chilehead bloggers at this year's Peppers at the Beach, where we were first introduced to his own Hellacious Hot Sauce (review to come soon!). During that event, he and I mutually discovered that we were fellow metalheads, and graciously gave me a copy of his Mosh Potatoes cookbook, which features dozens of juicy recipes from a bevy of well-known hard rockin' bands. Under the High River Sauces banner, Steve also produces sauces for other parties, and is slowly expanding his own condiment line at the same time...

Scott: What's your professional background?

Steve: I currently work for a record company called eOne Entertainment. For the past 17 years I have been honored to work for various management, marketing and record companies.

Scott: And a lot of what you do is focused around heavy metal music. What do you like most about metal?

Steve: I love the "F*** YOU" attitude in heavy metal music. Most people are terrified to say what they want because of the PC Police. I say crank it up and give the middle finger to the system. Metal is all about having balls and about conforming to your own beliefs...


Permalink 11 Comments
If you utter the phrase "King and Queen of Texas Salsa," many heat freaks will think of Darrell and Candy Fitch of Big Dawg Salsa. A firefighter by trade, Darrell began tinkering with different salsa variations for everyone at the firehouse; and once the flavor profiles were nailed down, he and his wife decided to go commercial with his addictive products.
Not only has this award-winning couple churned out several scrumptious salsas, but also condiments, ToriDuck Bloody Mary Mix, seasonings and hot sauces (which include the DNR - Do Not Resuscitate Sauce, one of the earliest commercial sauces to contain the Trinidad Scorpion chile pepper back in 2009).
Big Dawg Salsa items have been reviewed in years past on chile blogs such as The Hot Zone Online and Hot Sauce Blog, and have been written about in Chile Pepper Magazine and showcased on Good Morning America. In November of last year, Darrell and Candy garnered more national exposure by being featured on the Cooking Channel's FoodCrafters where they waxed poetic about their Double Dawg Dare Ya Salsa.
If you're a novice to the fiery foods biz and...

Permalink 3 Comments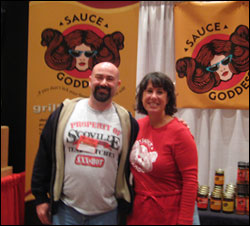 More finger lickin' good and more divinely delectable than a Mount Olympus of Barbeque Barons, Sauce Goddess' sauces, glazes and rubs aren't to be missed by anyone serious about craving bold flavors added to even the most hum-drum pieces of meat on the grill. Head deity and company founder Jennifer Reynolds debuted the food company over 10 years ago, and her products have made inroads from her native San Diego, California through many parts of the country with strong, steady growth and continual exposure to new customers. I recently asked Jennifer a few questions about herself and her wonderful food enhancers...




Permalink 1 Comments
Jim Duffy, a grower of the rarest and hottest chiles and owner of Refining Fire Chiles, grew the hottest chiles on record in 2010.

Scott: So why no official record with the Trinidad Scorpion?

Jim: It's a long story and time to tell it. After sending one of my Trinidad Scorpion Peppers to Dave DeWitt in New Mexico in 2009, the journey began. Dave DeWitt is called "Pope of Peppers" and is the author of many chile pepper books. Dave gave the pepper to his long time friend Marlin Bensinger, a chemical engineer and one of the foremost experts on capsaicin science. Marlin tested it and it came in higher than the Bhut Jolokia.

So in 2010 I grew some Trinidad Scorpion and Trinidad 7 Pot plants for Marlin to put into the fields in New Mexico.
Marlin drove out to Lakeside, California just east of San Diego to...

Permalink 9 Comments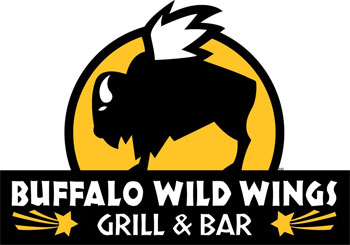 I think that as fiery foods become more and more mainstream, restaurants serving buffalo wings (traditionally fried, unbreaded chicken wings) and/or hot wings (typically buffalo wings with breading) will grow exponentially to the point of being just as commonplace as burgers or pizza (some may argue that they already are).

Buffalo Wild Wings is America's most popular chicken wing-centric chain in terms of number of locations, with over 700 stores across 43 U.S. States. The company was founded 28 years ago as Buffalo Wing Wings and Weck and was sometimes abbreviated as BW3. Since then, the "Weck" (aka a kummelweck sandwich with beef) part was dropped as the chain focused more on sports bar food along with a multimedia-fueled game day atmosphere.

Not only as a fan of Buffalo Wild Wings, but as one who covers popular spicy foods, I knew I had to speak with someone as this genre becomes a major force in American cuisine. Sylvia Matzke-Hill, Director of Research and Development for BWW, recently took time out of her busy schedule to talk with me about the process of creating new products and sauces, the new seasonings, and the whole debate on B-Dubs' hottest sauce, Blazin' Sauce, its Scoville Heat Unit rating.

Scott: Can you give me a brief history of Buffalo Wild Wings?

Sylvia: It started about 27 years ago by a couple of guys named Scott Lowery and Jim Disbrow. They were both going to Ohio State University at the time. They were out late at night looking for some great buffalo wings, they
Permalink 7 Comments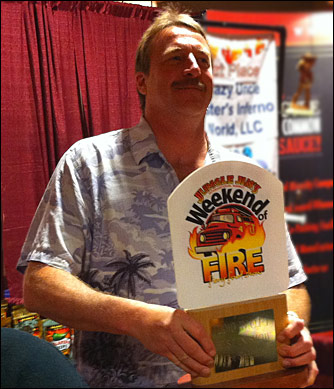 One of the highlights of the 2010 Fiery Foods Show definitely had to have been Deano's Jalapeños Cheddar Jalapeño Chips. One taste of them and I know they were something special. Produced under the banner of the Ranch Camp Chip Company, owner Doehne "Deano" Duckworth developed these unique snacks at The Cactus Café, his restaurant in Stowe, Vermont. With a couple of hot sauce trade shows under his belt, as well as distribution of his snack chips to over 30 specialty food locations, Doehne is in position to explode in the fiery foods world.

Although these products were available in 2009, Deano's Jalapeños are an easy contender for my product of the year for 2010. And in addition to the Cheddar flavor, Deano's Jalapeños are now available in Ranch with Habanero chips on the way, as well as other possible versions and concepts that Doehne mentions below.

I'm predicting a big and bright future for Doehne and his innovative snacks, so when I was recently given the opportunity to interview Doehne I jumped at the chance...


Permalink 4 Comments
Chip Hearn, along with his sister Randi and his father Luther, were all involved in the culinary world by being regionally-renown chefs and co-owning eateries in Delaware. Inside the the Hearns' Starboard Restaurant, their then-flagship business (they've since sold it to new owners), what began as an abnormally large hot sauce collection for their weekend Bloody Mary smorgasbord soon blossomed into one of the local draws. The growing number of hot sauces became so popular (patrons would request bottles to take home) that the Hearns decided to erect their own structure in which to store and sell their spicy wares - a building that was literally a metal shed planted outside in the Starboard's parking lot. This was the genesis of the Peppers shop.

Since then, the Peppers store has since been renovated and moved thrice. It is now located in roomier digs at Rehoboth Beach, just a short car drive from its original location. It houses one of the largest sauce collections on this little blue orb, and because of that fact it's turned into one of the true chilehead meccas in the United States.

An even larger hot sauce collection was accumulated over the years by Chip and family. The bottles started as the display at the Starboard, surpassed Chuck Evans' own previously-held record and twenty years later boasts far and away the most bottles of different pepper-based sauces owned by anyone in the world - over 9,000.
Chip has also entered the competition...

Permalink 8 Comments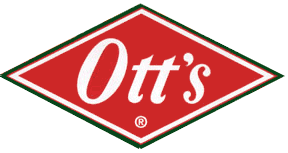 My Ott's stories are the following. I first heard about the name "Ott's" from an artwork contest my mom entered me in when I was a young lad. I cannot recollect what the subject of the drawing was, but whatever I has done was enough to win me a bright yellow t-shirt (you gotta love the late 1970s!) with the red Ott's logo. I found out that they were a Missouri company and not from (all together now with a cowpoke drawl) "New York City!"
Fast-forward 15 or so years after having been casually familiar with a few of Ott's salad dressings. My wife and I frequented St. Louis area Denny's restaurants and became addicted to their Buffalo Chicken Strips. After I first tasted them and I absolutely had to get my grubby little paws on the sauce with which they coated them. After a bit of research my wife and I found that these Denny's locales used, yup, you guessed it, Ott's Original Wing Sauce. A bottle of it has been in our kitchen ever since.
Ott Foods was founded almost seven decades ago in the small town of Carthage, Missouri and has since spread its wings across a large section of the central U.S. in both the retail and foodservice markets and specializes in rich, creamy dressings and sauces. I recently chatted with Dustin Larsen of Ott Foods to get a take on where the company has been and where it may be headed in the future...

Permalink 4 Comments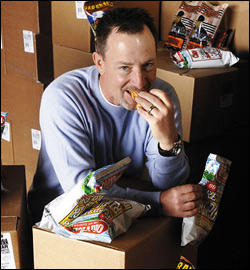 If you live in the St. Louis area, you should unmistakably know about Old Vienna LLC and its flagship product, Red Hot Riplets potato chips. The love and devotion for these snack products are legendary. Fiery foods fans and junk food lovers across the Gateway City come to these when they're craving a tongue-burning crunch. Rapper Murphy Lee of Nelly's St. Lunatics wrote a song about Red Hot Riplets. Readers of St. Louis' alternative paper Riverfront Times have voted these spiced beauties "Best Potato Chips" in town. There was even a Facebook group devoted to distributing the ridge-cut chips to campuses nationwide (the company's official distribution area had largely only been the greater St. Louis metro area). Now, everyone in the United States has a shot at sampling these sweet n' pungent, BBQ-tinged snacks from heaven by purchasing then at the new e-commerce capable Old Vienna website.

It all could have disappeared years ago. According to the St. Louis Business Journal, the snack company, known since the 1930s as the Old Vienna Snack Food Co...

Permalink 1 Comments
With the hot sauce and barbecue markets cluttered with hawkers of crappy extracts and "me-too" products not worthy of a second purchase, it's refreshing to see those in the industry who believe in the rock-solid principles of quality and integrity. Steve Burnham of Blue's BBQ is one such person. He is an ex-pilot, BBQ caterer, musician and is now in the sauce business full time.

Steve believes in creating quality sauces that don't fit neatly within one sub-genre of condiments or food-toppers; and in fact, they transcend multiple categories by being all-purpose table sauces (a topic we'll get into later in the interview). His Blue's BBQ offerings like Blue's Carolina Pepper Sauce and Blue's Habanero Reserve work with just about anything that's currently in your refrigerator, freezer or kitchen cupboards.

Just released a few months ago, Blue's Chipotle Mustard Pepper Sauce is an outstanding blend that delicately balances sensations of sweet, smoky, tangy and lightly spicy unlike most other sauces I've come across in the past few years. I absolutely love it and consider it to be an early candidate for my sauce of the year for 2010.
Anyway, Steve conversed with me a few weeks ago about his sauces, distribution of his products and his general thoughts on the fiery foods industry.
Scott: What did you do before you started making sauces?
Permalink 6 Comments
Here's the story: Texan Chef Wayne Brawley obtained a large amount of fresh tomatoes from his mother, so instead of letting them go to waste he decided to fire roast half of them and concoct a salsa recipe from them. Wayne's family became big fans of his newly-spawned product, in particular his brother Wesley, who encouraged Wayne to continue to make salsa and suggested he tried to sell it in stores. Wesley had passed away in 2004. Wayne entered a pair of salsa contests with his chipotle-infused creation and took home First Place prizes for both. Believing he had a viable product on his hands, Wayne decided to take his brother's urgings to market the salsa to retail locations around Texas. In honor of his late brother, he called it 2 Brothers Salsa.

I've asked Wayne some questions to shed additional light on his past, his company and salsa today, and what lies ahead for him and industry...

Scott: Where are you and your family from geographically?

Wayne: We live in the North Dallas area currently. My wife and I both...

Permalink 4 Comments
Attempting to cleanly categorize Twodogs Unleashed Sweet Hidden Heat Salishes may very well be a futile exercise. It has elements of products that many chileheads may currently have sitting in their refrigerator doors, such as mustards, salsas, relishes, dips, glazes and spreads. It's like a thick sweet and sour sauce with a mustardy kick and chile-derived heat. Salish (a combination of "salsa" and "relish") is strange stuff but it works on many levels. You'll have to try it to get the full gist of what I'm saying.

I wanted to know a little more about the man behind the product, Kevin Benz, so I contacted him to ask him a few questions. I found out that he, like many populating the spicy foods industry, has a day job but is passionate about his "second" career - making, selling and promoting his salish. He does this locally around his hometown in northern Illinois and nationwide on his Twodogs Unleashed website...

Permalink 2 Comments
Purveyors of some of the mightiest wing sauces on the planet and mainstays at hot sauce trade shows, Defcon Sauces owners John "The Creator" Dilley and his wife Maggie "The Createss" have racked up an impressive array of awards for their fiery products and have become a cult chilehead favorite. Eat some wings with a generous coating of one of their unique Defense Condition sauces and it's highly likely they'll become one of your favorites, too.

I recently asked John some questions and he didn't disappoint as he responded in his usual humorous and eloquent way about a variety of topics.

Scott: How did you get started making wing sauces?

John: It all started in the late 1980's. I had wings for the first time at a restaurant. They were no where near as popular as they are now. I really liked them. I had grown up learning how to cook from my grandmother as well as my mother, and really enjoyed experimenting in the kitchen. Well, the wing things were tasty, and I figured I could make them myself...
Permalink 4 Comments
Based out of Ettalong Beach, New South Wales, Australia (approximately one hour north of Sydney), Neil Smith of The Hippy Seed Company is known for breeding and selling chilli pepper plants, seeds and powders, which include some of the hottest capsicum varieties in the world, such as the hallowed Naga/Bhut Jolokia. He's recently began developing sauces, which by some reports produce an mouth-numbing burn that hardcore heat freaks would love and a taste foodies would admire.

Neil is probably gained the most notoriety for doing his on-camera Chilli Tests and Chilli Sauce Tests on his YouTube channel. He's bravely consumed everything from the ultra-nuclear Trinidad Scorpion chilli pepper to some of the world's hottest natural and extract sauces while providing the global video viewing audience his reactions and thoughts. With this unique angle, Neil is quickly becoming one of the most well-known - and entertaining - reviewers of fiery eats.
As a side note, in honor of the Aussies (and everyone else in the English-speaking world outside of North America), I've ditched the Western Hemisphere spelling of "chile" in this post in favor of "chilli".;-) Cheers!
Scott: What are the origins of The Hippy Seed Company?
Neil: I started Peninsula Lawnmowing in 1998 and was always in peoples' gardens, so I started taking cuttings and I was given plants by my customers. As a hobby I built a little website and had a few non hot types of chillis and capsicums. I put some seeds of the plants I grew...

Permalink 4 Comments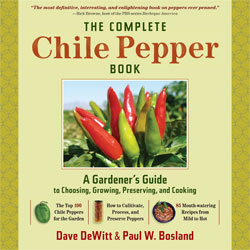 The last time I interviewed Dave DeWitt for this site, the focus of the questions and answers was to help dispel some of the annoying myths about chile peppers and hot sauces that continue to float around in popular culture.

This time out, it's to talk about his latest literary excursion, The Complete Chile Pepper Book: A Gardener's Guide to Choosing, Growing, Preserving, and Cooking, which he co-authored with a longtime colleague and fellow chile expert, Dr. Paul Bosland of the Chile Pepper Institute. Dave has penned over 35 books during his storied career, most of which have covered spicy foods and the culinary arts. I happen to think that The Complete Chile Pepper Book is not only Dave's best, but also the most comprehensive tome ever written on the subject of genus capsicum. I purchased my copy back in September, and there's hardly a week that goes by that I don't open it up and refer to it for one reason or another. One needn't even be a gardener or a hardcore spicy food cook to benefit from the book; there's enough great information from this book that would interest even fair-weather pepper fans.

The Complete Chile Pepper Book is available from Amazon, and is a beautifully-photographed, full-color, hardcover edition that makes a must-have Christmas gift both for you or the chilehead in your life.

Scott: Everyone in the chile world knows of you and your expertise in all things spicy, but how did you first get into fiery foods?

Dave: After I moved to New Mexico in late 1974, I vowed to start my freelance writing career and starting writing articles on New Mexico food and travel, which led me directly to chiles. I discovered that there was not much available research on the subject, so I went to libraries all over the state and photocopied the librarians' files.
Permalink 1 Comments
Dave's Insanity Sauce has the notoriety of not only once being the hottest sauce in the world in the 1990s, but it's probably currently the most famous specialty hot sauce known by non-chileheads. Folks who aren't heat freaks may be able to rattle off three or four "supermarket" pepper sauces like Frank's, Tapatio or Tabasco, but when you press them about giving an example of a super-hot condiment, chances are they'll name Dave's Insanity more often than any other sauce.

It's this distinction and mystique about Insanity Sauce that's kept Dave near or at the top of the fiery foods game for over 15 years. But Dave's Gourmet is far more than just their flagship product; Hirschkop's company offers many other fine pepper sauces, plus pasta sauces, drink mixes, condiments, spicy snacks and more.

I was recently given the chance to speak with Dave to ask him a few questions. One might have expected a wild, gregarious man who once regularly wore a straightjacket to food shows and on the cover of his cookbook, Crazy from the Heat. Instead, Dave proved to be a genial, mild-mannered fellow. After conversing with him, I was given the impression that Dave would rather focus on making his company a diverse brand of gourmet food products ("more of a Trader Joe's or Paul Newman's" in his words) than just being makers of scorchingly hot products, something that would differentiate himself from peers such as Blair's of CaJohn's.
Permalink 4 Comments
Spicy Food Reviews - Hot Sauces, Spicy Snacks, and more.