The Fenton Malt Shop
Scott Roberts
July 21, 2012 at 4:42 pm
food

Digg

Share
Tweet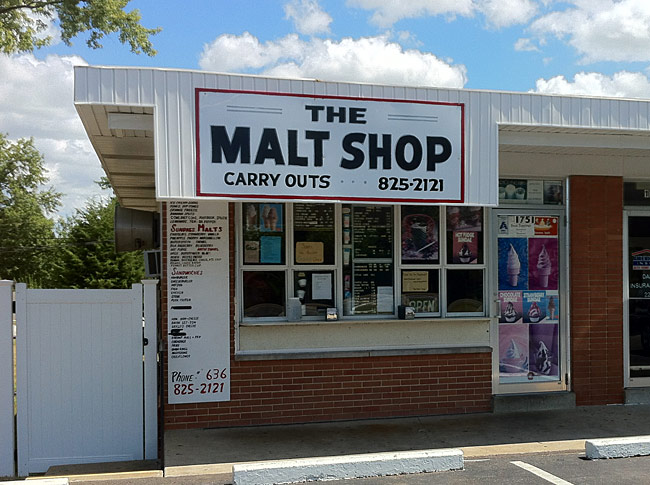 My second stop on my Chevy STL Keys promotional jaunt was one that was more local and personal to me.
I finally had the opportunity to blog about The Malt Shop in Fenton, so here it is.
This is a small "hole in the wall"-type place that I had been coming to since I was a kid. It's located in a building that it shares with an insurance agency, and has been a small legacy to Fenton-area folks since it opened in back 1973.
There may be other chains with a multiple mile radius (Dairy Queen, Baskin Robbins); but for good, old-fashioned ice cream on a hot summer day, nothing can beat The Malt Shop for pure quality!
They offer an enormous line of simple ice cream, shakes, malts and Hawaiian Ices, plus simple fast food. For a place to stop at after church, after an afternoon ball game or just after a day cruising and shopping around, everyone in your family is bound to find something they like.
I'm particularly fond of the raspberry malts. I swear, the owners of The Malt Shop must have stumbled upon a centuries-old secret for insanely good "drinkable ice cream" (a broad term I give shakes and malts), because this is the BEST malt I've ever had the privilege of consuming! If I had eaten the hottest and spiciest chile peppers, sauces and/or extracts, I could think of no other chilly dairy product I'd rather have soothe my burn than one of their raspberry malts. They are absolute 5-star products!
The only negative about The Malt Shop? They accept cash only. In this world of electronic monetary transactions (I personally rarely carry cash with me any more), this can be a huge hindrance. Make sure you hit the ATM before you and your clan stop here.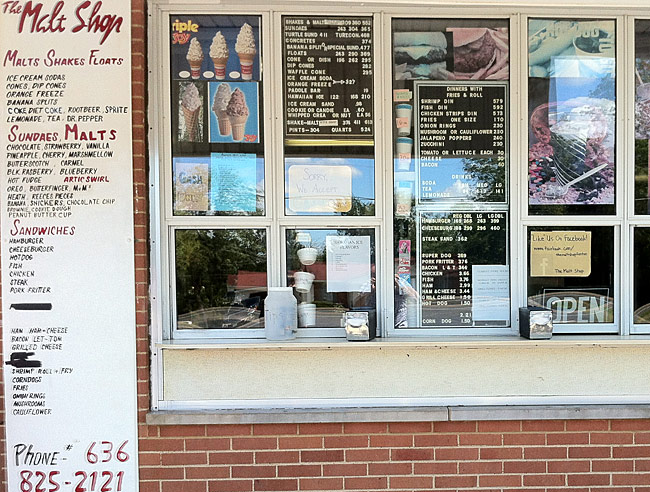 Their menu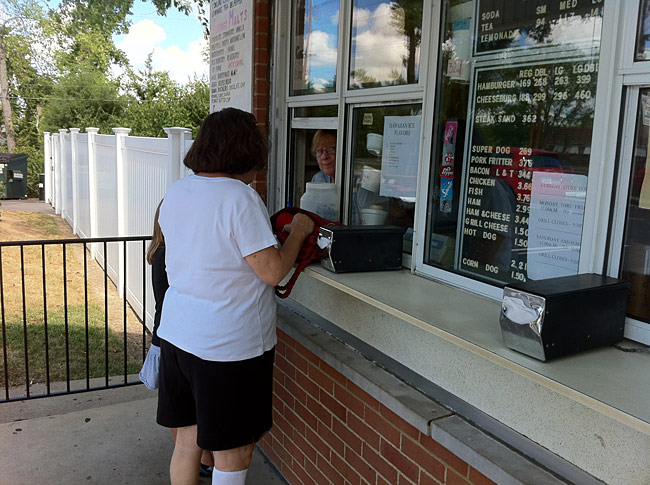 Customers at the order window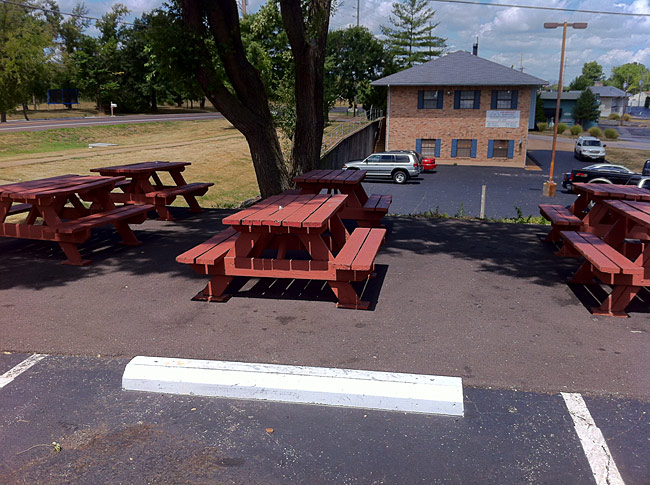 The Malt Shop features benches by their parking lot which are perfect to sit at on a warm Spring day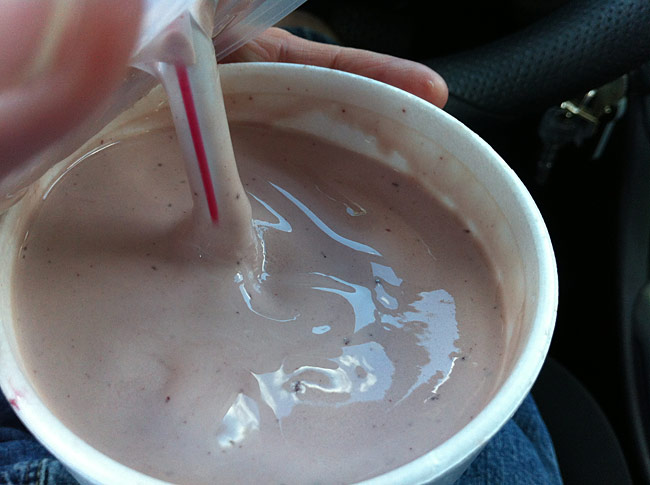 Scott's raspberry malt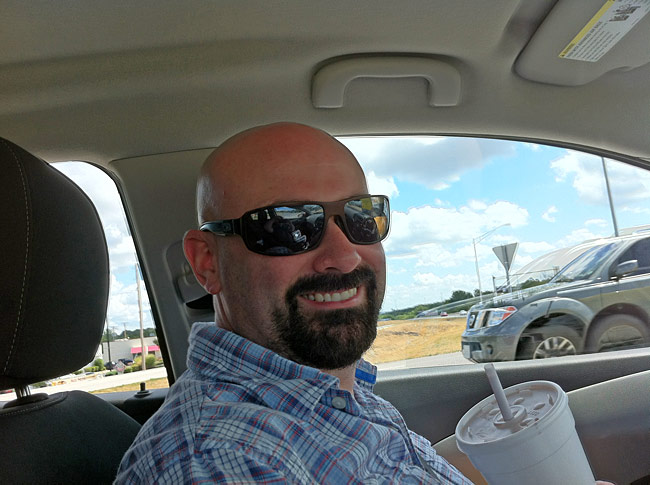 A very satisfied customer!
The Fenton Malt Shop Details
Address:
1751 Smizer Station Rd.
Fenton, MO 63026
Phone:
(636) 825-2121

Website:
https://www.facebook.com/themaltshopfento
Hours:
Mon - Fri: 10:30 am - 10:00 pm
Sat - Sun: 11:00 am - 10:00 pm
Grill Closes 1/2 hour before closing time. No public restrooms.

MENU
_________ Regular/ Double/ Large/ Large Double
Hamburger 1.69/ 2.68/ 2.33/ 3.99
Cheeseburger 1.88/ 2.99/ 296/ 4.60
Steak Sandwich 3.62
Super Dog 2.69
Pork Fritter 3.76
BLT
Chicken Sandwich 3.66
Fish Sandwich 3.76
Ham Sandwich 2.99
Ham & Cheese 3.44
Grilled Cheese 1.50
Hot Dog 1.50
Chili Dog 2.69
Chili 2.21
Corn Dog 1.50

~EXTRAS~
Tomato .30
Lettuce .30
Cheese .30
Bacon .60

~DINNERS COME WITH FRIES AND A ROLL~
Shrimp Dinner 5.79
Fish Dinner 5.92
Chicken Nugget Dinner 5.73

~SIDES~
Fries (one size) 1.70
Onion Rings (one size) 2.30
Fried Mushroom (one size) 2.30
Fried Cauliflower (one size) 2.30
Jalapeno Poppers (one size) 2.40
Fried Zucchini (one size) 2.30

~SODA~
Sprite/Dr.Pepper/Barq's Root Beer/Coke/Diet Coke/Tea/Lemonade

Small .94
Medium 1.17
Large 1.41

~ICE CREAM~
Pint 3.04
Quart 5.24

Shake or Malt without Candy
Small 3.09
Medium 3.60
Large 5.52

Shake or Malt with Candy
Small 3.74
Medium 4.11
Large 6.13

Sundae (with one topping)
Small 2.43
Medium 3.04
Large 3.65

Dish or Cone
Small 2.43
Medium 2.62
Large 2.95

Floats (Choice of Soda & Ice Cream)
Small 2.43
Medium 2.90
Large 3.69

Dip Cone (one size) 2.82
Waffle Cone (one size) 2.95
Turtle Sundae (one size) 4.11
Turtle Concrete (one size) 4.68
Concrete (one size) 3.74
Banana Split or Special Sundae (one size) 4.77
Ice Cream Sandwich .98
Paddle Bar
Ice Cream Soda (one size) 3.27
Orange Freeze (one size) 3.27

~CANDIES AND TOPPINGS~
Banana, Black Raspberry, Blueberry, Brownie, Butterfinger, Butterscotch, Carmel, Cherry, Cookie Dough, Chocolate, Chocolate Chip, Heath Bar, Hot Fudge, M&Ms, Oreo, Peanut Butter Cup, Pineapple, Reeces Pieces, Snickers, Strawberry, Vanilla

Each Additional Topping .60
Whipped Cream .56
Nuts .56

Hawaiian Ice (Sno Cone)
Small 1.22
Medium 1.68
Large 2.10

~HAWAIIAN ICE FLAVORS~
Banana, Blue Raspberry, Cherry, Grape, Lime, Orange, Tiger's Blood, Strawberry, Watermelon

(Our prices are subject to change without notice)
(prices do not include tax)
Related Articles:
Spicy Food Reviews - Hot Sauce Reviews, Hot Snacks, Hot Wings, Seasonings, BBQ Sauces, Condiments, and More