Revisited: Hot Wings and Buffalo Wings - Here Are 15 Different Recipes You've Gotta Try
Scott Roberts
May 28, 2009 at 10:14 pm
food

Digg

Share
Tweet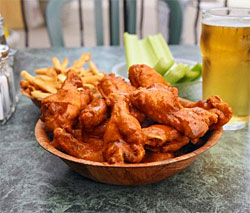 Here's a topic I think is worth revisiting after more than a year (I first blogged about this in February 2008) - some great, mouth-watering recipes for chicken wings. No other food (with the possible exception of chili) can claim to be the staple of any American chilehead's diet quite like the spicy chicken wing. Here are 15 different links to sites with recipes for hot wings (breaded) and buffalo wings (unbreaded) that will increase your wing-making skills and expand your tastes.

• Buffalo Chicken Wings
Basic, no-frills spicy buffalo wings that are sure to wow 'em.

• Perfect Fried Chicken
Okay, so this is not necessarily a specific wing recipe - it's a fantastic overview of all things concerning fried chicken in general. Study it and you will have a great "launch pad" from which you can take off with your own non-spicy and spicy fried chicken culinary excursions.

• How to Make Hot Wings: A Step by Step Guide
In-depth yet easy-to-follow guide to making hot wings. If you're a complete novice and have never cooked spicy, breaded wings, start here.

• Blair's Death Wings
HOT! Are you a thrill seeker? There are super-fiery fried wings from hot sauce maker Blair Lazar.

• How To Make Buffalo Wings: A Step by Step Guide
Another excellent recipe, this time focusing in on "naked" buffalo wings. Super simple and perfect for beginners.

• Spicy Thai Chicken Wings
From the Food Network Canada's show "This Food That Wine", here's some Asian-inspired hot wings. Delicious.

• Hot and Sassy Cajun Chicken Wings Recipe
Unique cajun-style wings with a hot yet complex taste.

• Taco Chicken Wings
Oven-fried and coated with corn chips, these babies have a unique taco flavor.

• Buffalo Wings like Hooter's™
Lightly breaded in seasoned flour, deep-fried 'till crispy, these are coated in a Buffalo sauce custom-flavored to your desired heat level.

• Indian Spiced Chicken Wings Recipe
Want to try something off the beaten path? Look no further than these Indian spicy wings.

• Fried Chicken Wings with a Thai-Inspired Chili Dipping Sauce
Another interesting Thai-style variation. This is one of Emeril Lagasse's own recipes that he demonstrated on his show in 2007.

• Spicy Grilled Buffalo Wings
Rubbed, sauced and grilled, these are somewhat different than your run-of-the-mill fried or baked wings.

• Barbecued Tex-Mex Wings
If you're in the mood for sweet and smoky instead of pure heat, try this Texas BBQ wing recipe.

• Garlic-Parmesan Chicken Wings
Lacks heat, but this is quick and delicious.

• Grilled Jerk Chicken Wings
Spicy, sweet, and exploding with complex flavor.


Related Articles:
Recipe Recap - Spicy Food