Review of Jason's Deli
Scott Roberts
July 24, 2012 at 11:08 am
food

Digg

Share
Tweet
Okay, this next stop in the my Chevy STL Keys promotional tour is admittedly not one that's exclusive to St. Louis. Yes, I have succumb to visiting an establishment that is a chain with 230 locations entrenched throughout a good chunk of the U.S.. The place to which I'm referring is Jason's Deli, and I've been meaning to drop on in their Chesterfield, Missouri location for some time now, and I figured this would be as good of a time as any to see what they're about.
Through the proverbial grapevine, I've heard many good things about Jason's Deli. They're a large, expansive eatery that offers sandwiches, soups, salads, wraps, pasta, potatoes and more. They're trying to make a name for themselves to the health-conscious crowd by featuring sub-menus for both vegetarians and those looking for gluten-free fare. I'm in neither of those later classifications, so I'm just looking for some good old fresh food on which to chow down.
Although Jason's Deli does allow you to build your own sandwiches from scratch, including various meats (the chicken salad with almonds and pineapple looked really good) and over ten different kinds of breads, I opted for a sandwich right off the menu, the Santa Fe Chicken Sandwich, which includes grilled chicken breast, bacon, Swiss, guacamole, tomato, Russian dressing, grilled on whole grain wheat bread. Having met her for lunch, Mary opted for a Chicken Pot Pie.
The Santa Fe Chicken Sandwich I got was great for a few different reasons. One, it was sufficinetly moist and hearty. Two, the supporting ingredients harmonized well with the chicken breast meat. Lastly, the sandwich stayed together! I'm sure you dislike it when you have a sandwich and the bread and all the ingredients move around or "squirt" out one side as you're trying to hold it and eat it; this thankfully did not.
I did bring a bottle of what is probably my favorite mustard, Race City Sauce Works Lucky Dog Smoked Habanero Honey Mustard. The little bit of extra mustardy goodness and splash of heat only added to the yumminess already existing in this sandwich.
Mary's Chicken Pot Pie was almost spot-on. The square of light crust atop this was flaky and delicious, and not heavy, oily and dense as some pot pie crusts can be. The only drawback was that there needed to be more of this in the dish! The chicken pot pie filling was remarkably smooth and creamy with not too much salt and just at the threshold of having enough chunky ingredients (I like my stews and chili thick and hearty with lots of ingredients, and chicken pot pie is no exception!). It was almost so good that the few spoonfuls that Mary gave me weren't enough; I almost wanted to take the bowl away from her!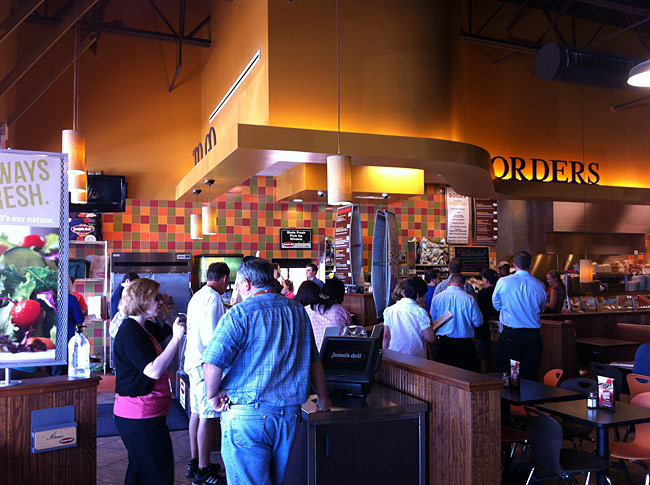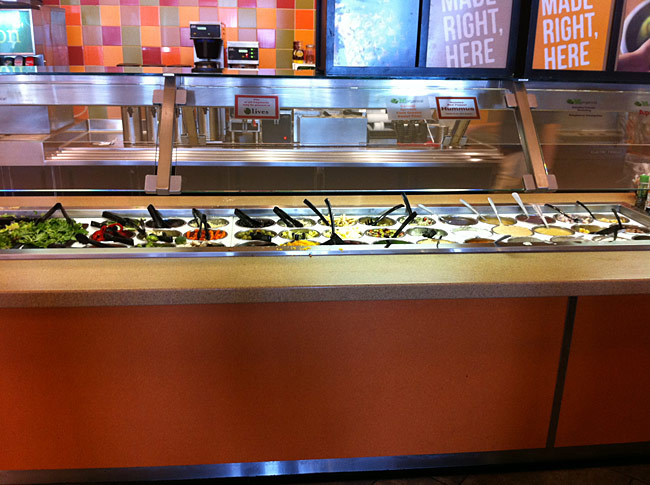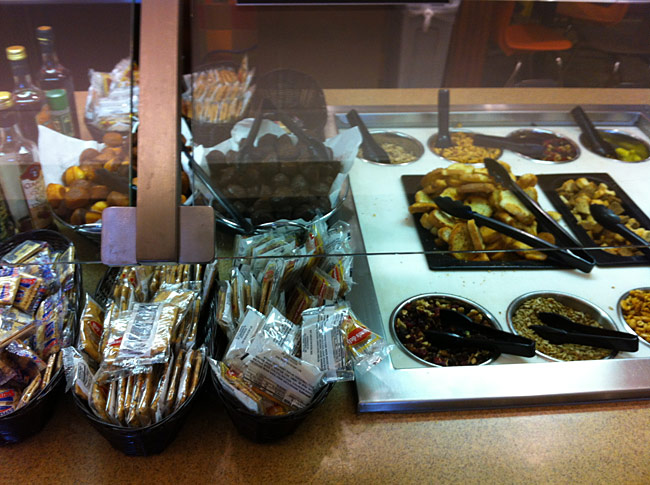 Free muffins at the salad bar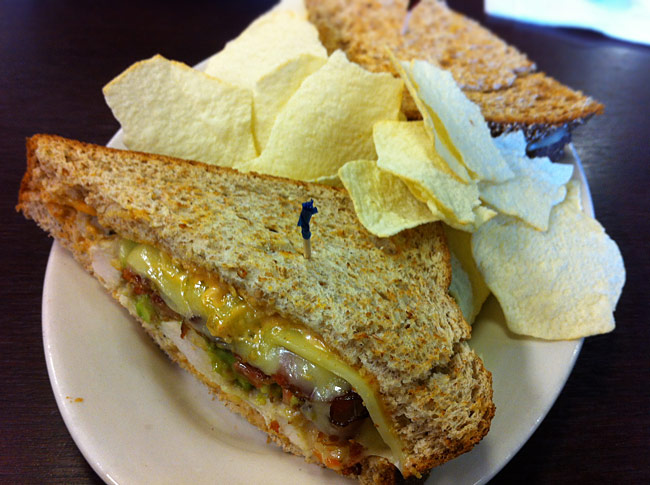 Santa Fe Chicken Sandwich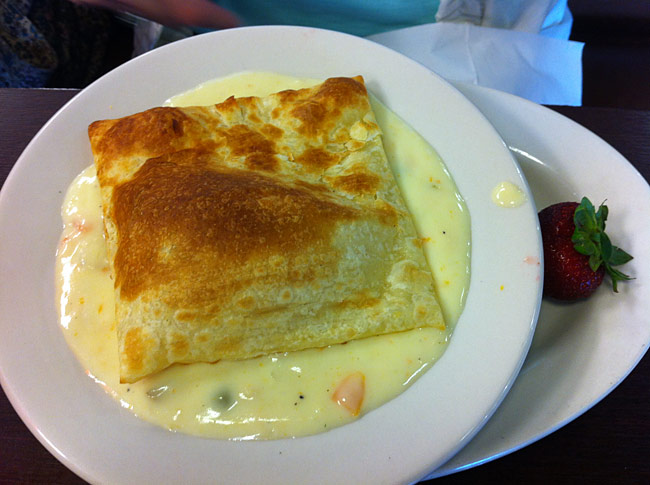 Chicken Pot Pie
Jason's Deli Details
The follwing is the info on the Chesterfield, MO location.
Address:
17245 Chesterfield Airport Rd Chesterfield, MO 63005
Phone:
636-536-6868

Website:
http://www.jasonsdeli.com/restaurants/mo/chesterfield/chesterfield-deli
Hours:
All Seven Days: 10:00 am - 10:00 pm


Related Articles:
Spicy Food Reviews - Hot Sauce Reviews, Hot Snacks, Hot Wings, Seasonings, BBQ Sauces, Condiments, and More